Live-in Care: How to Choose a Provider
Arranging live-in care for your loved one will enable them to continue living independently in their own home where they feel safe and comfortable, but with the added security of all the help and companionship they need twenty-four hours a day.
Whether your loved one requires help with the basic activities of daily living – such as grooming and personal hygiene – or just need someone on hand to help with medication, the recipient of twenty-four-hour care at home will benefit from having a dedicated carer to assist them.
This service includes everything from joining in with favourite pastimes, to getting them out and about to meet friends, to looking after general safety. Knowing your loved one is being well cared for and always has someone available to help them also provides much-needed peace of mind for the family.
There are various providers of private live-in care and they can be very different, so you need to be sure of what you are getting when you choose an elderly care provider for your loved one. There are two main types of providers of live-in caregivers; those who employ the carers directly, and those who offer just an introduction service.
Introduction Agencies
These companies are more like employment agencies and keep details of self-employed carers who they can introduce to someone looking for 24/7 care for a loved one. They sometimes charge a fee for this introduction.
It is important that you find out what pre-employment checks the agency performs on potential live-in carers. Screening should include checking that the caregiver is legally entitled to work in the UK, taking up two recent written references and carrying out a Disclosure and Barring Service check. This should ensure that anyone they put forward to work with your loved one is a suitable person to undertake this kind of work.
The agency may manage staff once they have taken up a position as a live-in carer, or they may simply introduce the person to you and have no further input. You will need to find out what is on offer and also whether they provide training to potential employees.
Some companies may offer no training or only the very basics before introducing a carer, so this also needs to be checked.
Finally, it is important to explore how the agency matches potential carers with care recipients. Successful 24/7 care for your loved one will only work if they get on well with the carer and are comfortable to have them living in their home and providing the care they need.
Private Live-in Care Providers
These elderly care providers actually employ their own carers and manage them throughout the placement as well. This can be the simplest, most convenient option for anyone seeking in-home care for their loved one.
In this arrangement, you are responsible for paying the care provider's fees, and they will pay the carer. This means that you do not have all the responsibilities that come with employing someone, such as dealing with tax and National Insurance affairs and taking out Employer's Liability insurance.
The company will also screen its carers carefully to ensure they are suitable and able to meet the needs of the person receiving care.
The private care provider will also ensure that carers receive the training and professional development they need to carry out their duties. Some carers have special training in caring for people with various medical conditions such as stroke, heart disease, multiple sclerosis, Parkinson's disease and Alzheimer's disease.
---
Dulcie's care story
Dulcie is one of our longest serving customers. In this video, she and her family talk through their decision to arrange care in the home rather than the care home.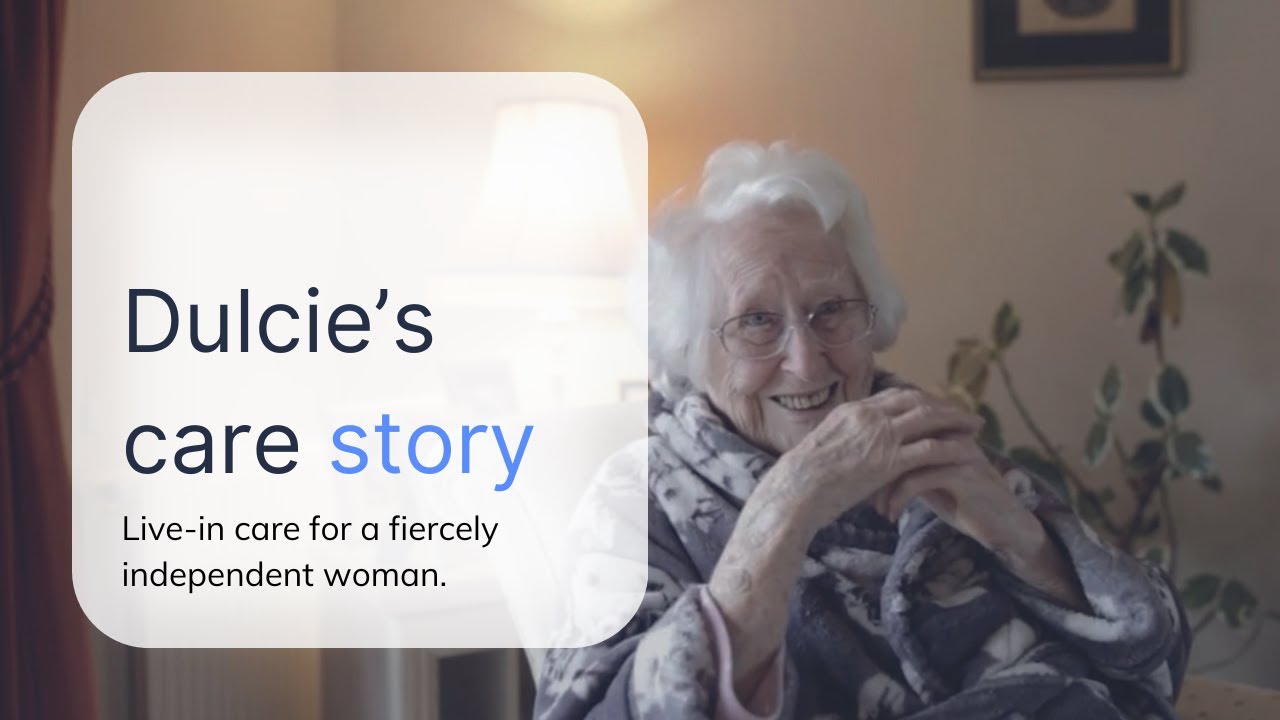 ---
Advantages of Sourcing 24/7 Care from a Care Provider
If your loved one's live-in carer is employed by a care provider, they will be managed on an ongoing basis and you will have someone to contact if any problems arise. If the carer is ill, the care provider will have a suitable replacement available so that this does not cause a problem for your loved one or interrupt their care. The same goes for holidays.
Care is usually delivered by two carers working on a rotating basis, for example two weeks on and two weeks off, so the person covering the absence is more likely to be familiar to the care recipient.
Alzheimer's Care
Independent living can still be possible for people with cognitive difficulties such as Alzheimer's disease and other forms of dementia.
In fact, dementia care is ideally provided in the home since people with this condition can easily become upset or agitated if they have to leave their familiar environment.
When you approach the care provider, you will have an opportunity to discuss all your loved one's care needs and wishes, and they will ensure that the carer who is selected has all the necessary experience and training.
One way of finding a suitable provider of elderly care is by personal recommendation from someone who has experience of the service. Asking the provider about the recruitment, ongoing supervision and training of their staff will also indicate whether the service they offer will be suitable to make the quality of your loved one's life as good as it can be.
Call us for expert live-in care advice
Arranging live-in care for your loved one will enable them to continue living independently in their own home where they feel safe and comfortable, but with the added security of all the help and companionship they need twenty-four hours a day.
Related Questions
Live-in Care: How Does it Work?
If you are looking for professional care for a loved one but are uncomfortable with the idea of sending them into a residential or nursing home, private live-in care could be the ideal solution. In addition to being practical and comfortable, this elderly care option can also be very cost-effective.
Live-in Care: How to Find a Carer
If you have decided to employ a live-in carer to provide care and support for your loved one, there are various ways you can go about finding a suitable person. This form of elderly care offers the best way of helping an older person to remain safe and independent in their own home when their care needs increase.
Live-in Care: The Questions You Need to Ask
If you are considering live-in elderly care for looking after a loved one, you will want to carry out some research before to help you make an informed decision on the best care solution that suits your specific needs. Here are a few of the questions you should ask when selecting a qualified care provider.
Finances: How to Care for Ageing Parents
Difficult as it might be to contemplate, there may come a time in your parents' lives when they are no longer able to make decisions about their own finances. Choosing to step in and take over the management of your loved one's financial arrangements can be tricky. Even if they can see it is in their best interests, many elderly people will still find it hard to accept and may view it as a loss of independence.
Frequently Asked Questions About Live-in Care
Elder's expert live-in care advisors answer questions for hundreds of people looking for care for themselves or their loved ones every day. Below you'll find the answers to some of the most frequently asked questions that our customers ask before making the decision to use Elder to take the stress and strain out of caring for someone in need.