There are more benefits to home safety than just avoiding accidents. By following our top tips, you'll not only make it safer, but you can also improve overall health and emotional wellbeing by giving them the confidence they need to live independently.
1. Preventing falls
Falls are incredibly common among people over 70 and can lead to injury or simply cause people to lose their confidence, which jeopardises an older person's independence. By reducing the risk of falls you'll help make sure the person receiving care can comfortably move throughout the their house.
A good way to start is by clearing walkways in the house, which is as simple as rearranging furniture and de-cluttering hallways and exits. Lighter, modern furniture is often convenient for additional storage, but isn't always sturdy, so it's important to secure large items like bookshelves or drawers to the wall with brackets. Rugs and electrical cords can be a tripping hazard, so you might like to invest in non-slip mats to secure carpets, or even try taping loose cords and rug edges down.
As people get older, many choose to install grip rails for extra support while using the toilet or taking a shower. Investing in grip rails seems like a small change, however, the impact they can have on someone's independence is priceless.
For people who suffer from poor vision, bad lighting can increase the risk of falls, particularly if they get up frequently throughout the night. A care professional can make sure light-bulbs are replaced as soon as they go out, but we recommend installing night-lights around the house to provide a clear path and also keeping a torch next to the bed.
2. Clear out storage areas
Disorganised and cluttered storage areas, especially medicine cabinets, pantries, and hallway cupboards are likely to contain out-of-date products that are no longer fit for use. Old medication, though not always unsafe, can lead to confusion, and should be disposed of at a local pharmacy drop off point.
Likewise out-of-date foodstuffs could cause illness if eaten and can even attract pests if they're not stored correctly. It's also a good idea to double check that cleaning products are kept in a dedicated space away from foods and eating utensils. By bringing order to these areas, you'll ensure the house is kept safe and clean.
3. Prepare for the weather
Extreme temperatures, whether hot or cold, are not just uncomfortable, they can have serious health consequences, causing illnesses such as flu or heat stroke. Staying on top of utility bills is important, but so is maintaining heating and cooling systems. Running the heating system for a few hours before really cold weather sets in will give you time to ensure it's working correctly, and to check for any airlocks in the radiators, which may need bleeding.
Heavy rain and fallen leaves can cause outdoor areas to become slippery, so consider keeping a couple of easy-to-prepare meals in the freezer for when it's particularly wet. This means you or your loved can avoid having to go out during poor weather.
4. Emergencies and security
Having a security system and being prepared for emergencies are not only good for staying safe, they also give vulnerable adults peace of mind, which is incredibly important in making sure people are confident in their homes.
In the event of a fall or injury, wearable personal alarm systems make it easy to get help in a hurry. You should also consider giving a spare set keys to a trusted neighbour or a nearby family member as an extra precaution.
When it comes to home security, outdoor lighting and visible alarm systems make a great deterrent. Simply being aware of the importance of maintaining a secure home is also important. That means testing and replacing old locks, especially on windows, as well as storing valuables in a secure place.
5. Scams
Unfortunately, with many older people spending more time at home in winter months, the risk of falling for phone or doorstep scams can increase.
There are a number of telephone scams in which the caller will claim to be from a bank, building society, energy provider, or a government department such as HMRC. These callers will usually ask for personal information, or banking details such as a PIN number.
Some scam calls may claim to be from a computer company, such as Microsoft or Apple, and give instructions over the phone so that they can take control of your computer remotely, to 'fix' an issue. It's important not to follow any instructions given, as they may be a way for the caller to access personal information on your or a loved one's device. Always end the call if you're not expecting it.
Never give any personal information to unexpected callers, especially your PIN number as legitimate callers should never ask for this. Even if the call sounds real or is claiming to be coming from a service you use – the best thing to do is hang up, and call the company back using the telephone number that is displayed on their website, or on a letter or bill you've previously received.
A number of companies and charities canvas door to door to sell services or fundraise. While many are legitimate, older people can often still feel pressured to sign up for something they don't want, or can't afford. You can purchase stickers to place on the front door to deter unwanted callers for a few pounds online.
Be wary of anyone asking for personal information for a survey, and always ensure your loved one asks to see ID if someone is asking to come into their home – if they are who they say they are, they won't mind waiting outside while you or a loved one confirms the visit with the company they're claiming to be from (again, be sure to do this via the number listed on the company website, not one provided by the visitor). If you're worried about a loved one's ability to spot a scam, the safest thing to do is ask them not to answer the door to someone they weren't expecting, and to keep the door chain on if they do answer the door.
Scams involving the £400 Government Energy Bill Support Scheme
There's been rising reports of scams involving the £400 Energy Bill Support Scheme, that many energy consumers in the UK are eligible for as of October 2022. 
This £400 discount is automatic. If you pay for your energy via direct debit it will be applied to your bills by your provider in six instalments. If you use a top up meter you'll be sent the equivalent in vouchers to redeem. There is no need for you to do anything to receive this support. 
If you are contacted about applying for this scheme, or asked for bank details in order to receive your £400 discount it is most likely a scam. Never respond directly to these requests, or follow any links sent to you in a text message or email. Always contact your energy provider, using the contact details on their official website if you're unsure whether what you've received is genuine.
Find out more about spotting an energy scam here.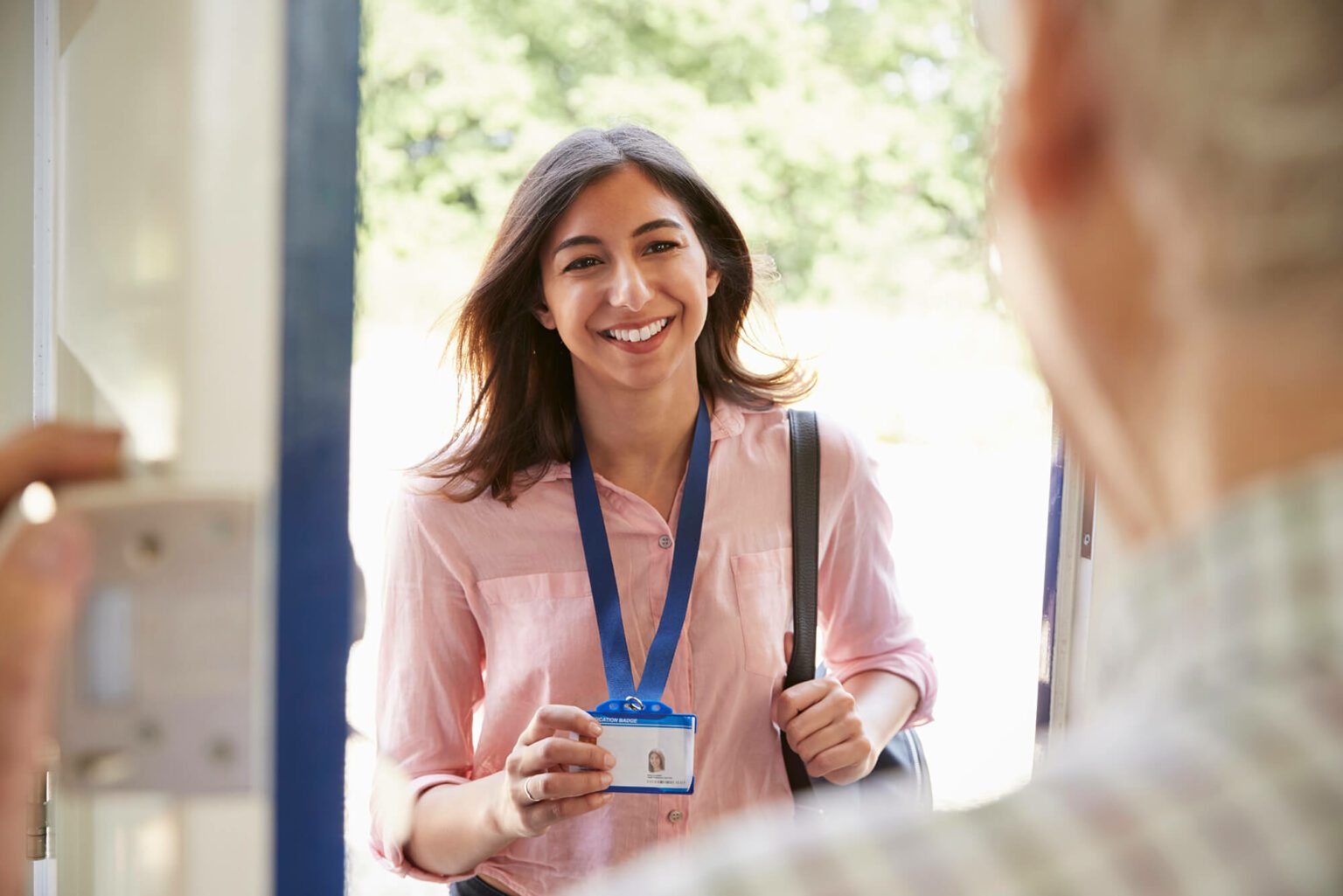 6. Being fire safe
As with any home, fire safety should be a high priority. This means frequently testing and changing the batteries in any smoke alarms. There's no worse time to trip and fall than during an emergency, so it's also good to maintain those clear paths to exits you've already made.
Purchasing a fire blanket can add peace of mind, especially if you have an older loved one who still enjoys cooking regularly. They're made of fire-resistant materials and can be used to smother kitchen fires caused by cooking oil, saucepans, or frying pans quickly. Before buying a fire blanket make sure it displays the British Standards BS EN 1869: 1997 safety mark.
Of course, being prepared for a fire is great, but making an effort to avoid them altogether should of course, be a priority. Practicing fire safety means keeping hobs, heaters and lamps – anything that gets hot, really – clear of potentially flammable items such as dishcloths, laundry and clothing, or even curtains.
If the person needing care is prone to confusion, you might also like to incorporate meal preparation into their care plan. This will help them avoid using the oven or an open flame.
7. Checking in
Regular home care visits, even short ones, are great for ensuring health and safety measures are maintained but, most importantly, they're an excellent source of social interaction.
Companionship lifts people's spirits by providing mental stimulation, boosting self esteem and releasing hormones that reduce stress, which is why, in addition to care, having a strong support network of friends and visitors should be an important aspect of any home health and safety plan.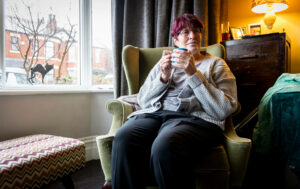 We've shared our advice to help older adults stay healthy and well as the weather starts to get cooler, and
Read More »