If your loved one is diagnosed with diabetes, they should discuss the various treatment options with their GP. Home care can assist in managing diabetes and minimise its impact. Diabetes is a progressive condition, so it is essential that your loved one adheres to their treatment plan and has regular check-ups.
Pre-diabetes and when to see your doctor
Around 90% of UK adults have type 2 diabetes and may live for years before a diagnosis. A blood sugar level higher than the average, but not high enough for a diabetes diagnosis, is known as pre-diabetes.
Pre-diabetes dramatically increases the risk of developing diabetes and should be treated as soon as possible.
Your loved one should see a doctor if they experience any of the main symptoms of diabetes, which include:
Urinating more frequently, particularly at night
Feeling very thirsty
Losing weight and muscle mass
Feeling very tired
Frequent itching around the genitals
Blurred vision
Slow-healing cuts and bruises
Type 1 diabetes causes the body's immune system to attack the cells that produce insulin and destroy them.
In Type 2 diabetes, the body doesn't produce sufficient insulin, or the cells don't react to it.
Both types of diabetes are lifelong conditions. Live-in care can help an older person to manage the effects on their everyday life. Lifestyle changes including healthy eating, exercise and weight loss can help to minimise the impact of type 2 diabetes.
Managing diabetes
There's no one size fits all treatment for diabetes. A GP or diabetes nurse will work with your loved one to find the type of medicine and dose that works for them and meets their needs. They'll also explain how the medication works, how to take it, and where to store it.
Specialised elderly care can help a loved one take their medicine correctly and attend their checks for:
HbA1C test for blood sugar levels
An annual visit to the podiatrist for a foot check-up
Annual eye check with full dilation to check for diabetic retinopathy
Regular checks for high blood pressure, cholesterol and kidney function
Diabetes care and dementia
These common conditions can lead to complex needs:
Distress if their regular diet is changed
Developing incontinence
Increased confusion when blood sugar levels are too high
Forgetting to take medications
Unable to perform injections
Risk of dehydration and hypoglycemia
Specialised dementia care can help with diabetes management by creating a support plan and making sure that your loved one stays safe and receives the right nutrition.
---
Colin and Dulcie's story
Dulcie is 102-years-old and lives with her son Colin, his wife Mary, and her Carer Sarah. She has dementia and has had full-time live-in care for over two years.
We talk to the family about the challenges of finding the right care solution for a fiercely independent woman – and how the positive benefits of live-in care with Sarah has transformed all of their lives.
---
Diabetes care treatments
Treatment for type 1 diabetes:
Everyone with type 1 diabetes will need to use insulin which can be delivered by a pump or via injection.
Injection of insulin is with either a disposable or reusable pen
Insulin pumps are attached to the body and might be more suitable for older people receiving dementia care. They give insulin throughout the day without the need for injections
If your loved one is overweight or has poor kidney function, they may be eligible for an islet transplant. This type of therapy can help to prevent severe episodes in which blood sugar falls quickly and cause fainting or fits
Treatment for type 2 diabetes:
If your loved one has Type 2 diabetes, they may need medication to help them manage their blood sugar. The most common tablet is Metformin. Metformin helps to lower blood sugar levels, but it may take time to find the right dose and medicine for your loved one.
Treatment is reviewed after three months. If Metformin isn't sufficient, there might be a need to try another tablet or a higher dosage. Type 2 diabetes isn't usually treated with insulin at the outset, but if the condition worsens, insulin may be used if other medicines have stopped working.
Type 2 diabetes can also respond to lifestyle changes:
Eating a healthy balanced diet should include plenty of fresh fruit and vegetables, in addition to starchy foods such as brown rice and pasta. Keep sugar and salt to a minimum and never skip meals.
Staying active is another great way to manage diabetes and improve overall health and wellbeing. Exercise helps the body to use insulin more efficiently to lower blood sugar levels. Gardening, dancing, stair climbing, brisk walking and strenuous housework can all help older people stay active and minimise the impact of diabetes.
Type 2 diabetes and remission
Diabetes remission is not a cure, but it does mean that blood sugar levels return to normal without the need for medication.
Losing weight through a low-calorie diet can significantly improve the chances of diabetes remission. This isn't suitable for everybody, and your loved one must continue to have regular diabetes checks. A GP or diabetes nurse can help with weight loss.
The future for diabetes care
Type 2 diabetes remission is just one of the ways how scientists are working towards a way to stop diabetes causing harm in the future.
Immunotherapies and beta cell replacement are two of the therapies that could help people with Type 1 diabetes start producing their own insulin again.
Replacing beta cells through stem cell therapy may also help people living with Type 2 diabetes. Research also shows that these cells could be rebooted to help them create enough insulin.
While research is ongoing, a healthy diet, regular exercise, the right medication and private care support will help your loved one to maintain their health and to manage their diabetes.
Learn more about complex care
Take a look at more Elder guides on how to support those living with complex conditions below.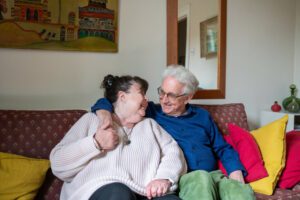 Stroke Care: How do I Care for a Loved One After a Stroke? It can be hard to watch a loved one experience the