Choosing a care home
Elder recognises that there will be situations where dedicated, one-to-one live-in care in Glasgow isn't possible, say, if your loved one doesn't have a spare room, for example.
But this doesn't mean that we wouldn't still want all elderly people who require help to live happily ever after.
We know a thing or two about care, so who better to select some of the best care homes in the area who can help your relative to thrive in later life and provide the kind of care they deserve.
The top care homes in Glasgow
With an in-depth understanding of elderly care across the UK, we're perfectly placed to recommend the best residential options near you.
Baillieston Care Home
3 Station Road, Ballieston, Glasgow G69 7XZ
Offers residential and nursing care for people living with dementia as well as other complex needs. It offers lounge areas on both floors and a patio area. Baillieston offers permanent care and a respite service for carers.
Suitable for those requiring dementia care, elderly care and complex care.
Foxley House
107 Hamilton Road, Mount Vernon, Glasgow G32 9QN
Offers nursing care for people living with dementia, sensory impairments and post-stroke conditions. It also provides palliative and end of life care with a stated aim of providing a comfortable lifestyle for all residents.
Suitable for those with dementia, physical disability, sensory impairment or post-stroke conditions.
Nazareth House
1647 Paisley Road West, Glasgow G52 3QT
Can hold up to seventy residents, every room has an ensuite bathroom and is one of the larger facilities in the area with spacious dining room and lounge. For ages 65 and over.
Suitable for with dementia care, physical disability and sensory impairment.
Jordanhill House
533 Anniesland Road, Jordanhill, Glasgow G13 1TP
Boasting 39 ensuite rooms, this care home positions itself as supporting various old age related care needs, such as dementia and is situated not far from Scotstounhill Station.
Suitable for those with dementia, physical disability and sensory impairment.
Greenfield Park Care Home
291 Myreside Street, Carntyne, Glasgow G32 6BX
The largest facility of its kind in the locale. This purpose-built 110-bed property offers dementia care as well as nursing and end of life care. For older and younger adults with a range of specialist care needs.
Suitable for those with AIDS/HIV, autism/ASD, cerebral palsy, down syndrome, huntington's disease, dementia, spina bifida or post-stroke conditions.
Highgate Care Home
610 Old Edinburgh Road, Uddingston, Glasgow G71 6HQ
This privately owned care home with nursing has 80 ensuite rooms for residents aged 65 plus. Caters for respite care to end of life care and is close to local transport.
Suitable for those living with Alzheimer's, Huntington's disease, Parkinson's disease or post-stroke conditions.
Craigbank Care Home
80 Saracen Street, Glasgow G22 5AD
Purpose-built Glasgow centre care home providing residential dementia care and short-term stays for families or carers in need of respite facilities. It also offers palliative, end of life and convalescence care needs services. With 61 ensuite single rooms.
Suitable for those requiring dementia care.
Golfhill Care Home
35 Hanson Street, Dennistoun, Glasgow G31 2HG
Offers nursing dementia care as well as care for those living with Parkinson's and physical frailties. Comprised of four self-contained houses with 90 ensuite rooms with spacious communal areas.
For those with dementia and Parkinson's disease.
Make sense of your options
Realising your loved one requires care isn't always easy and when there seems to be so many options, you may not know where to start.
At Elder, we are always on hand to offer the best impartial advice, every day between 8 am and 8 pm to help you decide on the best care solution for the whole family.
Get in touch with one of our expert care advisors today.
Frequently asked questions
Are care homes expensive?
Care home fees vary widely according to the individual needs of your loved one and other factors such as the location of the home. Care homes with nursing are generally more expensive than homes that only provide social care because of the increased cost of employing trained nurses, and specialist dementia homes also charge higher rates.
The cost of live-in care is often lower than care home fees, sometimes saving as much as 30% compared to the cost of residential care. If you are looking for care for an elderly couple, live-in care is very much less expensive and has the added benefit of allowing them to stay together in their own home rather than being parted, as they would be in a care home.
What does a live-in carer do?
Live-in care is completely tailored to the individual and encompasses a variety of roles, depending on your loved one's needs.
From simple companion care through to the more complex demands of caring for someone with advanced dementia, for example, who may require assistance with personal care tasks, such as bathing, dressing and personal hygiene, the carer will happily fulfil a wide variety of roles within your loved one's home.
Most carers help with household chores, prepare healthy meals, look after pets and encourage their care recipients to lead full and active social lives, wherever possible.
Because live-in care is bespoke, the carer will modify their duties according to your loved one's needs, stepping back where necessary to allow your loved one to retain their sense of independence, whilst being on hand to offer help and support wherever, and whenever, it's needed.
Would I have to sell my parents' home to fund care?
Paying for care isn't necessarily straightforward, and many of our clients worry that they will have to sell their parents' home in order to fund their long-term care. However, there are other options – your loved one may qualify for government funding in the form of benefits, grants or direct payments.
Alternatively, equity release in the form of a lifetime mortgage or home reversion could allow them to remain in their own home with the help of live-in care, without having to sell their home.
To see all the available options and their benefits and restrictions, have a look at our in-depth guide – "The True Cost of Care". The guide also talks you through applying for a Power of Attorney, which is particularly important, as it allows you manage your loved one's financial affairs if they become unable to cope themselves.
Does live-in care support those with visual impairments?
Yes, live-in care can support elderly people with visual impairments to carry on living in their own homes.
In fact, elderly people with visual impairments are often much happier remaining in their home, where they know the layout of rooms, and where all of their treasured possessions are close at hand. Moving into residential care can cause confusion and distress to anyone with sight problems, as they struggle to find their way around in unfamiliar surroundings.
With the help of a live-in carer, your loved one can continue to enjoy their favourite hobbies, pastimes and outings. The carer will be available to offer support and assistance at every hour of the day and night, providing reassurance, not just to your loved one, but also to the wider family.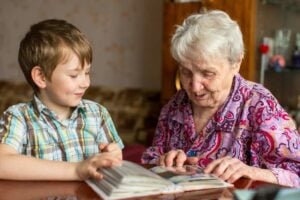 The true cost of care – everything you need to know Discover the true cost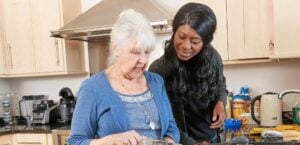 Live-in care Vs Other types of care If your loved one has reached a stage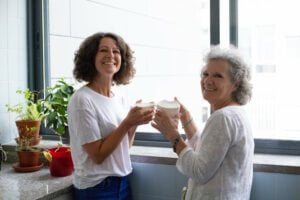 A Guide for Caregivers – Everything You Need to Know If your loved one needs