If you think that your elderly parent or loved one is suffering from loneliness, then it's important to take action sooner rather than later. The misery and depression that result from prolonged periods of loneliness can have a profound impact on your loved one's mental, physical and emotional health. 
Experts even believe that over time this can exacerbate the symptoms of dementia, so it's key to tackle the subject, no matter how much your loved one may insist that they are alright.
Some older people get a reputation for being cranky, but this could be because they don't want to admit vulnerability and it's important not to be discouraged by a curmudgeonly attitude. There are a number of things that you and your family can do to combat the situation, so try some of the following ideas.
Visit Regularly
Your loved one may not be able to drive – or if they can, and still have a licence, they may be fearful of taking to the roads as they age. There is a huge volume of traffic now compared to 20 or 30 years ago, and older people can be put off getting in the car as their reaction times slow down.
Regular visits give your loved one something to look forward to. You could plan days out with other family members, perhaps to go shopping, visit an interesting place or simply to get some fresh air. Even just dropping by for a cup of tea and a chat can help to break up a lonely day.
Research shows that older people who expose themselves to new stimuli retain more of their faculties, and for longer. It can be helpful to encourage grandparents and grandchildren to spend time together, as both generations can learn so much from each other.
A good bonding exercise is for grandchildren to help their grandparents with computers, enabling them to communicate via a shared interest and activity.
If You Can't Visit, Talk Often
There are many ways to stay in regular contact with your loved one, even if you live on another continent. Digital technology offers options for talking over the internet, and mobile technology means that you can chat or text from just about anywhere in the world.
Hearing another voice in a day can have an uplifting effect for a lonely older person, so pick up the phone regularly, and encourage other family members to do the same.
Employ a Companion
An excellent option for loved ones who need daily assistance such as Alzheimer's or other types of dementia care is to employ a live-in carer. A reputable provider can carefully match your loved one's requirements with a dedicated caregiver who will provide assistance around the clock.
This could include personal care and help with cooking, grooming and personal hygiene, shopping and outings – the benefit to your loved one is that they retain a sense of independent living while benefitting from 24/7 care. The constant companionship keeps loneliness at bay, and a warm and respectful friendship can often develop on both sides.
There are plenty of private care companies who can provide assistance with high-quality elderly care. Home care can be arranged for as many, or as few, hours a day or week as you and your relative wish.
Home care packages can be designed to suit a care recipient's exact needs, and don't have to involve personalised live-in care, although it is always a useful option.
---
Dulcie's care story
Duclie is one of our longest serving customers. In this video her and her family talk through their decision to arrange care in the home rather than the care home.
---
Join Local Clubs and Societies
There are events up and down the country that cater for the older person in need of social interaction. Encourage your loved one to get involved with local charities, societies and clubs that fit in with their interests.
Getting out and about and interacting with others is an excellent way of making new friends and helping to stop loneliness.
If your loved one is reluctant, offer to accompany them at first while they get to know the people. Or perhaps surprise your loved one with a trip to a place or event in which they have previously expressed interest.
Encourage Hobbies
When loneliness sets in, the older person can seem to lose interest in former hobbies and pastimes. If your mother used to knit or crochet when she was younger, then ask her to teach you now. Passing on a skill helps to foster self-respect in the older person, particularly when the process of ageing has turned the parent-child relationship on its head.
Whether painting, photography or line dancing, there are opportunities available to indulge a hobby or pastime across all sorts of platforms. You could even encourage your loved one to learn a new skill. Constant learning is a valuable tool in keeping mental faculties alert. If you find you're short on time, it might be worthwhile considering dedicated quality home care for your loved one.
Call us for expert live-in care advice
Learn more about live-in care
Take a look at more Elder guides on the benefits of live-in care.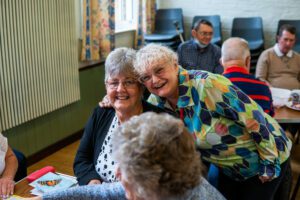 How Can Live-in Home Care Help With Learning Disabilities? Learning disabilities come in many different forms, but they all have an impact on a