What is live-in care?
Live-in care is a type of personalised care that's helping older people to stay in their own homes from longer.
Carers move into their client's home to offer one to one support with their daily needs. While live-in carers stay at their clients' homes 24/7, they do get to take breaks during the day, and sleep at night when their clients sleep. Some clients may occasionally need assistance during the nighttime hours- if they need to go to the toilet, for example. However a live-in carer shouldn't expect to handle more than three 15 minute wake-ups a night.
What type of tasks will you be doing?
As a live-in carer you won't be expected to:
Administer medication

Change a catheter or help with a stoma

Assist with PEG feeding

Deep clean the home

Handle or withdraw money for the person you're caring for
How does live-in care work?
Ongoing placements
When you choose an ongoing placement, you'll become the primary carer for the person you're caring for, typically staying in their home for cycles of around 4 to 10 weeks. The arrangement continues for the foreseeable future as long as both you and your client are happy.
When applying for ongoing placements, you'll be able to state your preferred work schedule and can arrange breaks once you've started.
An on-going placement may look like this: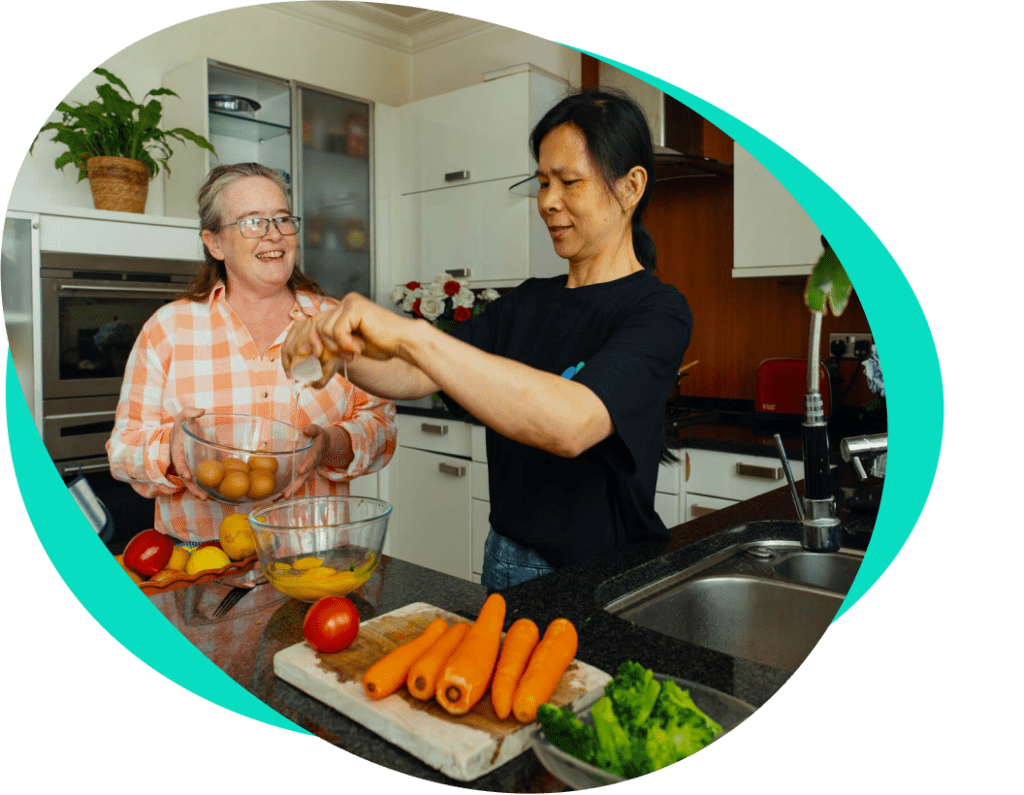 Week 1
You arrive at the client's home at around 12.30pm on your first day, for a handover from a previous carer, or the client's family. You get to know your client and get settled in.
Week 2 – 4
You and your client are happy with the arrangement, and you continue with the placement. At this point you feel confident with their routine, and understand how they like things done.
Week 5
After handing over to a respite carer, you leave for your first break week. When you return, you stay on your placement for another 4-5 weeks before taking your next week off.
Fixed-length placements
A fixed-length live-in care placement is typically used for respite care, or to cover a primary carer whilst they're on a break.
These placements vary in length – they can be as short as three days, or continue for a few weeks. They'll always have a set start and end date so you'll know how long you'll be needed, and you'll be expected to stay for the duration.
To browse and secure your Elder placement, join our platform today.
What's it like living in someone's home?
If you're new to live-in care, the thought of moving into someone else's home for the first time can be overwhelming, however we'll do everything we can to make the move as comfortable as possible. 
In most cases you'll be taking over from another Elder carer. You'll be given their contact number, and it can be really useful to talk to them ahead of time to run through any questions you may have. 
On every placement you'll have the following:
The family are likely to be eager to meet you in person and get to know you, as they'll want you to feel as comfortable as possible. And if you have any questions or concerns, our carer support team is just a phone call away. 
The benefits of working as a live-in carer
Earn a weekly rate of between £720 and £865 
Paid travel to and from your placement
Double pay on bank holidays
Dedicated support from Elder
The chance to earn £300 through the Elder referral scheme
As a live-in carer you'll also be able to access extra perks and rewards with Elder's award winning Carer Loyalty Programme, including –
Self-employed assistance services*
Injury and sickness cover*
Shopping deals and discounts*
The opportunity to earn monthly bonuses
Access to free e-learning*
Family and compassionate leave*
24/7 emergency support line*
*Reward provided by a third-party partner 
Caring with Elder
Discover more about our mission, values and support for carers.