Whether your parents require elderly care or can live more independently with a little assistance at home, they will doubtless take pleasure from a little variety in their days, including trips out to places of interest. If they require specialised dementia live-in care in Suffolk, they may particularly benefit from activities that offer sensory stimulation or the chance to reminisce about the past. 
Here are some activities you can enjoy in and around Bury St Edmunds with ageing parents or relatives.
Ickworth House
Ickworth House is an impressive National Trust property that is packed full of treasures, including portraits, paintings and furniture. The building's West Wing is fully accessible and has wheelchair hire if required, meaning that your loved one can explore most of the extensive grounds (including the vineyard) with ease. The estate also includes a guided tour in the ticket price.
Pakenham Water Mill
Pakenham Water Mill sits seven miles outside of Bury St Edmunds. This is the only operational 18th-century water mill open to the public in the UK. Its beautiful natural surroundings are a haven for birds and wildlife of all varieties, and a tranquil place to sit with a cup of tea and watch the swan family that has made the millpond their home. Often, people receiving elderly care will take an interest in the history of their local area, and a visit here opens the door to the past, giving an insight into the rural industries that once defined this part of the world. If your parent has companion care, this is a low-key, relaxing place for them to visit.
Greene King Visitor Centre
Anyone with an interest in ale will thoroughly enjoy a day out at the Greene King Visitor Centre, the home of Old Speckled Hen, Greene King IPA, Abbot Ale and Ruddles County. The centre includes a museum with exhibits that cover the history of ale brewing in the local area. If your parents are mobile, you will be able to tour the Art Deco Brew House and even sample the beers. There is also a well-stocked gift shop should you and your relatives want to buy some treats to take home.
---
Dulcie's care story
Duclie is one of our longest serving customers. In this video her and her family talk through their decision to arrange care in the home rather than the care home.
---
The Abbey
One of the most notable landmarks in Bury St Edmunds are the ruins of the Medieval abbey and its adjoining floral gardens. The park sits on the site of what was once a powerful Benedictine Abbey. The gardens, which nestle between the ruins and the River Lark, are beautifully maintained and fragrant, and there is a dedicated sensory garden perfect for those older visitors who may be receiving dementia care.
There is also an aviary, a water garden, a bowling green and, of course, the remains of the abbey itself. The abbey and its extensive grounds are the ideal locations for elderly visitors receiving live-in care because it is accessible and the terrain is mostly flat. Getting some gentle exercise in the fresh air is beneficial for older people, so why not pack a lunch and make a day of it?
St Edmundsbury Cathedral
Most of this impressive building dates from the 16th-century, although the easterly end was built just after the end of the Second World War and the tower finished in 2005. The traditional limestone Gothic construction is typical of the architecture of this period. Wonderful stained windows make this a striking place to visit, and there are free guided tours by experienced guides with a detailed knowledge of the history of the cathedral and its environs. The tours run each day at 11.30 am.
Rougham Airfield Control Tower Museum
Many older people who have care in their own homes are interested in history, and the Second World War in particular. With that in mind, the Rougham Airfield Control Tower and Museum is an excellent place to reminisce about times gone by. In addition to the museum itself, there is also a fully functioning airfield next door which is frequently used, and often by aircraft from that era.
Exhibits include personal items bequeathed by servicewomen and men who were once based at Rougham. The centre is open every Sunday in May to October, and there are some additional airfield-based events on Saturdays throughout the year. General admission is free, and guided tours are available for a small fee.
Colchester Zoo
A good way to support your elderly parents with independent living is to help them to continue to visit attractions that they have enjoyed in the past. If they used to like to visit wildlife parks or zoos, and you can set time aside for a slightly longer day out, Colchester Zoo is only 30 miles from Bury St Edmunds and is well worth the trip.
The zoo is set on 60 acres of peaceful parkland and has more than 260 species of wildlife in residence, including giraffes, elephants and sea lions. The grounds are mostly wheelchair accessible, although there are some slopes to navigate, and there are disabled toilet facilities.
Call us for expert live-in care advice
Learn more about elderly care
Take a look at more Elder guides on later life.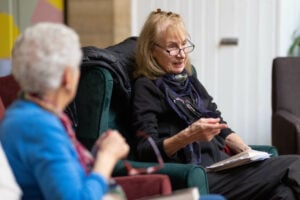 Elderly Care: What if Elderly Parents Refuse Care? Growing older and less able to maintain an independent lifestyle can be hard for an older