With several hundred listed buildings, including five Medieval churches, it is a fascinating place to visit with older family members, and to immerse yourselves in the history of the area. 
When enjoying days out with parents or older relatives, it's handy to look for places that are suitable for their needs and interests, especially if they have reduced mobility.
Whatever care your loved one requires, from help with their mobility or companion care to help them get out and about – to full-time live-in care in Lincolnshire – there are places you can visit for a pleasant afternoon or day out together.
We look at five places you might like to consider for your family outing in the Stamford area, to give you some inspiration.
Burghley House and Park
This grand Elizabethan house was built in the middle of the 16th century and sits in beautiful parkland and gardens. Unfortunately, you can
not take mechanised wheelchairs into the main property, but it is manual wheelchair accessible. There are two stairlifts to enable access to the staterooms and the orangery restaurant, so as long as your loved one can get on and off the lift seat, they will be able to access the higher floors.
On the grounds themselves, the Garden of Surprises has full accessibility, and the sculpture garden, with its bark chipping and mown grass paths, is accessible in dryer weather.
Stamford Arts Centre
Covering all aspects of the arts, Stamford Arts Centre has exhibitions alongside theatre shows, music concerts and even cinematic events.
When it comes to elderly care or dementia care, stimulating the mind and rediscovering old memories can be extremely beneficial for mental health. The workshops here, covering arts and crafts, drama, singing, music and more, could provide an opportunity to help an elderly loved one rediscover a past hobby or pastime, providing enjoyment and stimulation for you all.
Much of the centre is on the ground floor and is easily accessible, including the coffee shop and gallery. There are wheelchair spaces and a platform lift to the theatre, access to which can be arranged with the centre before your visit if required.
---
Dulcie's care story
Dulcie is one of our longest serving customers. In this video, she and her family talk through their decision to arrange care in the home rather than the care home.
---
Barn Hill
For those who are more mobile, Barn Hill offers a glimpse into the past, with a quaint cobbled street filled with imposing and impressive historic houses and buildings.
Often used as background for period TV dramas such as Middlemarch, this is an interesting spot to take a gentle stroll on a sunny day. It is, in fact, more of a gentle slope than a hill.
Grimsthorpe Castle
Although referred to as a Castle, this building is, in reality, a large historic house.
There are some ground floor rooms that are fully accessible, although the upper floor is accessible via stairs only. For those who cannot access it, a virtual tour is available via laptop.
The park and grounds themselves are much more accessible, with mostly level paths in the gardens and full access to all the facilities in the coach house yard. There is also a lovely tearoom on-site and disabled toilets.
Sacrewell Farm and Country Centre
Sacrewell is an award-winning heritage farm and 18th-century watermill. In fact, the farming history of the site goes back much further; it is listed in the Domesday survey of 1086.
The centre offers a disabled access card, which enables the person requiring care to take a carer or companion in with them for free. Most of the area is fully accessible, but after excessive rainfall, muddy paths could be an issue in some of the more "off the beaten track" places.
As well as the agricultural history, farmland to explore and animals to greet, there is a café and shop filled with local produce. Enjoy coffee and homemade cake while enjoying the picturesque views over the fields, or take advantage of the free wi-fi. Then, maybe treat yourself and your loved one to some delicious local food gifts to take home with you.
If you're trying to find a live-in carer in Stamford or throughout Lincolnshire, Elder can help. Contact us today to discuss your care options.
Learn more about elderly care
Take a look at more Elder guides on later life.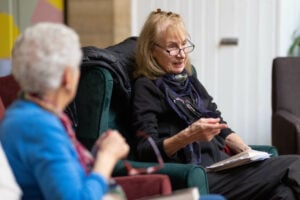 Elderly Care: What if Elderly Parents Refuse Care? Growing older and less able to maintain an independent lifestyle can be hard for an older