You'll feel your age
Often the opposite is true. Research shows that the gap between the chronological age and the 'felt age' actually grows wider, the older a person gets. Almost 50% of those surveyed who were in the 50+ age category reported that they felt between ten to 19 years younger than their actual age.
You'll experience a decline in brainpower
Many experts believe that the decline in the power of the middle-aged brain has been overstated. Indeed, mathematical prowess, verbal reasoning, and abstract/spatial skills tend to improve as we reach our middle years.
It seems likely that, as the brain ages, it employs strategies to compensate for any decline in cognitive prowess, such as using both sides (hemispheres) when problem-solving. Interestingly, the brains of those who are bilingual seem to be more resistant to both dementia and other degenerative conditions, perhaps because they have strengthened over the years by needing to process so much extra information.
If your elderly parent or relative has Alzheimer's or dementia, there is a wealth of support out there to help them, and considering dementia care at home, with specialist dementia assistance, could be a good option to consider.
You'll get stuck in a rut
No matter how old you are, implementing changes that will benefit your health, such as giving up smoking, are always worth doing. It's never too late to quit a bad habit or start a good one, such as exercising or eating healthily. Indeed, beginning a gentle exercise plan such as walking or swimming has been shown by some studies to slow the rate of cognitive decline in adults who previously lived a sedentary life.
You won't be as happy
On the contrary, many of those surveyed stated that middle age was their happiest life stage. Although it appears that happiness often takes a knock during the 40s, researchers have produced evidence that once we hit the big 50, we tend to feel a lot more relaxed and content, which is good news for those heading towards retirement.
There's no escaping frailty
While osteoporosis is certainly more common in older people, a high percentage of older people never show any signs of this disease.
You'll slow down
While certain illnesses are more common among elderly people, a fit and healthy person of retirement age has no particular need to slow down regarding their fitness, unless they choose to do so. Indeed, many younger people are put to shame by members of the older generation, some of whom continue to run marathons, play tennis at a high level or even swim the channel. Never say never!
You'll be burdened with the effects of empty nest syndrome
Some studies have shown that having an empty nest often makes for a happier marriage. Far from feeling depressed about the fact that the kids have grown up and moved out, many so-called 'empty nesters' revel in the opportunities this stage of life offers – forging new friendships, starting new hobbies and enjoying life to the fullest.
---
Dulcie's care story
Dulcie is one of our longest serving customers. In this video, she and her family talk through their decision to arrange care in the home rather than the care home.
---
You'll give up on learning new things
Long gone are the days when older people were assumed to stagnate with every year. Today, the concept of 'neuroplasticity' – essentially the ability of the adult brain to alter its function and structure depending on experience – has been widely embraced by both the science world and the wider community. To put it another way, you certainly can teach an old dog new tricks!
You'll become socially isolated
While there's no getting away from the fact that many older people are socially isolated, it's not a given, by any means. With age comes a more finely honed sense of social intelligence and empathy, meaning that we get more proficient at reading people, at interacting socially and avoiding confrontation.
That's why staying social and getting out and about is so critical for older people and is something that companion care is ideally designed to support.
Nowadays, there are various care options for a loved one, such as 24-hour care at home, elderly care, or self-employed carer, making it easier than ever to arrange care. With a self-employed carer, your loved one will receive targeted support in reaching out socially to friends and family or even starting a new hobby or interest.
You don't control your destiny
This is not true, according to the results of one well-received piece of research that studied 500 people over a 60-year period. It found that achieving a happy old age is influenced by seven factors. These are being a non-smoker, drinking habits, stability of relationships, body mass index (BMI), exercise, education and coping mechanisms.
'Successful ageing' is defined as being in decent health, having sufficient social support, not suffering from (irreversible) disabilities and having a good standard of mental health. These factors were considered alongside more subjective ones, such as how enjoyable respondents found their life to be, and how competent they were at carrying out everyday tasks. In summary, while we will inevitably all age, we may be able to have control over that process and make it a positive experience.
Call us for expert live-in care advice
Learn more about elderly care
Take a look at more Elder guides on later life support.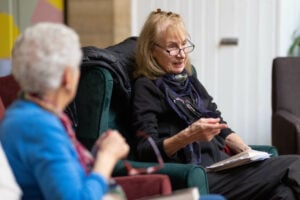 Elderly Care: What if Elderly Parents Refuse Care? Growing older and less able to maintain an independent lifestyle can be hard for an older