He was discharged too soon, and really couldn't cope back at home – it was a very worrying and stressful time, never knowing if he was safe. He was eventually readmitted to hospital and there he caught Covid-19, but thankfully was able to see it off.
The whole time he was in hospital he was just desperate to get home. He was so unhappy, he was even saying he would discharge himself. My sister and I were looking round trying to find a solution.  We knew a care home wasn't right for him.
He had a brief spell in a care home a couple of years back, but I wouldn't have described it as being very caring, and dad didn't like it there. After a hospital admission, the home refused to have him back so it was extremely difficult to know what to do for the best. We certainly didn't want him to go back to residential care, if we could find an alternative.
Dad also loves his home, having his own things about him, doing the things he really enjoys. He lives in a small village and he loves to feel part of the community, to be able to see friends and neighbours is important.
We had heard of live-in care, but I wasn't sure how to go about setting it up. I found the Elder website and called, and I quickly spoke to a lovely man called Andy. He was great at explaining the whole process to me simply, and we took it from there. Elder was also the only company we spoke to who were able to provide the right type of care we needed.
Our carer Tabayi – Tabby for short – is just wonderful. He developed a rapport with my dad within a matter of days, really. He is caring, gentle and conscientious. His experience in care means he can manage things in such a calm and reassuring way.
Having lived on his own for so long, we were worried about Dad accepting someone else being there. But he has an excellent rapport with Tabby, they get on so well!
They talk about politics and history, and watch quiz shows together. Dad is still very much 'on the ball', so he likes having someone to chat to and share ideas with.
Tabby has also had great success in getting Dad more physically active – which is more than we've ever managed! And the physical exercise is really helping Dad's emotional and mental well-being.  Within weeks of his arrival Tabby was encouraging Dad to walk to the garden gate and back, to see my sister off after her visits.
Since then Dad has grown in confidence and ability and is now taking up to six walks a day! Tabby has also introduced him to yoga – and he's really enjoying it! It's all down to how great a carer Tabby is, and the matching process from Elder. We would be lost without Tabby!
For the family, it's also a huge weight off our shoulders. Before, we were constantly anxious about how Dad was, and if he was managing. I live some 400 miles away, but my sister was visiting twice a day on top of working, so it was a strain, especially after lockdown started.
Knowing Tabby is there day and night, it feels like a massive worry has just been taken away!
Ultimately Dad is where he should be, in his own home, and he is feeling confident, relaxed and happy again. It's just been a fantastic experience all round.'
More customer stories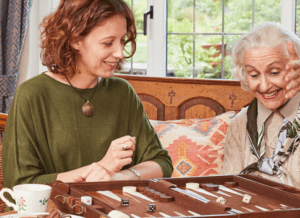 Paying for care Paying for care isn't as daunting as you might think. Read our guide on paying for care, and use our care funding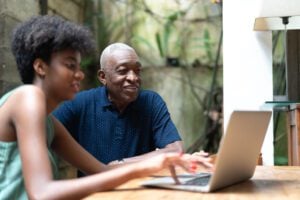 NHS Continuing Healthcare – your complete guide NHS Continuing Healthcare covers every penny of your care costs. It's available for anyone with long-term health needs.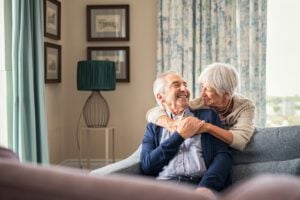 Local authority care funding – everything you need to know If you need live-in care or have to move into a care home, local authority
Read more information and advice