The UK needs more people like you
Join Elder, and earn £300 each time you refer a friend to us.
With a wide range of live-in care, daily care, and Local Authority placements available, , we need more great carers like you. It's why we've created our referral programme. Refer a friend to Elder, and once they've provided 14 days of care, you'll both get £300, as a thank you from us. 
Login to the Elder Hub to make a referral, or apply today to get started.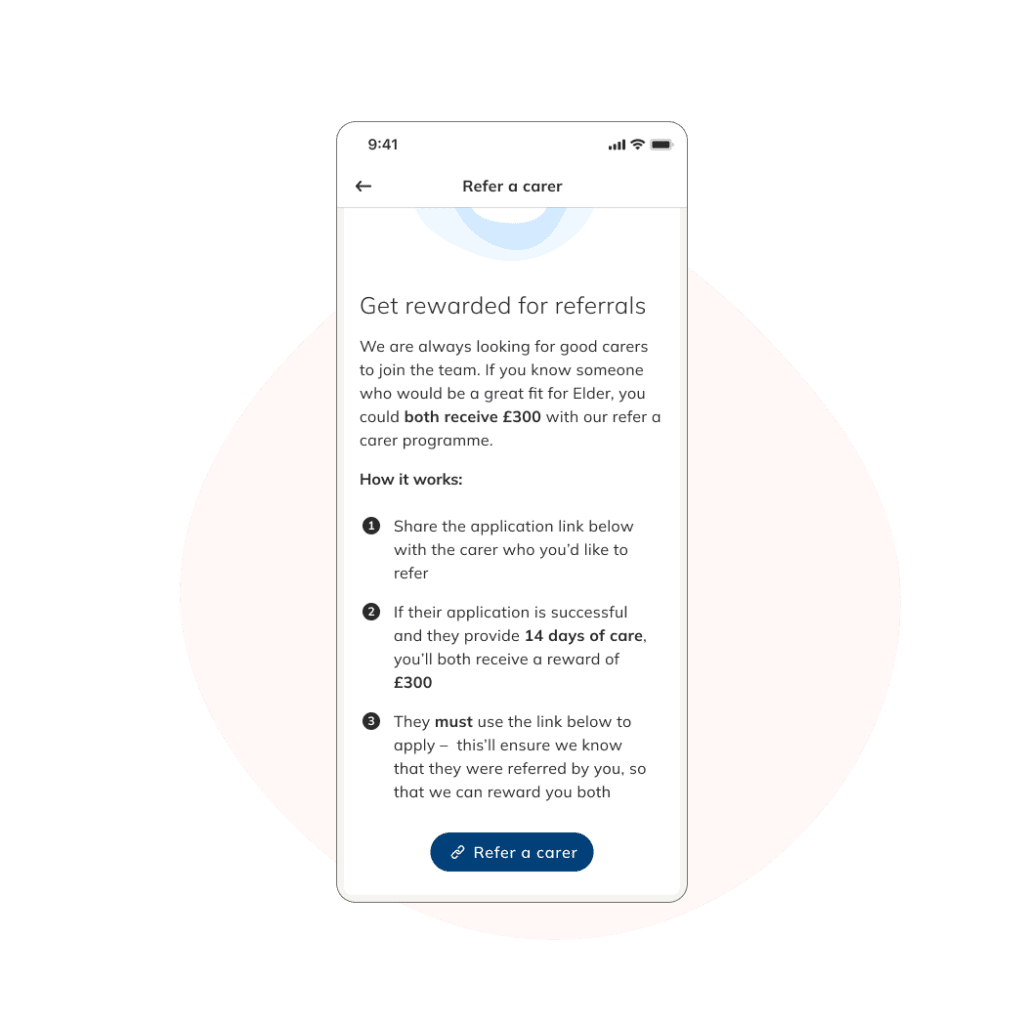 A competitive weekly rate
You'll always be properly and fairly compensated with a competitive base rate of at least £720 a week.
Double pay on bank holidays
You'll receive double your regular daily rate on every bank holiday you work, including Christmas.
Paid travel
We'll cover your travel costs to and from your placement, regardless of how far in the UK you need to go.
The Elder referral scheme
If you refer a friend to Elder and they complete 14 days of care through the Elder Hub, you'll both receive £300.
24/7 emergency support line*
You'll have access to a dedicated helpline when working on a placement, for support around the clock.
Mental health support
Get 24/7 emotional support, expert advice and counselling while you are a carer for Elder.
Self employed assistance services*
Get help managing your money, tax contributions and more.
Exclusive perks and discounts*
Make your money go further with deals and discounts on food, fuel, technology and more.
Access to free e-learning*
Enhance your skills in things like dementia and stroke care.
Injury and sickness cover*
Support whilst you recover.
Family and compassionate leave*
Cover for those important moments.
Digital GP*
Connect with a GP when it's convenient for you, via phone or video conference.
*Rewards delivered by a trusted third party provider.
Ready to find a placement with Elder?