Choosing a care home
Live-in care in Coventry isn't for everyone. Your loved one may not live in a house that has an extra room to accomodate a home carer, or perhaps the idea of it just doesn't quite take their fancy.
Even so, Elder would still like to help you make the ideal later life care choice for your loved one, who deserves the kind of care that is not only suitable, but something they would choose themselves.
That's why we've summed up our top ten care home picks in Coventry to ensure that not only do you make the right choice for your family, but you don't get flustered trying to piece it all together either.
The top care homes in Coventry
If you're considering residential care for your parents or loved ones in Coventry, the following eight options may be worth considering.
Charnwood House
77a Beake Avenue, Radford, Coventry, CV6 3AQ
This purpose-built home is operated by MHA (Methodist Homes). Offers a range of rehabilitation and therapy packages for adults aged 65+ in 65 en-suite single bedrooms.
Suitable for Alzheimer's disease and dementia.
Avalon Court Care Home
1 Glendale Way, Tile Hill, Coventry, CV4 9YQ
This modern care home can accommodate 107 single residents in en-suite bedrooms. Intended for residents aged 65+, Avalon Court is run by Avery Healthcare Group.
Suitable for dementia, mental health conditions, physical disability, sensory impairment.
Allesley Hall
Allesley Hall Drive, Coventry, CV5 9AD
Operated by MHA (Methodist Homes) in a period property, Allesley Hall houses residents in 43 single rooms and 1 shared room, 42 of which are en-suite.
Suitable for old age 65+.
Lammas House Residential Care Home
Lammas Road, Coundon, Coventry, CV6 1QH
This care home is situated in a residential area of Coventry. Operated by Sanctuary Care Ltd, it accepts residents from 65 onwards, each of whom has a single room with en-suite facilities. Lammas Road can accept 23 residents at any time.
Suitable for old age.
The Knowles
6 Duggins Lane, Tile Hill Village, Nr Solihull, Coventry, CV4 9GN
This family-run home is located in a residential suburb. Run by Adept Care Homes Ltd, the Knowles can accept a maximum of 38 residents aged 60+ in 38 single rooms, 17 of which have en-suite facilities.
Suitable for Alzheimer's disease and dementia, physical disability, old age.
Abbey Park Nursing Home
Humber Road, Abbey Park, Coventry, CV3 4FE
Caring for people from 60+, Abbey Park offers 30 private rooms for those with dementia nursing needs and a further 24 double suites for couples or individuals. In total there are 84 en-suite rooms available in this residential home run by the MHA (Methodist Homes).
Suitable for Alzheimer's, dementia and old age.
Victoria Park Care Home
75/83 Brays Lane, Stoke, Coventry, CV2 4DS
Victoria Park is operated by HC-One and is located in a residential area of Coventry. This purpose-built home can also cater for residents with an Asian cultural background. Residents aged 65+ live in 32 single en-suite rooms.
Suitable for self-harming, depression, sensory impairment, Motor Neurone disease, Multiple Sclerosis, Muscular Dystrophy, Parkinson's disease and stroke.
Brandon House Care Home
140 Old Church Road, Bell Green, Coventry, CV6 7ED
This converted care home offers dementia care for adults aged 65+. Another home operated by HC-One, there are 35 single en-suite rooms some with views of the garden.
Suitable for Alzheimer's and dementia, cancer care, epilepsy, sensory impairment, Huntington's disease, Parkinson's disease and stroke.
Realising your elderly loved one requires extra, full time care isn't easy and when there seems to be so many options, it might be overwhelming to know where to start.
At Elder, we are always on hand to offer the best impartial advice, every day between 8 am and 8 pm to help you decide on the best care solution for the your loved one.
Get in touch with one of our expert care advisors today.
Frequently asked questions
Can my loved one still get attendance allowance if they live in a care home?
Attendance Allowance is a government-funded benefit payable to elderly people with a disability so severe that they need assistance with daily chores. Home care assistance doesn't necessarily need to be in place in order to claim it.
Your loved one will continue to receive Attendance Allowance for the first four weeks of residential care, if they qualify for the benefit. After the initial four-week period, they may still qualify for the benefit, provided that they are self-funding their place in the care home.
Where your loved one's local Trust is paying for, or contributing towards, their care home fees, then Attendance Allowance is not normally payable.
Attendance Allowance may be payable to your loved one after their 12th week of care, where their Trust has contributed to the first 12 weeks, whilst your loved one is waiting for their property to be sold.
For more information, check out our Cost of Care guide.
Does live-in care support those with osteoporosis?
Live-in care can offer excellent care to those with osteoporosis, not least because a dedicated live-in carer will get to know your loved one's needs and capabilities very thoroughly. They will be able to help and encourage the care recipient to carry out any recommended exercises and will ensure that they receive all the help they need with day-to-day tasks.
Having someone around whenever they are needed twenty-four hours a day also means that falls are much less likely, and this is particularly important for anyone with osteoporosis.
With a dedicated live-in carer to accompany them, your relative will be able to get out and about safely to the limits of their ability, and you will have the peace of mind of knowing that they are not alone and at risk.
What services do Elder provide?
Elder can provide the one-to-one care your elderly relative needs in the home environment they are used to. One of our trained and experienced caregivers can move into your loved one's home and provide support and care twenty-four hours a day so that they can remain comfortably and safely at home.
In addition to providing the quality healthcare you would find in a care home, Elder's carers will also help with many different aspects of your relative's life. This can include escorting or driving them out and about to appointments or social activities, caring for pets and helping with general housekeeping tasks.
Unless your relative prefers to cook for themselves, our carers will also provide regular meals, so you can be sure your family member is getting the nutrition they need.
Find out more about home care from Elder on our website.
What kind of care do nursing homes provide?
Nursing homes provide a comprehensive package of care for elderly residents. This may include personal care such as help with bathing and eating, social care, companionship and even medical care for those who need help and support 24 hours a day.
If your loved one requires a high level of care but is unwilling to enter a nursing home, live-in care can provide a viable alternative that allows them to stay in their own home, surrounded by familiar possessions and enjoying the support of friends and family.
Private care is often more cost-effective than a nursing home and it provides bespoke care that is personally adapted to your loved one's specific needs.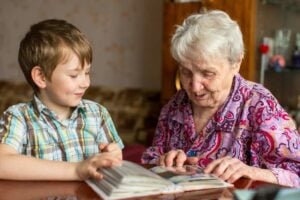 The true cost of care – everything you need to know Discover the true cost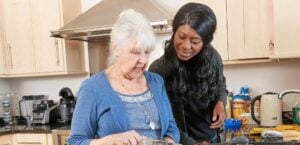 Live-in care Vs Other types of care If your loved one has reached a stage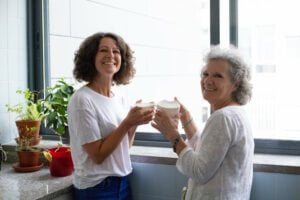 A Guide for Caregivers – Everything You Need to Know If your loved one needs