We know that when it comes to live-in care, there's a lot to think about.
Elder-approved live-in carers have the skills, compassion and commitment to help people make the most of later life, ensuring they maintain as much independence as they can. They enable them to stay where their roots are, where they feel happiest, and where they belong – in their own home.
However, we know that for the families we help, inviting someone new into the home is a big decision – and comes with some big questions. How will it work from day to day? How involved will your family be in the process? And, if you're arranging care for a loved one, will they accept support from someone new?
While we trust the quality of our service and the carers on our platform implicitly, we know it's important that you feel completely confident too.
This is why for a limited period only, when you try live-in care through us for the first time, you'll do so under the Elder Money Back Guarantee.
So, once we have agreed with you that your carer needs can be met through the Elder platform, if during your first two weeks of live-in care, you feel that the Elder platform is not quite right for your or your family's needs, we'll refund your contract rate for that 2 week period.
*Update: please note that due to high demand, this offer is open to acceptance to new customers only until 11pm 31st October 2021.*
Think of it as time for you to experience how a live-in carer can fit into and support your routine, your family, and your way of life.
If you'd like to speak to a specialist about live-in care, and which service would be best suited to your situation, click the link below to book a time to talk.
Is live-in care right for me or my loved one?
If you or a loved one are finding you need a bit of extra help throughout the day or night, but want to stay in control of your life and as independent as you can,  live-in care could be a good option for you.
With Elder, a quality live-in carer moves into a spare room to provide personalised, full time care. They adapt to your routine, respect your wishes, and can help you to live life safely, on your terms.
We offer a wide range of live-in care services, and if your needs are urgent we can get a carer to you within 24 hours, thanks to our vast UK network of quality carers.
To find out more about whether live-in care is right for you, why not book a no-obligation chat with an Elder care specialist?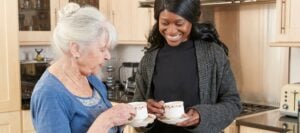 About us We're award-winning live-in care and home care specialists, providing an alternative to the care home. What we do
Customer reviews Find out what live-in care is like from families who have arranged it themselves. Read their stories below….

Elder Standards – what you can expect Arranging live-in care for a loved one is a big decision. It's important