Museum collections and gallery spaces are places for creativity, curiousity and learning. It is both their remit and their gift – and with collections of artworks and objects of historical, social and personal significance, they are uniquely placed to contribute to the social and creative lives of those with dementia.
Developing a UK-wide arts programme that is designed to benefit all, isn't just a moral and socially positive choice, either – it also makes good business sense too. With around 850,000 people living with dementia in the UK, the audience for dementia-friendly museums and galleries is enormous – and that's without factoring in the carers that will also accompany them.
Unsurprisingly, then, best practice around museum and gallery provision for those with dementia is a question that the arts and humanities are increasingly keen to answer. How can venues use their collections to stimulate imagination and conversation and help develop creative capacity among those experiencing cognitive decline? And in turn, how can they create positive experiences that bring people with dementia and their families and live-in dementia carers together?
These questions were addressed head-on in 2015 by the launch of the publication 'Becoming a Dementia-Friendly Arts Venue: A Practical Guide' by the Alzheimer's Society, aimed at helping arts venues become more dementia-friendly. The document, created in collaboration with 19 arts organisations around the UK, allowed cultural providers to evaluate and improve what was already in place – and to find advice on how to engage with those living with dementia.
Some of the challenges that arts venues and museums face regarding visitors with dementia are common accessibility issues, but others are specific to the disease: visitors may have problems with communicating that may make it more difficult for them to find their way around a venue, or they may respond to a performance or installation in an unexpected way, for example. Someone experiencing mood issues or anxiety may also worry how staff may react to their symptoms too.
The publication seeks to address and offer advice on as many issues as possible – from the use of space and navigation of the environments to ensuring that activities are inclusive and contribute to the overall empowerment and recognition of people with dementia.
At its launch, now former Arts Council England chair Peter Bazalgette called the guide, "ground-breaking but practical," but admitted "There is much more that the arts can, and should, be doing."
A wellspring of wellbeing
But why does it matter so much? For many people, arts activity is often something that they 'stop doing' when they receive a diagnosis of dementia, thereby taking them out of their – often long-standing – interests and adding to a sense of social isolation. Enabling those living with dementia to continue to enjoy and take part in arts appreciation and activity offers back a quality of life, as well as providing a social experience where carers and people with dementia are welcomed as equal participants together.
It's a role championed by forward-thinking venues, as Esme Ward, Head of Learning and Engagement at Manchester Museum and Whitworth Art Gallery explains. Writing in the journal Museums & Heritage Advisor, she notes that in their programmes and training, run with research sectors, carers and participants, they have noticed over and over that "people living with dementia need cognitive stimulation, along with opportunities to interact meaningfully with their physical and social environments on a regular basis."
Charity organisation Arts 4Dementia, which helps to set up creative projects at venues, is another advocate for the ability of arts activity to give a life-enhancing new direction for people living at home with dementia. It argues that such cultural and artistic engagement both elevates mood and enables people to regain sense of self and re-energise through social interaction.
Science seems to back this good news up; research done by Newcastle University and University College Hospital, among others, demonstrates that museum projects can have a significant impact on people's wellbeing when living with dementia.
Creative and beneficial ways to use collections can range from using them to open up conversations or a focus on in-the-moment creative activity for people with dementia and those who care for them. For example, people can use the things on display as a talking point to trigger memories. The success of reminiscence projects, for example, have their roots in clever programming by museums – such as that by the National Museums Liverpool, an early and innovative inclusivity pioneer with its acclaimed dementia awareness programme, House of Memories, which opened in 2012.
Here, they created groundbreaking "reminiscence suitcases" for visitors to borrow – an idea that has since been emulated elsewhere in the UK. At Dulwich Picture Gallery, in South London, the Visual to Vocal programme for people living with dementia and their carers is now in its fifth year, and creates vocal work in response to paintings in the Gallery's collection, over 10 weeks, with a performance at the end.
Opening up conversations
But these high-profile programmes are just two of a number of keenly focused dementia-friendly projects now, run in all sizes and shapes of venue around the UK. At the Royal Albert Memorial Museum and Art Gallery (RAMM) in Exeter, dementia-friendly tours, behind-the-scenes visits to handle museum objects and art activities all form a strong inclusive programme.
Inspired by groundbreaking methodology from the Museum of Modern Art (MOMA) in New York, the museum's 'Living Each Season' project uses objects from across the collections – a Victorian cornucopia of stuffed animals and pickled sea creatures, fine art, costume and local archaeology – to spark conversations and reflections. Its success made the museum a finalist in the Alzheimer's Society's Dementia-Friendly Awards 2016.
Community Learning Development Officer, Joanne Gray is based at another of Devon's arts and dementia leaders, Plymouth City Museum and Art Gallery. Plymouth was one of the UK's first dementia-friendly cities, and the museum has built on this with initiatives such as its successful Arts & Minds Project, now in its third year, for people with early stage dementia.
"In the first year of the project we had specialist nurses who tracked the cognitive benefits of the programme from the start to the end," she says. "A lot of their data seemed to indicate improvements in fine motor skills, through handling objects and clay work for example. The social aspect, too, was incredibly positive, in terms of interaction, stimulation and bonding – both for those with dementia and their carers too."
Such is the success of Plymouth Museum and Art Gallery's inclusive arts programmes that dementia-friendly design has been a big consideration of its current renovation – which will treble the size of the space when it reopens in 2020.
"There are a number of key things that make a museum or gallery dementia friendly. Some of the most important are clear signage and plenty of places to sit, relax and reflect, for example. Considered programming and tailored activities are fundamental too – as is consultation. It's vital to ask people what they want! And partnership is crucial – we work with the Alzheimer's Society, dementia cafes and GPs to help us design things that are going to be both useful and relevant. Going it alone is a bit foolhardy I think – but some organisations do."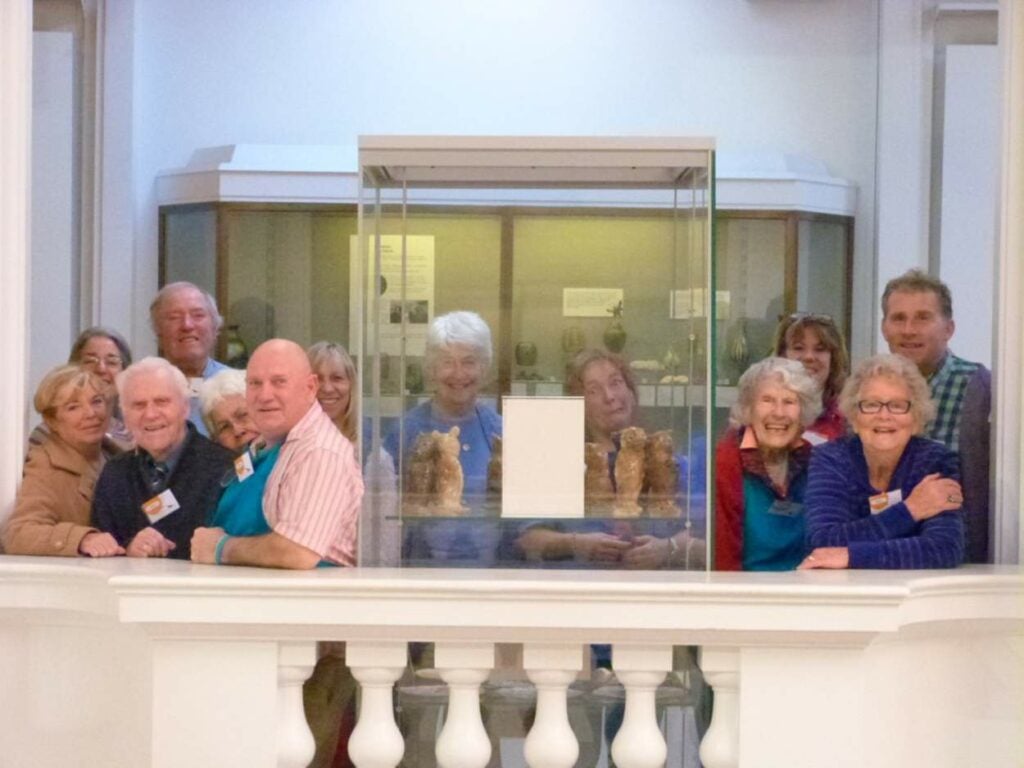 Plymouth City Museum and Art Gallery's Arts & Minds Project, now in its third year, is for people with early stage dementia
People power
Ultimately, a dementia-friendly gallery or museum is more than the treasures it contains. For Joanne, people's awareness is fundamental to success. "Dementia is very much at the forefront of public health consciousness at the moment, and people can forget, for example, that you need to be trained and to really consider the things you are offering.
It sounds easy; people think, 'anyone can run an art workshop' – but we make sure we have regular breaks built in and show pictures from previous weeks to jog their memories and guide them into this week's activity. It's subtle stuff, but so important. Having staff who are trained and on hand to assist and often just to meet and greet visitors with additional needs can make the world of difference to a successful museum visit.
People love to work with people – and to have guided visits with trained staff, such as myself. You have to think about things like tailoring tours to suit people with dementia – perhaps avoiding areas that have things that might upset them, such as flashing lights and so on. I've designed complicated, whizzy things for people with dementia – sensory displays and the like – but ultimately the top line is always that visitors just want to talk, experience and just enjoy these lovely spaces and the art and objects in them with other people."
This interview was part of a series brought to you by Elder, the company who can take care of all your loved one's live-in care needs. Whether you're looking for a London live-in carer or require assistance in another part of the country, Elder will ensure that all of your care needs are taken care of.
Related Features
How to Create a Dementia-Friendly Home
Thoughtful design and adaptation can make a living environment dementia-friendly – and allow those with the condition to stay at home for longer with live-in care.
Live-in Care Boom Boosts Later Life Choices
Live-in home care, where 'companion carers' are carefully matched to provide support and continuity, is the fastest-growing model in the care sector.
Why One is the Loneliest Number for The Elderly
There are over a million lonely older people in the UK now, and the number is on the rise. We look at how solutions such as live-in care could help to stem the UK's loneliness epidemic.
The Elder Interview: James Ashwell, Founder of Unforgettable.org
James Ashwell's experience of caring for his mum led him to set up the industry leading website Unforgettable.org – a one-stop dementia resource offering products, services and advice for those with the condition, their families and carers. We talked to him about the importance of providing accessible solutions and the power of even simple products to change the quality of life of someone with dementia.
Interview with Nicola Cooper, Senior Technology Co-ordinator for Alzheimer Scotland
As Senior Technology Co-ordinator for Alzheimer Scotland, Nicola Cooper is part of a team that promotes independent living through the use of technology, complementing human care and support.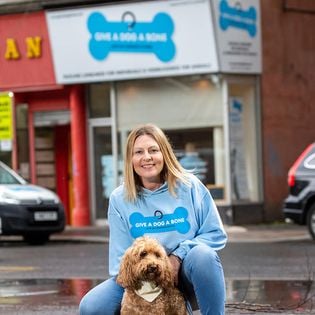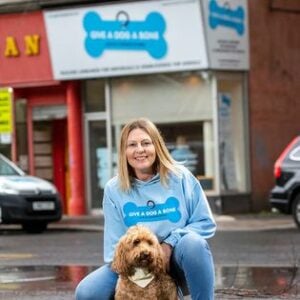 Give a Dog a Bone founder Louise Russell discusses her mission to provide companionship for elderly individuals through the love and comfort of pets. Learn more about her inspiring work to improve the lives of older people.
Read More »