Choosing a care home
Elder recognises that there will be situations where dedicated, one-to-one live-in care in Edinburgh isn't possible. Perhaps there's no room, or their medical needs are too complex.
But this doesn't mean that we don't still want all elderly people who require some extra help to get just that.
We know a thing or two about care, so who better to select some of the best residential homes in the area who can help your relative to thrive in later life while being safe and supported.
The top care homes in Edinburgh
With an in-depth understanding of later life care across the UK, we're perfectly placed to recommend the best residential options near you.
Morningside Manor Care Home
41A Balcarres Street, South Morningside, Edinburgh EH10 5JG
Situated near the seafront and open to the over 60s, Ashcroft has 76 single rooms and 6 shared rooms, but no ensuite facilities.
Suitable for dementia and old age.
Chamberlain Road Nursing Home
7/9 Chamberlain Road, Edinburgh, EH10 4DJ
Care home with nursing for 29 service users. 29 single rooms, 25 of which have an en-suite WC. Offers palliative care, convalescent care and respite care.
Suitable for mental health conditions, dementia, old age, physical disability and sensory impairment.
Lauder Lodge
2 Wakefield Avenue, Edinburgh, EH7 6TL
Situated in the heart of the city, Lauder Lodge is registered for 60 service users aged 65 and over. All single rooms have an en-suite WC. Respite care, day care and palliative care available.
Suitable for dementia and old age.
Cluny Lodge
10-16 Cluny Drive, Morningside, Edinburgh, EH10 6DP
Large care home with nursing offering care to up to 72 service users in 70 single rooms and 1 shared room. 63 rooms have en-suite WC.
Suitable for dementia, old age, no medical intervention, sensory impairment and physical disability.
Murrayfield House Care Home
66 Murrayfield Avenue, Edinburgh, EH12 6AY
Murrayfield House Care Home comprises a listed building and a purpose-built extension accommodating up to 100 service users aged 65 plus. Nursing care is offered, and the home has 92 single and 4 shared rooms.
Suitable for old age and dementia.
Colinton Care Home
69 Spylaw Road, Edinburgh, EH10 5BP
Refurbished care home providing nursing, palliative, respite and dementia care to a maximum of 53 service users aged 65 and over. All 53 rooms are single with en-suite WC.
Suitable for dementia, physical disability, sensory impairment and old age.
Barchester Strachan House Care Home
93 Craigcrook Road, Edinburgh, EH4 3PE
Close to the city centre, Barchester Strachan House Care Home offers care for 82 service users over the age of 65 with Parkinson's disease, multiple sclerosis and many other medical conditions. The home's 82 single rooms all have en-suite facilities, and there is a segregated dementia unit.
Suitable for dementia, mental health condition, old age, no medical intervention, physical disability and sensory impairment.
St Margaret's Care Home
5 East Suffolk Road, Edinburgh, EH16 5PH
60-bed home arranged over three floors offering respite, palliative and nursing care to service users aged 65 and over. All rooms are single and have en-suite WC.
Suitable for old age, sensory impairment and physical disability.
Make sense of your options
Realising your loved one requires care isn't always easy and when there seems to be so many options, you may not know where to start.
At Elder, we are always on hand to offer the best impartial advice, every day between 8 am and 8 pm to help you decide on the best care solution for the whole family.
Frequently asked questions
Can I get government support to fund live-in care?
Currently, no government financial assistance is available to pay for the cost of live-in care or nursing home care for anyone with more than £23,250 in assets. However, this amount does not include any capital tied up in the person's home.
That said, local authorities are able to provide some financial support and financial aid in terms of helping you offset the cost of making your loved one's home more suited to their needs. To begin to access this funding for changes such as ramps and walk-in showers, you'll first need to arrange a care needs assessment.
Trying to find your way through this system can be difficult, so it makes sense to start proceedings as soon as possible. Check out our helpful guide the True Cost of Care for more information.
Would a care home support those with Alzheimer's?
Many care homes position themselves as expert providers of Alzheimer's care. Whilst they may make some provision, the reality is that many older people living with Alzheimer's find the move to a new building full of unknown people with no real reference to the memories they still retain, to be very disorientating. This can lead to a detrimental progression of the symptoms of the disease such as confusion, fear and ultimately aggression and depression.
By staying at home, within the rooms and neighbourhood where they have made so many memories, those living with Alzheimer's can still trigger their existing memories for a sense of peace of mind.
Seeing familiar faces, neighbours, old friends and family more often creates a better continuum. Similarly, having the same carer every day, rather than a new face every few hours as care home staff shifts change, helps to create a sense of safety.
Would my loved one still get their state pension if they're in a care home?
Although your loved one would still be entitled to their state pension if they were in a care home, the amount that they would be able to retain depends on how their care is being funded.
If they are able to pay their care home fees outright, they will get their full state pension. However, if the local authority funds some or all of their care, a contribution towards the fees will probably be taken from their state pension. They will still receive a certain amount, known as their personal allowance, each week so should be able to pay for extras such as hairdressing, toiletries and other small expenses.
Your local authority should be able to explain the figures if you are considering residential care homes for a loved one.
What is home help?
Home help is another term widely used for live-in care. For many fit and active older people still living in their own homes, their live-in carer is their 'little helper'.
This person is there to undertake a range of practical day to day tasks that need to be done, such as cooking, cleaning and shopping, plus the personal tasks that an older person might struggle with alone. Whether it's getting out of bed or out of a chair, making themselves smart and presentable, or getting to the bathroom quickly and safely, home help can be the answer.
Home help also provides companionship and peace of mind to many older people who choose to stay in their homes. It also means they can enjoy a better quality of life and more independence than they would do in a care home.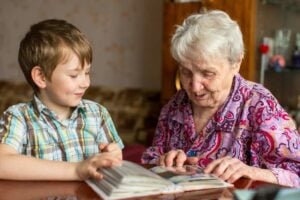 The true cost of care – everything you need to know Discover the true cost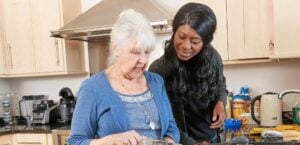 Live-in care Vs Other types of care If your loved one has reached a stage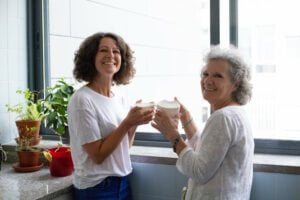 A Guide for Caregivers – Everything You Need to Know If your loved one needs