Dr Vanessa Raymont is a senior researcher and consultant psychiatrist working in the Department of Psychiatry at the University of Oxford and the Centre for Dementia Prevention at the University of Edinburgh. She is also a lead researcher for the EPAD (European Prevention of Alzheimer's Dementia) Consortium in Oxford. We talked to her about assessing the risk of dementia and the powerful potential for research into prevention treatments.
Why did you go into the field of old age psychiatry and brain trauma research?
I did my initial training in adult and old age psychiatry and then a master's degree in cognitive neuropsychology. That's when I really began to enjoy understanding more about how the brain works, how it's affected by head injuries and what happens to cognition in later life after such injuries.
I then spent time at the National Institute of Health in the USA where I worked with Jordan Grafman, a psychologist who does research into cognition and brain injury, on his study of people with head injuries from the Vietnam conflict. When I came back to the UK, I wanted to continue working within the fields of head injury and cognitive impairment.
I do some brain injury work, but my main focus is now in memory research. My father died last year with dementia, and I think that reinforced for me on a very personal level, the importance of trying to treat and support people with these conditions and maybe even stop them occurring in the first place.
Is research into dementia slow in terms of finding out what we need to know?
I think it's not proceeding at the pace people would like and certainly, we've not had any new treatments for almost 20 years. In the last few years, there have been so many treatments that have been investigated but then not got onto the market, that there's been a gradual rethink in focus to look more at prevention and reducing the risk of developing dementia.
What that means is that we are starting to learn more about the 'pre-clinical' progression of what happens in the 10 or 20 years before developing dementia.
For a long time, we've known that changes may happen in the brain at that early stage, but we haven't really systematically looked at the progression in people from mid-life, and that's something that is changing now.
You are involved with the European Prevention of Alzheimer's Dementia (EPAD) consortium – what work are you doing there?
I got involved in EPAD when I moved to Edinburgh to work with Professor Craig Ritchie, who is the chief investigator. I was there in 2016 when the first participant came in, so that was really exciting, and I now lead the study in Oxford.
EPAD is an EU-supported, European-wide research study that involves 38 different institutions, from universities to drug companies. The study is open to anyone over 50 who doesn't currently have dementia, and the plan is to develop an ongoing register of 3,000 people across Europe who will be followed up long-term.
One of the criticisms about drug studies for Alzheimer's in the past, is that there are probably small, subtle differences between participants across studies that may partly explain why the drugs don't work for more than one group.
People in EPAD are seen every year and assessed in depth; they have brain imaging and blood tests done, an examination of their cerebrospinal fluid and we ask them about their lifestyle.
Assessing large numbers of people across Europe and following them up long-term means that we'll have a big group that we know a lot about in terms of risk for developing dementia.
They will then be invited into smaller studies that will investigate treatments or lifestyle interventions aimed at specific risk factors.
That's the really novel bit – the fact that it's such a large study – but it's also bringing together research looking at treatments that could reduce the risk or delay the onset of Alzheimer's.
Do you think lack of progress in research has simply been because we haven't had the length of study or a critical mass of people with dementia?
In some ways, yes. Obviously, dementia has become a bigger area of concern for everybody, compared to 10 years ago even, partly because there are a lot more people living longer and developing dementia. I think there is broader interest now and people wanting to develop this type of research.
There is also a range of research focused on different points in the lifespan. So there are studies looking at people in their 40s and 50s, decades before they develop any chance of dementia, but there are also studies that are examining risks in older people.
Having studies like these running in parallel means that hopefully, it shouldn't take long to understand much more about what happens years before dementia starts.
There has also been an increasing will to look more at prevention, and more funding for bigger studies, so we can actually start thinking about treatments that could work before people even develop dementia.
For more information about the EPAD study visit HERE.
If you're over 50 and you'd like to take part in the study, contact the Oxford EPAD team on 01865 283806.
Have you noticed any changes in attitude since you started your research into dementia; are people more aware of the condition and possible ways to help themselves?
I worked in my first memory clinic in 1994, and I've definitely seen a huge difference. That was just before the first treatment for Alzheimer's dementia came onto the market, and we saw a lot more people who were in the later stages of dementia.
Also, when you had to tell someone that you thought they may have dementia, it was a very different type of diagnosis to get, because sadly there were no interventions we could offer other than social support.
There has also definitely been a shift over the past 20 years in terms of seeing a lot more people at the memory clinic who have mild memory impairments.
People are much more aware that there are treatments available and they're keen to discuss whether these are things that they would be suitable for.
They also want to hear about things they can do to help themselves, not just about drugs. I think the majority of people are more interested to know about dementia now, and what they can do to help the symptoms or prevent it in the first place.
How positive are you that within the next decade we'll move forward significantly in terms of dementia prevention treatment?
I'm very positive. Last year The Edinburgh Consensus on dementia was published and involved a lot of well-known old age psychiatrists.
It talked about the need for memory clinic services to start changing so that we can be ahead of the game and begin to learn more about how we identify people at risk of developing dementia.
It's likely that a lot of these types of changes to clinical services will initially be led by research. In Oxford and Edinburgh, we're talking about creating 'brain health clinics' which would encourage people with memory concerns to come along even earlier to have a much broader assessment, which will then be linked to the research we're doing.
The sooner we start learning more from EPAD and other similar studies, the sooner the findings can be fed into this type of clinical service.
Obviously, there will still be people who develop memory problems and need the traditional memory clinic support that we provide. But I think within the next few years, there will be a significant change and we will start being able to provide 'risk assessments' and individual programmes to reduce the risk of developing dementia or delaying its onset.
Is the idea of feeding your brain health throughout the lifespan, long before you any worries about your cognition, one we should encourage?
Absolutely. I think we are all becoming a lot more aware of things that we need to be doing to lead a healthy and active life as we get older. The focus has tended to be much more on the physical side to-date, and we now think about things like long-term cardiovascular health even when we are young. I think people will start to view brain health in the same way – and think about how they can support it through their life span.
This interview was part of a series brought to you by Elder, the company who can take care of all your loved one's live-in care costs. Whether you are looking for a live-in carer in London or require assistance in another part of the country, Elder will ensure that all of your care needs are taken care of.
Related Features
Dementia and Depression in Later Life: Early Biological Changes May One Day Help Us to Predict, Track and Treat Those at Risk
Could we one day predict – and treat – those at risk of dementia years before they have symptoms? Professor John O'Brien's work at Cambridge University on the role of 'biomarkers' may one day make this a reality – as well as helping other conditions such as later life depression.
Dementia 2020 Citizen's Panel: Making Britain the Best Place in the World for Dementia Care
Commissioned by the Department of Health the Dementia 2020 Citizen's Panel gives people with dementia and their carers a chance to discuss the experience of living with dementia. We talked to Gareth James from the Dementia and Disabilities Unit about the aims for and importance of this wide-ranging initiative.
Inequalities in Later Life: Dr Laurie Corna, Lecturer in Gerontology, King's College London
We talked to Dr Laurie Corna, Lecturer in the field of Ageing at King's College London about the positive implications of gerontological education and the power of an interdisciplinary approach to the issues of later life.
Learning Disabilities and Dementia: Providing Effective Care for Those with More Complex Needs
Research indicates that people with a learning disability are more likely to develop dementia, and earlier. For MacIntyre's Emma Killick, it's vital that boundaries are broken down between specialist healthcare organisations and charities in order to respond to a complex set of needs.
Dementia Across Cultures and Ethnicities: An Interview with Author, Dr Julia Botsford
We talked to Dr Julia Botsford about the questions and issues that cultural and ethnic differences can raise in the provision of support and the creation of services for those living with dementia and their families.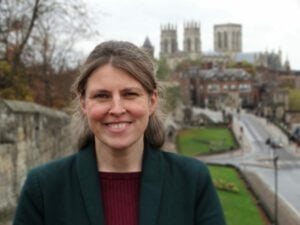 Giving the elderly a voice in Parliament: An interview with Rachael Maskell MP We talked to Rachael about how she helps constituents with issues around
Read More »