Children's book Travels with my Granny is a sensitive introduction to old-age confusion and dementia, through the loving and imaginative relationship between Granny and her grandchild – and their journeys together. We talk to journalist and author Juliet Rix about the inspiration behind the story and why she hopes it will give adults and children a new and accessible way to understand and talk about dementia.
How did you come to write a children's book focusing on dementia?
The seed of the book came when I was writing an article for The Guardian and went to visit an elderly couple. The man was the primary carer for his wife who had dementia, but he couldn't always manage everything physically, so the couple had carers coming in briefly in the morning to help get her up and in the evening to put her to bed.
He told me that it was difficult because the carers didn't have much time to spare or really understand dementia and that sometimes his wife would get distressed, particularly when they were undressing her.
He understood why. She was often somewhere else. "And you would get distressed, wouldn't you," he said, "if someone was trying to undress you while you were standing on a bridge!". That image really stuck with me.
I also interviewed a woman with early onset dementia, who also said things that stuck with me, and which had a bearing on the book.
"Even if someone doesn't remember you visiting, and is berating you when you visit for never coming to see them, even though you were there a few days earlier, never stop going," she said.
"They may not remember your visit, and they may not have any idea why they feel like they do, but when they wake up the next morning after a nice visit the day before, they will feel better." Which I thought was a lovely way of thinking about it.
I also wrote a newspaper article on the Virtual Dementia Tour which is a multi-sensory experience that tries to give people with a healthy brain some insight into what it's like to have dementia. It's quite an uncomfortable experience, but a useful one.
I also did a radio programme about dementia for Age UK's radio station, talking to experts including the brilliant Professor Clive Ballard.
All of these experiences fed into the book, but the main reason for writing it was just the fact that 850,000 people are living with dementia now and so children are inevitably coming across it, even if it's not in their own family.
Having a way "into" it and some sort of understanding that isn't disrespectful of the person with dementia is valuable – and that was what I hoped using the idea of travelling would do.
What journey does the book take the reader on and how does it help to demystify dementia for children?
The book is a story about granny and her grandchild and how they go travelling around the world together. It's intended to be a fun book – it takes kids around the globe, and it's not just about dementia by any means – there are all sorts of places in there to explore, from Delhi to Paris to the Great Barrier Reef.
However, the point is that granny used to travel a lot, but now her legs won't carry her much further than the door, but she still travels in her head. And sometimes she takes her grandchild with her by telling him/her about it.
The grandchild is the narrator and tells us about it, and importantly the child is gender neutral in the story so can be whatever the reader wishes.
The grandchild says that the grown-ups think that granny is confused and doesn't know where she is, but he/she thinks granny knows exactly where she is – it just isn't where the grown-ups are.
That is the core of the story – the grandchild understands that granny is travelling in her head. So when granny appears in all sorts of thick jackets in the middle of summer, the grandchild just waits to find out where they're going. And of course they are going to the Antarctic – and in the next picture, we see them both surrounded by penguins.
Follow Juliet Rix on Twitter HERE.
What research did you do before you started writing, and how did it inform the story?
I spoke to dementia experts, carers and families and people living with dementia themselves, so I had some idea of what the issues were and what experts were now saying.
For example, many are now beginning to say that you don't always have to contradict people or force them back into the here and now all the time – and that sometimes just allowing people to be where they are is okay.
Of course, I got the book looked at by a number of dementia experts before it went to press to make sure it would be of true benefit.
Since the book's release, the thing that has been really encouraging is that the people who have been most enthusiastic have been those who have had dementia in their families. I have had several people say, "I wish I'd had this book five years ago when my mother had dementia, and my kids were young."
What is your aim for the book?
I hope that having read the book, when a child sees someone with dementia behaving unusually – and it can be quite frightening for a child to see an adult acting in an inexplicable way – the parent or other adult has a way of saying, "well, maybe (s)he's travelling and is somewhere else at the moment. I wonder where they are?"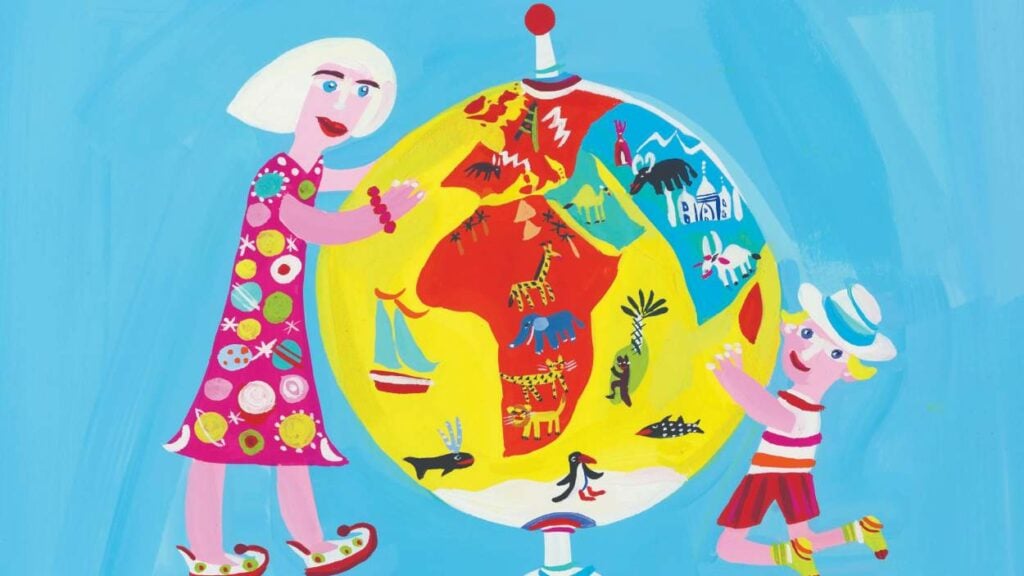 In the book, the grandchild goes with granny, in the sense that granny is telling her about these places. However, I wanted it to be clear to the child reading that you can't always go with the person. Sometimes they're going to be off somewhere else, and you're just going to have to wait for them to come back.
By putting the child in control in the situation – (s)he's the one that gets it – I hoped that it might also encourage people in real life to talk to somebody with dementia about where they are and their memories.
Often with dementia, people can't remember what happened half an hour ago or yesterday, but their long-term memory can be quite good – and this idea might help to give the child a way in to communicate with them.
What the grandchild is getting from granny are the things that aren't practical and immediate – but nonetheless important and valuable. At the end of the book, I say that 'granny can't remember yesterday'. However, the grandchild says, "I don't need her to remember yesterday – I can remember yesterday."
This interview was part of a series brought to you by Elder, one of the UK's top live-in carer agencies. Whether your are looking for London live-in care or require assistance in another part of the country, Elder will ensure that all of your care needs are taken care of.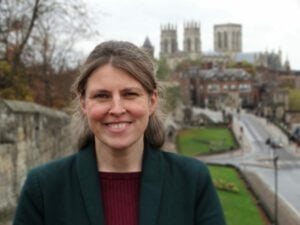 Giving the elderly a voice in Parliament: An interview with Rachael Maskell MP We talked
Read More »