Dementia nurse specialist, Andy Tysoe set up the #DementiaDO campaign to raise awareness and encourage communities to take action to help make life better for people with dementia. He is also involved in dementia initiatives including the Sporting Memories Network which uses sports reminiscence in groups. We talked to him about the impetus behind the #DementiaDO campaign, the importance of seeing dementia as a disability and moving from the idea of "dementia-friendly" to real inclusion.
Why did you set up #DementiaDO?
I got sick of sitting around tables listening to people say the same things about what should happen to support people with dementia – and finding that six months or a year later we were still talking. People with dementia actually need a bit of help now.
There were a couple of tipping points that prompted me to set up #DementiaDO, which is very action-based – the first was in the hospital I was working at the time. We had a dementia strategy group where people discuss how they can start to improve care to support people better with dementia.
The catering manager was there one day and mentioned getting dementia-friendly plates or menu boards. Then he looked me, and I looked at him, and he said, "we've already had this conversation – two years ago!" So I thought let's just stop sitting around tables, let's just actually do something – and if it's not the right thing then at least it's better than nothing. We can hang our coat on something at least – and move forward.
The second tipping point was trying to agree on some dementia awareness training for the NHS. I was involved in some of the strategy discussions a few years ago, and again, it was a case of big meetings and loads of fantastic facilitated sessions, and after six or seven months they came out with some outcomes.
I thought at that point, "I've had enough – I am just going to set up my own dementia education sessions and make them available to anyone who wants to attend". Because people need that help. When someone gets a diagnosis of dementia, who teaches that person about the disease and who tells the carer why their loved one might suddenly become unreasonable, forgetful or repetitive?
Why are people reticent to take action around issues to do with dementia?
I think it's better now than when I set up #DementiaDO four years ago, but there is still the fear of failure, risk aversion about the challenge and trying to do things slightly differently. What I try to do is get people to see dementia as a disability.
People often look at dementia as a bit of an inconvenience, a natural part of growing old or a mental health condition, when it actually isn't – it's a physical brain disease. And if you see it as a disability, then you can then start to transfer how people with physical disabilities were first supported in our communities to this hidden disability and look practically at how it can be supported.
I look at dementia as a cognitive disability. If you have a physical disability you get a physical ramp to support you – so what about creating cognitive ramps for people to help them through our services and communities and into shopping centres and supermarkets, instead of pushing people out all the time? And obviously, carers are a massive part of that cognitive ramp.
What misunderstandings persist around dementia and what role does the media play in this?
When key public figures come out and say that they have dementia – or that someone in their family has – then people can see the high level of functioning that goes with that diagnosis and not just picture someone in their nineties with wrinkly hands, looking forlorn – all the images that the media love to portray.
The way that people with dementia are portrayed in the media has a key role to play in changing the way society understands and views the disease. Referring to people as sufferers all the time, for example, also brings people down and it also compartmentalises people and gives them a label which people then use to make a "them and us" situation.
Newspapers also need to be more responsible in their reporting of dementia. I have over 60 headlines from the Daily Express alone quoting different types of "cure-alls" for dementia: everything from drinking coffee, sleeping and taking exercise to drinking a glass of wine a day.
What they basically do is take somebody's small-scale research that's been done, perhaps, to improve cognition in rodents, and extrapolate it out to a "potential cure for dementia" – and splash it on the front page. If you or a family member are reading that as someone with dementia you'd be gutted when you find out you've wasted your time and euphoria about a cure when it isn't – and is perhaps possibly some years away.
How do we increase inclusion around dementia?
I persuaded Tesco to open the world's first dementia-friendly checkout in a supermarket, and the development of that idea followed the same idea of how people with physical disabilities were first supported.
Back then you'd go into a supermarket, and there would be a row of checkouts, and the one at the end would be wider for a wheelchair, the counter would be lower, and there would be a big blue sign above the till advertising the fact it was wheelchair-friendly.
Now if you go into a supermarket every one of the tills are the same, which is fantastic. If you're in a wheelchair you can choose which one you use, you don't have to be stigmatised and funnelled to the wheelchair-friendly one, and that's how it should be. That's the journey.
You need to get all the stuff about being "dementia-friendly" out there…but don't stay there. It starts with a symbolic gesture, but then you need to move on to inclusion.
Why did you start working in dementia – and how have things changed since you began?
I started off in the NHS as a kitchen porter and worked my way up to the heady heights of the person who pushes the food trolley round the ward! There I saw examples of good care, and examples of bad care and that propelled me first into becoming a support care worker, and then a qualified nurse.
As a registered mental health nurse I've worked in every theatre of mental health, from international mental health air ambulance and secure units to acute mental health units. The only area I hadn't worked in was dementia care, but the place of dementia in mental health was always a bugbear for me.
My question is if dementia is a brain disease and a physical health condition, which it is, why is it so embedded in mental health? It doesn't make sense. I think neurology didn't want it, back in the day, so they made it a mental health condition, and yes there are some crossovers there in dementia with things such as perceptual issues as you would get with psychosis and short-term memory loss that you could get with depression.
However, there are shades of dementia in physical health too, so if we're going to start thinking outside the box, we need to scrap those two boxes and build a new one for dementia. It spans so many different medical specialities, and nobody really wants to take ownership of it – we need to start working together a bit more.
Along with #DementiaDO you also work with the Sporting Memories Network, can you tell us about that?
The Sporting Memories Network was started in 2012 to use the power of sports reminiscence to engage people with dementia in groups actively. What the founders discovered was that people with dementia were being brought there by carers who then stayed and participated too.
So they opened it up, and now the groups are there to help tackle depression and isolation in over 50s with dementia, but anyone can come along and participate, not just those with dementia. It's open to anyone, to talk about any kind of sport.
There are now over 100 groups around the UK, with funding from the lottery and Sport England. I went to one this morning at the National Football Museum in Manchester, which runs every two weeks and is a fantastic group of people.
People who hear about Sporting Memories get it and want to be part of it, even ex-football players volunteer their services. I am now an area coordinator for the Sporting Memories Network – and what a great way to combine both of my passions: dementia and sport!
What's the biggest change you'd like to see in the dementia space as a legacy of #DementiaDO?
I'd like to see a cure! But other than that, I'd like to see dementia being a mainstream disease that people talk as freely about now as they do about cancer. I'd like to see us take it up a notch now and stop treating dementia as this hidden disease that people should be ashamed about. Why should you be ashamed of having dementia?
This interview was part of a series brought to you by Elder. Whether you are looking for London live-in care or require assistance in another part of the country, Elder will ensure that all of your care needs are taken care of.
Further Information
'#DementiaDO… The Basics' is an open NHS dementia education session for anyone who has been affected by dementia through family, work, as a carer or simply with an interest or passion for improving dementia services.
To inquire about a session please contact sessions@dementiado.org
Related Features
Exploring Creativity in Dementia Care: An Interview with Author John Killick
Poet and author John Killick has written seven books on dementia, including Dementia Positive, Communication and the Care of People with Dementia and Playfulness and Dementia.
Is Virtual Reality the Future of Mental Health? Professor David Roberts, Professor of Telepresence, University of Salford
With Virtual Reality moving into the mainstream, what is the potential for its use in the dementia space? We talk to leading researcher Professor David Roberts about the new realities of this technology.
Michael Hornberger, Professor of Dementia Research at UEA and Cocreator of Sea Hero Quest Smartphone Game
The Sea Hero Quest smartphone game is a research project designed to gather data on people's navigation strategies, or how they get from point-to-point. To-date, around three million people have played the free smartphone game and contributed vital information to the project. We talk to Professor Michael Hornberger, Professor of Dementia Research at UEA and one of the game's cocreators, about the exciting potential of this 'big data' – the first of its kind in the field of dementia research, and the implications of the findings so far…
On a Mission to Improve Later Life: Young Trailblazer Natasha Wilson of Age UK Sheffield
We talked to Natasha Wilson, Care Coordinator at Age UK Sheffield, about the importance of intergenerational relationships, what she has learned about later life working with older people and her vision for the future of dementia and later life care.
Tommy Dunne: Living With Dementia, Not Suffering From It
Campaigner Tommy Dunne was diagnosed with Alzheimer's at the age of 58 and now spends much of his time working with organisations such as SURF (Service Users Reference Forum), Liverpool Dementia National Alliance and YoungDementia UK to raise awareness of the issues around dementia. We talked to Tommy about the challenges of living with Alzheimer's and how important is it for those with dementia to realise that they can still contribute to society and make a real difference.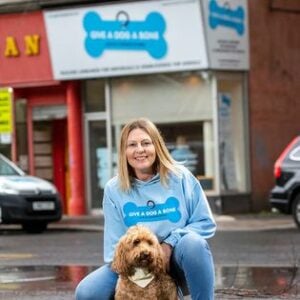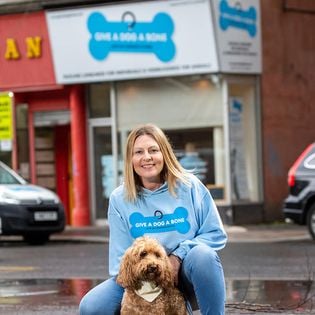 Give a Dog a Bone founder Louise Russell discusses her mission to provide companionship for elderly individuals through the love and comfort of pets. Learn more about her inspiring work to improve the lives of older people.
Read More »