From friendships that flourish through a shared love of music, to talking politics and putting the world to rights,  at Elder we are regularly blown away by the connections that form between the live-in carers we work with, and the older people they support.
However, forming connections with someone from a different generation can raise some big questions too, especially if you're trying to help an older loved one to expand their support network. Will there be enough common ground? What will they talk about? And will they really understand each other?
We asked The Cares Family – a network of charities working to bridge the age gap, about the benefits and impact of forming friendships with people from different generations.
Could you tell us a little bit about how The Cares Family was started, and your mission? 
The Cares Family helps people find connection and community in a disconnected age.
We opened in North London in 2011 after our founder, Alex, was canvassing for votes as a council candidate in the local elections. As he was doing his rounds and knocking on doors, he met Fred, a neighbour in his 80s who hadn't been out of his house for three months. Alex wheeled Fred in his wheelchair to vote, and the next day returned to help him get a haircut.
As the pair became friends, it became clear that this was a truly mutual relationship: Fred was reducing his isolation through his interactions with Alex; and Alex was feeling more connected to his community than ever before, hearing about Fred's amazing stories and discovering what they had in common. At that moment, the idea for The Cares Family was born.
Over three years it developed four programmes to bring older and younger neighbours together – through social clubs, a one-to-one Love Your Neighbour friendship programme, outreach that invited older and younger neighbours to share time and new experiences, and community fundraising. South London Cares followed in 2014, and Manchester Cares arrived in 2017, followed by Liverpool Cares in 2018, and East London Cares in 2019.
The Cares Family is now active in five great, rapidly-changing city locations with heritage and heart at their core. Across the group, some 18,000 older and younger people have now found confidence, community and connection through new relationships with their neighbours, and with the changing landscapes around them.
Do you think there's a stigma around intergenerational friendships? Particularly for people who may only have experienced close friendships with others their own age? 
A good friendship between two people, whoever those two people may be, is one that is mutually beneficial. It's one where both friends learn from and support each other – and that belief is at the heart of our work.
Our younger neighbours aren't part of our programmes to help and support older people. They are part of our programmes because they want to connect with their community and lay down roots in their area, and our older neighbours support them to do that. Equally, older neighbours come to our programmes to hang out with younger people, to get to know a different generation and to create new connections in their neighbourhoods.
Are people surprised about the connections they make, or how much they have in common with someone from a different generation?
The story you hear most when talking to younger and older neighbours after they've been to one of our social clubs, or started visiting a new pal is that the age difference seems to melt away. Take Frances, 100, who told us about her friendship with James, 33, "What do I enjoy most about it? The laughter. We gel through our sense of humour. Oddly enough, age doesn't come into it. I wouldn't have believed it."
What do you believe are the biggest benefits of forming a friendship or connection with someone from a different generation?
Older and younger people have so much to gain from one another by sharing time and friendship – and the generational gap is itself the biggest benefit. Take Roy, 74. On asking what Roy likes about hanging out with younger people, he says, "I like speaking to younger people to see what's going on with them – it's very different to when I was young, especially with things like the job market. She's somebody that I look forward to seeing. If it weren't for South London Cares, I probably wouldn't be talking to any youngsters."
While we hear a lot about elderly loneliness, in your experience, is loneliness a growing issue among all age groups, and does geography play a significant part?
The enforced isolation brought on by the pandemic has shown us all what it feels like to be lonely. But in fact, loneliness is prevalent in all age groups long before the pandemic. A survey conducted in 2019 showed 24% of Britons aged from 18 to 24 reported experiencing loneliness often compared with just 7% of those aged over 55 reporting feeling lonely often.
For people that live in cities, feelings of loneliness can often be compounded further. As trends such as gentrification and digitisation change neighbourhoods, people living in those areas can often feel left out, or left behind by the rapid pace of change. That's why it's so important for people to come together to help one another feel part of their community.
What are the signs of loneliness to look out for, and what steps can we all take, especially in the winter months, to support an older person?
Loneliness doesn't just affect older people – we can all take steps to look out for one another over the winter months. Get your five a day, every day: five meaningful interactions with a neighbour, co-worker, bus driver, barber, or stranger. Or pick up the phone, and call a friend you haven't spoken to for a while.
With New Year's resolutions on the horizon, why not resolve to do something you wouldn't normally do, with someone you wouldn't normally meet? That might be through a local charity, or even by stopping in your local café to chat with someone you see often but never talk to.
Corinne's story
Corinne, 67, first got involved in Liverpool Cares by attending a number of social events. She instantly felt included and hasn't looked back, enjoying meet ups with younger neighbours in Manchester and London, as well as some wonderful Zoom sessions over lockdown.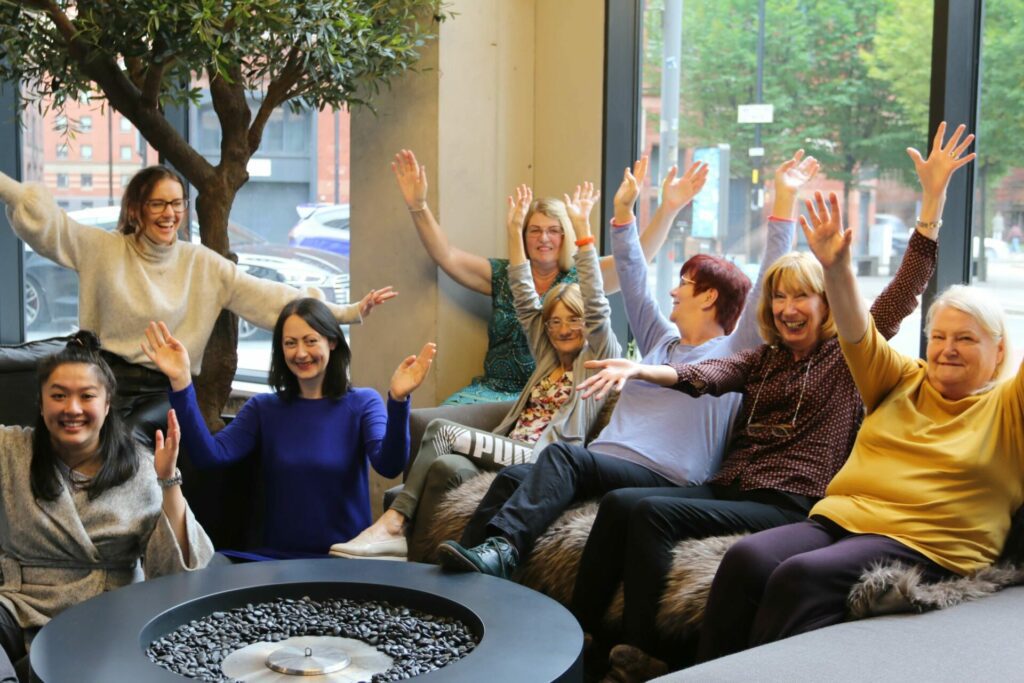 Did you have any worries about connecting with someone from a different generation?
I wasn't worried, but wondered what the younger people may think of me. Apart from being older I am also partially deaf and in groups can have trouble hearing even with my hearing aids. I know from past experience people have gotten annoyed with me when I couldn't make out what they were saying.  But everyone has been really patient. I love hearing about what the younger volunteers get up to and also know that younger people can be lonely too so it's a great charity for all ages.
What are some of the things you like to do together?
We have ghost walking nights, theatre trips, book clubs, film clubs, I really enjoyed a recent quiz in Liverpool where we were placed in mixed age groups to answer questions, it was so much fun. We've also been to Grow Speke to see their flower and vegetable growing, beekeeping and craft workshop, and also enjoyed some delicious soup. It was lovely seeing what a community of all age groups can achieve together.
What do you think is the biggest benefit of having a friend from a different generation?
You learn to look at other generations' points of view. It's amazing how much you can learn from younger volunteers and they seem to enjoy hearing about our lives when we were their age.  That understanding we have found in each other helps us work as a team – so we are all united like a family.
Michelle's story
Michelle, 44, came across North London Cares in a community magazine for local residents in Camden, and was drawn to the possibility of making new friends locally. 
Did you have any worries about connecting with someone from a different generation?
Not at all. In fact, meeting people from a different generation was the thing I was most looking forward to. Living in a large city, like London, I don't have family here and most of my friends are of a similar age and background to me. So it's refreshing to meet people from all walks of life, who can share some wisdom from their life experience.
What are some of the things you like to do together?
I have enjoyed all sorts of social activities like film clubs, learning about other neighbours' cultures and completing crosswords together.
What do you think is the biggest benefit of having a friend from a different generation?
I no longer have living grandparents so I am so grateful to have the opportunity to spend time with neighbours of a different generation. They offer a fresh and measured perspective on things and I always learn something new.
I think as we go through life, we gradually become less obsessed with what people think of us and begin to understand what is actually important in life, and so neighbours of a different generation offer a light-hearted and calming influence that always leaves me feeling happier after spending time together.
Read our latest interviews
Browse our latest interviews, and research on elderly living, from leading national experts.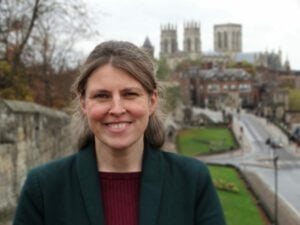 Giving the elderly a voice in Parliament: An interview with Rachael Maskell MP We talked to Rachael about how she helps constituents with issues around
Read More »