The Health Foundation is an independent charity aimed at improving health and care for people in the UK – both in quality and equal access. Its work aims to create a healthier population, through research, grants and crucial policy analysis, aimed at helping governments make effective decisions that have better long-term implications.
This June, the Foundation opened its new REAL Centre (Research and Economic Analysis for the Long term), to improve the quality of strategic decisions about the health and care system, particularly with a view to sustainability issues.
What are the key issues the Government needs to address to ensure the care system is fit for purpose?
The first issue that needs to be addressed is the overall level of funding just to get the current system working so that people who need care, get care. Then there are related problems around the workforce and high vacancy rates.
There are also problems around social care providers, with lots of care homes finding it difficult to make ends meet and some handing their contracts back to local authorities. Finally, there's the issue of having a fair split between individuals and the state in terms of who pays for care.
Some people have care needs that are expensive and if these go for a long time, they face extremely high costs, which for home owners, often necessitates them having to sell the home. If you're 65, you have no idea how much you're going to have to spend on care over the rest of your life. It could be nothing, or it could be hundreds of thousands of pounds. This issue is arguably even more challenging for working age adults who are disabled or have care needs.
In other areas of life, we have systems in place to protect ourselves against those costs – the NHS is an insurance system against the cost of health care, for example. We don't have that in social care, so protection against those high costs is the major kind of structural reform the Government needs to do.
The Care Act 2014 did actually legislate for reform to the funding system and capping care costs, so it's already there on the statute books. The Government could actually decide to turn that on, and as local authorities were trained in operationalising the policy five years ago, implementation could happen fairly quickly.
What is the Health Foundation's position on social care funding at present?
Since 2010/11 there's been a big reduction in local authority budgets – after taking into account that the population is ageing, this has reduced by about 12 percent per head. That means that lots of people with care needs aren't getting local authority care anymore, putting a burden on family and friends, and often they have to find money out of their own pockets to pay for care.
Basically, these reductions are increasing the unmet need in the population. Compared to the NHS, where funding has been relatively protected, social care has been the poor relation and we are advocating greater spending in this area.
Social care and the NHS can't be thought of in isolation any more – when you look at some of the problems in hospitals with A&E waiting times, you might think that isn't connected to social care – but a lot of that is about people having to stay in hospital unnecessarily because the social care support packages aren't in place to allow them to return home.
Where should social care funding come from?
The Government can obviously raise money in different ways; general taxation, redirecting spend, taxing wealth or even having a hypothecated, or dedicated, tax like National Insurance – and I do think it does need to come from one of those routes.
It is always difficult though for governments to raise money through increasing taxes – and clearly, there needs to be leadership. I don't think it's impossible by any means though to fund the care system properly. Other countries manage it, although I don't think you can just lift and shift one country's models and copy them as there are a lot of differences.
Germany, for example, funds social care through social insurance whereby people pay through their working life, similar to our national insurance. That would be a difficult model for us because even if we set up a social insurance fund it would be many years before we'd built up sufficient funds to pay for the current generation of older people.
I don't think private insurance is a feasible solution in this area at all. It hasn't worked in any country, including the US, and no country relies on it other than at the margins.
What do you hope to see in the upcoming budget for social care – and what are you expecting?
I think the greatest opportunity in the budget is around signalling longer-term solutions, particularly financing in the spending review, because the gaps are so big. That cannot be fixed in one budget – even if you threw billions of pounds at local authorities, they wouldn't suddenly be able to recruit all the staff needed. However, it would be wonderful if the Government signals something around funding reform progress – and providing more funds for local authorities to be able to shore up the current system would also be welcome.
How would you describe Boris Johnson's Government approach to social care and have recent political events that have helped or hindered your work?
We were encouraged that the Government highlighted social care as one of its top priorities. Fixing social care and sorting out the way in which it is funded was one of the first things this Government talked about, and it shows a willingness to want to deal with this. With a large majority, the Government isn't hindered by things that one with a smaller majority might be, so, I'm quietly optimistic. I think there's a real opportunity here, and any government that does sort this out and creates a fairer system will get credit.
How will Brexit impact the care workforce in the short- and long-term?
The social care sector relies to a large extent on people from outside the UK – around eight percent of the workforce was from the EU, and 10 percent is from other countries, and those figures are higher in London. If you restrict immigration that's going to create real difficulties, compounding the fact that vacancies (in England) are already in the region of 122,000 and turnover rates in the sector are also high.
The salary threshold of the recently announced immigration policy is a major issue – 30 percent of people employed in social care are paid at the national living wage and there are few people in this area earning more than that. This creates problems around providing social care – and for older people themselves, as it may mean that they can't get the care that they need as there just aren't the workers there. The care sector workforce in general is extremely poorly paid and not one that seems very valued. This leads to big problems with recruitment and retention of staff.
If you're not going to allow more people to come into the country unless they are earning £25,600 you could try and professionalise the sector more and increase its status and pay, making it more attractive to UK workers. That has to be part of the solution, but that's not something that can be just turned on or off, it will take time to develop.
Funding reforms and changing the balance between individual and the state could have more immediate effects. There is a problem with investment in the sector at the moment; a lot of providers see local authorities having to manage declining budgets and uncertainty around the Government's policy in this. Addressing the way in which care is paid for and helping people pay privately by giving them more certainty on what their costs could help stimulate the sector and improve conditions for the workforce.
What future would you like to see in social care?
I would like a sense that old age is valued. Ageing is not a problem for society, it exists because society has been successful. Investment in prevention would also be good, helping people before they become frail and risk emergency hospital admission by things like enabling home adaptations or moving into appropriate housing if that's what they want.
And when it comes to providing Social Care, it's key to have a vibrant provider market, which is investing in its workforce and also technology where it's appropriate. It would also be good to see more support for unpaid care – so much caring in this country is done by people who are not paid, such as family and friends, and supporting those people properly is part of the vision of a positive ageing society as well.
This interview was part of a series brought to you by Elder, the company who can take care of all your loved one's live-in care costs. Whether you are looking for a live-in carer in London or require assistance in another part of the country, Elder will ensure that all of your care needs are taken care of.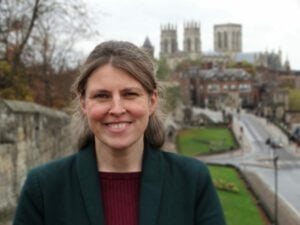 Giving the elderly a voice in Parliament: An interview with Rachael Maskell MP We talked to Rachael about how she helps constituents with issues around
Read More »