Community and multi-agency cooperation are key to creating inclusive and supportive environments for those with dementia says Symone Salwan of the Sevenoaks Area Dementia Friendly Community Forum. Along with her co-founder Elaine Murray, she is focused on making this area of Kent more dementia-friendly through the successful local forum, with memory cafes, training and awareness initiatives.
Why did you set up the Sevenoaks Area Dementia Friendly Community Forum?
I was working in management consultancy and had no background in the area of elderly care or dementia, when in 2007 I lost my Gran to errors made in her healthcare.
She was misdiagnosed with dementia when she actually had delirium and went into hospital for a weekend's rest. She never came out, which was horrific. As a result I felt I had to do something to help older people in the local community and although initially I didn't know what I could do, I was determined to find out.
A friend told me about a senior care company franchise that helped support older people to live independently in their own homes and I opened the Tunbridge Wells, Sevenoaks and Edenbridge office in 2011.
Through my work I met Elaine whose career had always been in elderly support and care. We decided to set up the forum after a project officer from Kent County Council put out a call among local communities for people who might be interested in creating Dementia Friendly Communities.
We set out with a few volunteers to do what we could with very little budget to try and create a dementia-friendly community by providing activities, signposting, raising awareness and training.
The first thing we did was to find out what people felt was needed, so during Dementia Awareness Week in 2015 we went out into Sevenoaks, handed out a short questionnaire and spoke to people. We asked them what they felt when they heard the word dementia, how they had been affected and where they would expect to find information.
Around 70 percent of the people that we spoke to were currently affected by dementia, be it family or a friend or someone they knew, and 85 percent said they would expect to find information about dementia from their GP. A total of 66 percent reported a general lack of information about dementia services.
What did you come to understand were the key things needed in your area?
One of the consistent themes is the need to raise awareness and find better ways to provide information to people. People just didn't know what sorts of things were out there to help them, so we created a handy pocket-sized guide to public, private and voluntary dementia-friendly services and distributed 1000 of them over two years at various events and through GP surgeries and the local council.
The other thing that was clearly important was to see where there were gaps in services and find out how we could possibly help within our remit. Although we've always had the support of Sevenoaks District Council, we knew early on that we needed money to be able to do more, so we put on a Run, Walk, Push fundraiser round a local park in 2016 which was successful – and it is now the main annual fundraiser for most of the activities we do.
How important is it that agencies work together to provide services for those with dementia?
It's essential. We get invited to join bigger initiatives, but ultimately, we are a small group of volunteers and we depend on cooperation between our members and the people in the community for what we do. People are often surprised about our membership – we have commercial competitors working together for the benefit of the community, for example – and that's something that makes us the success that we are.
In some ways, we are just the recipients of what happens at a local government level – and we're not in a position to influence that, other than being a point where people can come and talk to those people who are using local services. But that in itself can be very powerful.
For example, the Alzheimer's Society is running a programme around educating people in the health services about what it's like to live with dementia. As part of that, they partner someone who is studying with a family affected by dementia – we invite them to come in and talk to the participants at our cafes, about what they're doing.
In this way we can hopefully encourage some of those families in turn to have a student come and spend time with them. Things like this help create a bridge across agencies I think, and are a key way in which we can help.
What does your dementia-friendly action plan involve?
Principally it is to improve the wellbeing outcomes for people experiencing issues with memory, cognition or who have a dementia diagnosis and their carers. It's also important to understand and highlight why people are not being diagnosed early as well – and some of that is a failure to recognise symptoms or even that people just don't want a diagnosis in some cases.
We also focus on awareness-raising activities to increase the understanding of dementia, and its symptoms in our community and encourage best practice for businesses, organisations and clubs.
We also work to maintain relationships in the wider community, so we can provide information and signposting, as well as advocating for the views of the people we're in touch with to ensure the things that can build bridges and help improve things in the future are happening in our area.
What sorts of activities do you offer?
We do a range of things now and some of the longest running are our Forget Me Not cafes which we started four years ago, initially in Westerham and Edenbridge with funding from Kent County Council.
People can come in and enjoy themselves here at these monthly pop ups, with talks and creative or physical activities. We run four regular cafes now – and our LGBT Forget Me Not café in Tunbridge Wells is also about to open.
We also run a singing group called the Forget Me Notes once a month, led by a professional entertainer. We don't call it a choir, because we don't mind if you don't or can't sing – you can just come and enjoy the music.
What of the community forum's achievements are you most proud of?
The personal stories where we've made a hands-on difference that make me very proud. A gentleman came regularly to the cafes with a private carer and he was always engaging and happy – he even thrashed us at one of the memory quizzes. I only ever knew him as that happy and engaged man. His wife had never attended with him and when she did she started to cry with joy because she just didn't see her husband at home like that. Now she comes with him all the time.
Another younger gentleman has memory issues caused by stroke and paralysis issues. He's been coming to the cafés for three years, and in that time his flexibility and his confidence have both improved. He now engages in conversations and he's much happier person, plus he attends independently now as well. 
One of the biggest things we've done recently though was to talk at a GP cluster learning event in Sevenoaks and share the experiences of those living with dementia with healthcare professionals. It's the everyday practicality of living with it that is often missing in understanding, and how challenging it can be for carers, who are often spouses, providing 24-7 support.
We also talked to them about listening carefully to carers if they turn up with a loved one and try to explain to the GP about symptoms and behaviours that are happening at home – and that asking the person themselves about it directly may well result in denial.
They may say, "Of course I'm still cooking for myself" or "Of course I change my clothes every day" – but the reality may not be that.
So many GPs approached us and thanked us for the insights and we were proud of the potential that had to change their approach when faced with people pre or post-diagnosis.
What would you like to see happen with the forum in the future?
Working with people and their families as they go through their journey and coming up with solutions that work is rewarding. In turn, extending that out to the wider community is very important – distress and deterioration can happen if people don't receive timely support and information.
This year we got our charitable status, which opens doors to charitable funding and gives us a more powerful position at the table to discuss dementia issues. We're now working with our groups to set up a strategy on the best way forward and trying to increase the breadth and looking at groups and activities that our patrons have told us they are interested in or where we have seen a gap. These include dementia-friendly sports activities and dementia friendly gardening.
And of course, we will continue to put on workshops, information and training events to raise awareness – as there is never enough of that.
This interview was part of a series brought to you by Elder. Whether you are looking for live-in care in London or require assistance in another part of the country, Elder will ensure that all of your care needs are taken care of. The best part is that the cost of a live-in carer in the UK can be up to 30% less than a residential care home.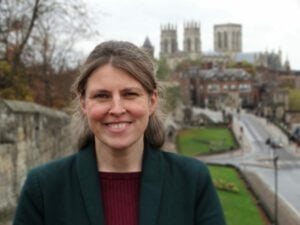 Giving the elderly a voice in Parliament: An interview with Rachael Maskell MP We talked
Read More »