Sally Knocker is a consultant trainer with Dementia Care Matters and author of the Age UK resource Safe to Be Me, looking at the issues around LGBTQ ageing and offering practical advice to provide inclusive services in which people can feel safe to be themselves. She also works with Opening Doors London, running the Rainbow Memory Café, a monthly group for LGBTQ people affected by dementia.
How did Safe to Be Me come about?
Safe to be Me was commissioned by Age UK and is actually an update of a resource called The Whole of Me that I wrote in 2006. It was particularly radical at the time, and Age UK was very much at the forefront of putting the issue out there.
Safe to be Me is a joint Age UK and Opening Doors London resource, and I co-edited this version with Anthony Smith. It now has more focus in it on bisexual and trans issues as well as those of being lesbian and gay. And obviously, there are updates as the law has changed a lot too in the last ten years in relation to marriage, for example.
What are the biggest challenges facing older LGBTQ people?
The challenges are complex. It's a generation that has lived through a time where they've either been pathologised as having a mental health problem for being gay or criminalised – before 1967, being gay as a man was illegal.
Some of the gay people I've interviewed had aversion therapy to "cure" them, many lesbian women had lost children in custody battles and had to hide their sexuality in their jobs, or even lost their jobs. This is a generation which experienced a huge amount of fear, prejudice and often quite terrible abuse.
What can care workers do to be more inclusive and supportive of LGBTQ people in later life?
As such, when it comes to receiving care, professionals need to clearly state that they are not prejudiced because most of us assume that people are prejudiced until they prove otherwise. We need positive signals from people that they are accepting, not just putting up with us.
Care workers can often think, "Why do we need to know someone's sex life?". But it's not just about sexuality; it's a cultural identity and the person's life story. If you're heterosexual and have been married to your husband for 40 years, it's relevant for us to know about him, isn't it?
And in the same way, if I needed support, I would want people to know about my partner and the people who are important to me in my life. Care workers can think, "Oh, I don't want to open up a can of worms," but actually it's about holistic, personalised care to know that part of the person's story.
It's pervasive for people not to be able to see the complexity of the love affairs that older people may have had or the stories they share. If someone is clearly living with someone of the same gender, you don't necessarily know that it's a partner, but you might want to say, "Have you been together a long time?" or "How did you meet?". Questions like that clearly give a message that you are validating that relationship.
Opening Doors London is a charity that provides training around inclusive care and helps organisations understand the needs of older LGBTQ people. There's some useful information too in the Alzheimer's factsheet, which I wrote a few years ago on asking questions or saying things that might open up conversations in a way that isn't quite as contrived as having a form in front of you with a tick box saying, "Are you gay?"
How can we create a more inclusive environment for older LGBTQ people and those with dementia in social care services?
Organisations can make little but powerful changes just by ensuring that their literature has diversity in it. For example, many brochures have white, heterosexual couples on the front, and it's fine to have those images. But if these are the only images that you see, it immediately says that that's "not inclusive of me". The Safe to be Me booklet has a picture of two women together on the front.
It's also important to make sure the questions you ask on assessment forms are inclusive, so asking "Who are the people who are important to you in your life?" rather than "Are you married?", although of course, that can include LGBTQ people now thanks to the marriage change [in the law].
Do you think there needs to be greater later life LGBTQ activism?
With activism, there are two ways of doing things. One is going out there marching and wearing badges and being political, and the other is more of a slow burn, "working within the existing systems" type of activism.
I joke that for the last few years I've been running the bric-a-brac stall at the school fair rather than going to Gay Pride as they clash in July. But arguably, I am doing more activism being an out lesbian mother at my daughter's school than I would being on a march – the children and parents in my daughter's year tell me this has really shaped how they feel about gay people because they have seen two gay mums at school.
Opening Doors London (ODL) provides information and support services for older Lesbian, Gay, Bisexual, Trans and Queer or Questioning (LGBTQ) people in the UK. It provides training and consultancy in the health and social care needs of older lesbian, gay, bisexual and transgender people, including those living with dementia. All courses are based on the latest policy, research and legislation and delivered by experienced LGBT trainers and facilitators.
More information can be found on www.openingdoorslondon.org.uk/training or contact Training and Consultancy Manager, Jim Glennon on 020 7239 0421
It's important to encourage people to see people like their friend, their mum, who just happens to be gay – and I think that is a way to change things. It's particularly important for LGBTQ professionals to be able to be out as well. Many LGBT people work in the health and social care field and if we've got professionals who are happy to be open in a fairly relaxed way that changes attitudes too.
Seeing much more visible, openly LGBTQ people are changing things generally in society. You wouldn't have seen Susan Calman in Strictly Come Dancing on Saturday night ten years ago – or Sandi Toksvig and Clare Balding, all of those high-profile people on television. That's an amazing shift – LGBTQ people just out there in a very ordinary, likeable way.
You run a group called the Rainbow Memory Café, a space for LGBTQ people living with dementia to share experiences and support. Why did you start this up?
Opening Doors were looking for someone to coordinate a new LGBTQ dementia group, and I applied for the job. I was concerned though, and thought, "How are we going to find people?" We did a big social media campaign and had an event for professionals in June which was well attended – and they all publicised it in their various circles.
The Rainbow Memory Café group started in September. I was expecting two people in the room, and 12 people turned up – three male gay couples, of which one in each relationship has dementia, and a few single people concerned about cognitive changes.
We've had four meetups so far – anyone can come to it – and the group has really bonded. There has been quite profound sharing around the diagnosis of dementia and the impact on relationships – and some of the issues are very similar to heterosexual couples.
There is an incredible sense of the group holding each other, both the carers and the people with dementia themselves. At the moment it's predominantly people in the earlier stages of dementia, and my concern is now how do we reach the man or woman at home who can't get to a group and is very isolated.
You see some of the statistics in Safe to be Me, about how you are more likely as an older gay person not to have children or be in a partnership – to be people who, in a sense, need social care services more, but may potentially not trust them as much.
Many heterosexual people have fears of going into or needing care, but these fears are even more profound for people who are gay because they don't know what kind of reception they're going to get. One hopes in the next generation it will be much less of an issue, but certainly, there's a way to go.
This interview was part of a series brought to you by Elder. Whether you are looking for live-in care in London or require assistance in another part of the country, Elder will ensure that all of your care needs are taken care of. The best part is that the cost of a live-in carer in the UK can be up to 30% less than a residential care home.
Further Information
The Rainbow Memory Café meets on the second Monday of each month from 2 – 4 pm at Tavis House, 1-6 Tavistock Square, London WC1H 9NA (between Euston and Russell Square stations).
For more information contact Adrian Beaumont 020 7239 0400.
Dementia Care Matters is a leading international dementia care culture change organisation providing consultancy, learning and development, training resources and practice-based research.
Related Features
A Guide to Dementia-Friendly Days Out
How do you ensure a trip out with an elderly family member is enjoyable for everyone? We look at the challenges – and solutions for the perfect day out together
David Prendergast Explores the Potential of Technologies to Revolutionise Later Life
David Prendergast is a social anthropologist based at Intel and author of 'Aging and the Digital Life Course.' This collection of essays was awarded 2016 CHOICE 'Outstanding Academic Title' by the American Library Association and described by the Huffington Post as 'one of the two most fascinating books on aging in the 21st Century'. We talked to him about the potential of technologies to create new forms of community, support caregivers and revolutionise the way that later life is lived.
Dementia Care: The Positive Power of Creativity – Rebecca Packwood, the Age Exchange
The Age Exchange is an intergenerational community hub in Blackheath, south London which focuses on active ageing. It is also the locus for Reminiscence Arts projects, interventions and training programmes run by the Exchange's project workers and volunteers for the local community.
Exploring Creativity in Dementia Care: An Interview with Author John Killick
Poet and author John Killick has written seven books on dementia, including Dementia Positive, Communication and the Care of People with Dementia and Playfulness and Dementia.
How Music Can Help Those With Dementia and Their Families
Playlist for Life is on a mission to raise awareness about the positive power of music and its ability to improve the lives of those with dementia and their families. By making a playlist of personally meaningful music, it's possible to curate a 'musical life story' that can resonate, stimulate and even help to make daily life easier on a practical level. We talked to Sarah Metcalfe, Chief Executive for Playlist for Life, about the ways in which music can bring people together and connect those living with dementia back to themselves – and the launch of Playlist for Life's new app.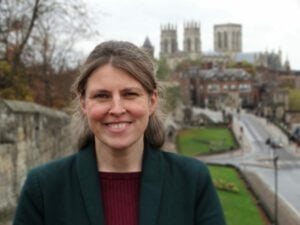 Giving the elderly a voice in Parliament: An interview with Rachael Maskell MP We talked to Rachael about how she helps constituents with issues around
Read More »