House of Memories is a pioneering museum-led dementia awareness programme developed by National Museums Liverpool, offering training, resources and museum-based activities for carers and those living with dementia. We talked to Carol Rogers, who led the development of House of Memories about the unique role that museums as community spaces and repositories for social memory, can play in social care.
House of Memories is the first big museum-led dementia awareness programme – why was it a leader in this area?
House of Memories was quite distinct when it began in 2012 because it was the first museum programme that really looked at supporting professional carers and family carers in a different way – using the Museum of Liverpool's collections and venue as a resource.
As museums, we might have great collections, but if we're not thinking about our visitors and the needs of our visitors, I think we're doing them a disservice because it's all about creating links for our communities.
At National Museums Liverpool, we'd been working with our older communities for a number of years, and we were really interested in looking at barriers to engagement.
When we began to look at that, dementia was an area that really spoke to us, because what we do really well as museums is look after memories. Some of the memories we look after are thousands of years old, but lots of museums also have social history collections, as we do.
These are objects and stories that are in living memory, and we made that link between reminiscence and using what we have in our collection, and looked at how we could develop that to support the care community.
What was your ambition for House of Memories when you started out?
Our ambition from the beginning wasn't just to create a small project for our organisation; it was to come up with a programme of work that could work in any museum or any local history setting across the UK.
Doing something like this starts with assets first – the museum itself or even a library with local history – and asking what have you got in your collection that you can use to speak to a person's cultural heritage?
What are the stories that you tell that resonate with the memories of your community?
The timeline of the programme is generally about 1920 right up to the present day, and it keeps moving forwards as time moves forward.
The next stage is around training and enabling museums around the country to make connections with both professional and family carers.
As part of the House of Memories programme, we designed an interactive training day, where we invite people into the museum setting to understand what it's like to live with dementia and how the museum can develop activities to support the person living with dementia.
Within that, it looks at things like the 'how to' memory guides, and memory walks we've developed, that can happen in any museum.
How important was it to work in partnership with organisations and carers to develop the programme?
From day one, we worked in consultation with external providers and organisations such as Skills For Care, the Department of Health and Health Education England and consulted with the caring workforce to make sure that we came up with a programme that would work for them.
It's no good sitting in the comfort of your own museum, thinking you know what everyone needs – you actually do have to go out on the road and experience the real challenges of supporting someone with dementia in their own home.
That was a crucial part of our development in the early stages. I feel if we hadn't done that, we still might have come up with a great House of Memories programme, but it would have been museum-led, and it needed to be care-led.
The Memory Suitcases are a key resource you've developed for carers – how do they work?
The Memory Suitcases are like mini-museums on wheels, packed full of objects that can all be handled and can all be used to connect with people. Sometimes they are sensory objects; an example would be a piece of carbolic soap, which has a distinct smell. It evokes a memory for people.
When the carer comes into the museum, we train them and give them the confidence to be able to open up that suitcase and have a great conversation with the person they are caring for, using the objects.
We've now got 30 suitcases in the Museum of Liverpool, including ones themed around specific communities, and designed in partnership with them, for example, an Irish heritage suitcase, an African and Caribbean suitcase and a Jewish community suitcase – with distinct cultural references.
Once you have been on a training day, we offer a free loan service, and you can pick up a suitcase any time and use it for up to two weeks in neighbourhoods, day care centres or people's own homes.
How did the My House of Memories app evolve and why?
Where there is a need to manage infection control, let's say in a hospital, objects such as those in the suitcases aren't great, because there is a lot of transfer of infection through touch.
The My House of Memories app is a free digital download that uses the same principle of stories and conversations, looking at film and moving image and photographs instead of physical objects.
Within it we've created universal themes and topics that speak to people's lives, such as going to school, family days out, transport, going to the cinema, music, entertainment and sport. Wherever you are, your local museum will have stories that resonate with your culture and your area, around those themes.
We've also recently added a new function called 'My Memories' which means that now you can upload your family members' memories alongside the museum collection online and create a personal archive.
This is important, especially in early diagnosis, because as the disease progresses, it's all there – your family will know the memories that are precious to you.
Why are you personally passionate about House of Memories?
As a museum professional, I knew that it would have value, but I also had a very personal connection to House of Memories too.
My mum had had a stroke in 2007 and as she began to struggle to communicate, I was on a journey as her daughter to stay connected with her.
I experienced the rewards of the programme very directly because I used the app and the objects with her. It gave me no end of joy, and for me, my mum's legacy lives on a little bit through it.
Can House of Memories support the wider community too?
We all know instinctively that when we have good communication tools with people living with dementia, there are massive benefits. But we wanted to demonstrate that the museum sector has a part to play in supporting the healthcare sector because we know that there's enormous pressure on the NHS.
We have positioned House of Memories to be a cultural asset in the community that supports GP surgeries, the local hospital, the memory clinic, the day centre and the residential care home. It's about changing the way in which the museum sees itself in the community.
Having that kind of early intervention in the community can help combat isolation and depression, and allow families to feel connected and supported, way before they need clinical support.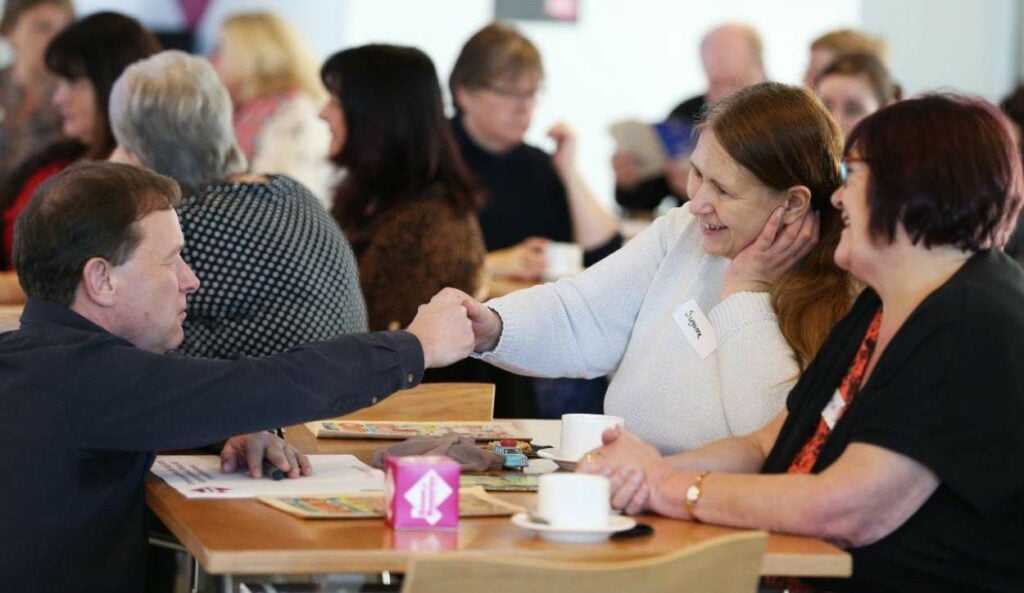 What plans are there for the future of House of Memories?
Across the UK now, we have engaged with more than 12,000 carers and have had 25,000 downloads of the app. The programme is also growing in terms of new museum partners coming on board to develop House of Memories where they are.
The House of Memories programme has supported carers in Liverpool, Bury, Salford, Sunderland, Newcastle, Nottingham, Leicester, Birmingham, London and the south-east and a programme is under development in the Scottish Highlands, working with rural communities.
And we are also working with the Minnesota Historical Society on a US House of Memories. Dementia is a challenge around the world, and we're really seeing that we've developed an initiative that can work globally.
Things are also changing around our funding too. Initially, we were purely grant-funded from the Department of Health and various trusts, foundations and private benefactors. But recently, I have been looking at a slightly different model for that, because I want House of Memories to be sustainable into the future.
We have developed a social care training programme and an acute care training programme for hospital trusts and what we hope is going to happen is that hospitals with training budgets will access House of Memories as part of that.
This will mean we will be able to generate an income and help us to continue House of Memories to be free for family carers. It will always be free for families, wherever we are because this kind of work should never be about means.
This interview was part of a series brought to you by Elder. Whether you are looking for live-in care in London or require assistance in another part of the country, Elder will ensure that all of your care needs are taken care of.
Related Features
Before I Forget: Preserving Our Stories Using Digital Memory Curation – Dr Nick Barratt
Nick Barratt is an author, broadcaster and historian best known for his work on BBC's Who Do You Think You Are. We talked to him about the power and potential of using digital memory curation to preserve our stories.
Displaying Inclusivity: How Museums and Galleries are Responding to Visitors with Dementia
Museums, galleries and other venues are focusing on making the arts more dementia friendly and better equipped to enable those with the condition to enjoy them.
Dementia Care: The Positive Power of Creativity – Rebecca Packwood, the Age Exchange
The Age Exchange is an intergenerational community hub in Blackheath, south London which focuses on active ageing. It is also the locus for Reminiscence Arts projects, interventions and training programmes run by the Exchange's project workers and volunteers for the local community.
Clothing and Identity in Later Life: An Interview with Professor Julia Twigg
We talked to Julia Twigg, Professor of Social Policy, Sociology and Social Research at the University of Kent about the impact of clothes on creating and maintaining identity and the idea of "old age" as a cultural construct as well as a physical reality.
Ageing Well: Creating an Age Friendly UK with the Beth Johnson Foundation
Lynne Wealleans from the Beth Johnson Foundation talks about the need to give people a voice in challenging times, how "ageing well" is a personal definition and the power of making a real difference at community level.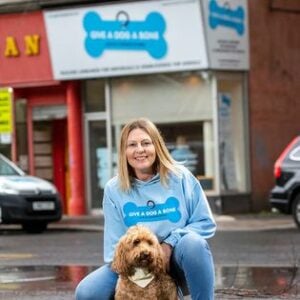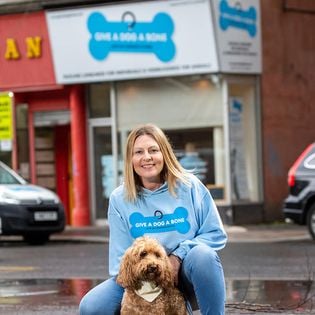 Give a Dog a Bone founder Louise Russell discusses her mission to provide companionship for elderly individuals through the love and comfort of pets. Learn more about her inspiring work to improve the lives of older people.
Read More »