Dementia Circle is a project that finds, tests and shares information about domestic products for people with dementia. 
Learning from experience
When you test things you have to ask the right questions so you can get the right information and highlight the most important things. We try to provide clear questions on the product being tested, the packaging and its instructions on our feedback forms so that we can get the most useful information. In our experience, people may say: "I use this kettle because it's great" but they may not always specify why. Or they may say "it's transparent", but don't then necessarily make you understand how that makes it better. You need to guide people to go one step further in thinking about their experience. For example, if the kettle is transparent you can see that there is water inside it, so you don't boil it when it's dry. Or perhaps something like a light flashing to show you the kettle is on, could be very useful in the design.
For a design to be useful here, the person with dementia has to be at the centre of it. For example, we recently noticed someone was having trouble eating soup. Watching her, it was obvious that by the time the spoon had got to her mouth it was empty – the spoon was a dessert one, and too shallow. Someone might say "my mum is losing weight, she's not eating properly", but they don't realise that by changing a spoon you facilitate food intake – and by default improve their physical and mental health, concentration and mood. It's not the product, but focusing on the person and how their use it, that solves the problem.
People come to us, and say "I keep forgetting my keys" or "I go out and I realise I've left them inside". And in that situation we always consider things such as where do they keep their coat, for example – ways along the journey of experience where we could possibly put a low-tech intervention that may make life easier.
Low tech hacks always interest me; for example, people might duct tape the remote control for TV, just leaving the on and off, programmes and volume to make it easier to use. Or a hack could be something as simple as a Post It Note on the front door asking if you have your keys, or installing whiteboards in rooms with dates and information on such as "food in fridge" "so-and-so coming at this time". As a designer certain things are obvious, but if you are not used to thinking in practical terms about solutions it can be hard to look at things in these ways.
Testing 1,2,3…
The Dementia Circle website is a platform to share information. We're on our fourth version and continuing to work on making it as dementia-friendly as possible, with big fonts, contrasting colours and big buttons. The idea is that people can go on the site and share their own stories, as well as read about others' experiences with products.
We've also been experimenting with group settings for testing recently, and it's been working really well. We decide on a theme – and then people can meet and bring along something that they've found useful. It means we can open a conversation about the product: for example, we looked at pill crushers last month. We had four or five types of pill crushers in the group, including things not necessarily designed for that purpose such as a garlic crusher (although it failed spectacularly in testing!). We are starting from the point of thinking "what are the 101 ways to crush a pill?", not a specific type of product. Again it's back to putting the user and the experience first.
People are always upbeat about sharing their stories and getting involved in finding the best products or making their own suggestions. There's a social aspect we didn't envisage too at the start. Until you talk about your pill crusher you don't realise there are other people having the same problems. People like to talk about it and there's a real relief in sharing.
We're also trying to generate more conversation on social networks around topics, and the conversations we generate will link up to the site. For us it is very important to listen to the stories; if there are 50 people talking about gardening, for example, then that will feed our testing programme, when we set up themes for testing groups.
Technology can support people living with dementia to manage risks, improve quality of life and stay in their own home for as long as possible.
Dementia Circle is a project that finds, tests and shares information about domestic products for people with dementia, so they can stay independent for longer in their own homes. Products are tested by families with a person who has a diagnosis of dementia and feedback is shared through the website to help people make better decisions on what to buy. The Circle started out five years ago, with an initial focus on low tech products, and has also recently branched out into more technological solutions– and testers can share their feedback on products they use at home on the site through an online link, or join group testing experiences (Scotland only).
To find out more about Dementia Circle or to leave your own feedback on a product you have used visit www.dementiacircle.org
On the Dementia Circle website you can:
Tell others about a product that has made life easier for you or someone you care for.
See a range of products other people have suggested as helpful.
Read about the experiences (good and bad) of people using these products.
Share your experience of using a product Dementia Circle has listed.
Volunteer to test one of the products available for review (Scotland only).
Join in the conversation on Facebook at www.facebook.com/dementiacircle/ – and on twitter @dementiacircle
Dementia Circle now also has a page dedicated to online resources and technology, where you can read more about the TEC Charter, resource centres and the training program it is developing with local authorities and the Scottish Government.
Dignity in design
When we started the Dementia Circle a lot of products were very poorly designed, and just had certain features that made them "dementia friendly". Often they looked like medical aids – our approach has always been that things should be inclusively designed. Why does it have to be plastic? Why do those who might have problems drinking have to use a sippy cup?
In the case of cups, we found a really pretty double-handed china cup which was a good starting point to challenge this. We used it as a basis to actually design our own in conjunction with Alzheimer's Scotland, which is sold in their resource centres. As part of the design process we realised people couldn't see the the rim of the cup and that meant they sometimes missed their mouth, so we looked at contrasting colours to help with this, and we ran four testing sessions to check the handle was comfortable, for example. Our two handled cup was designed by Jeni Lennox.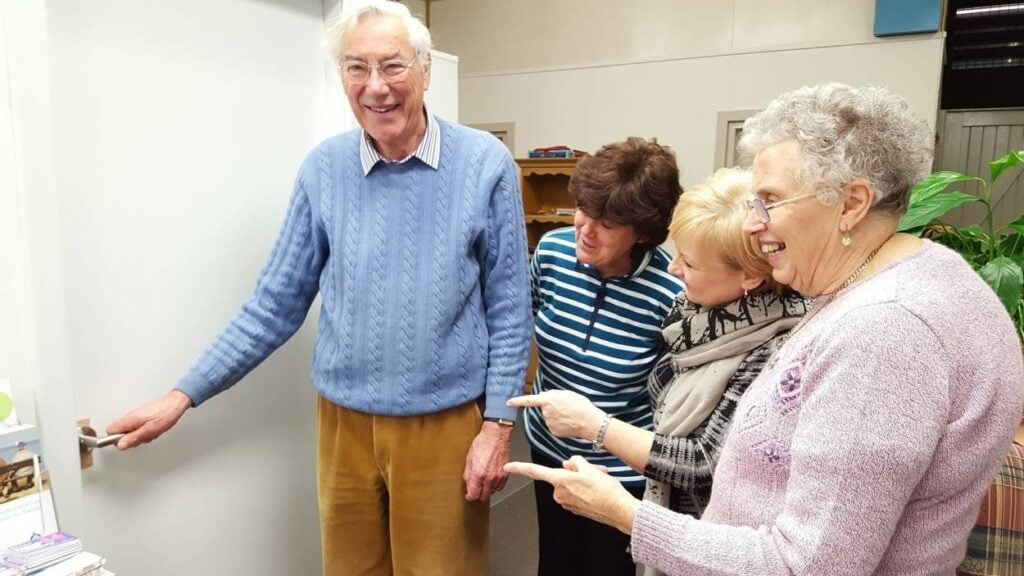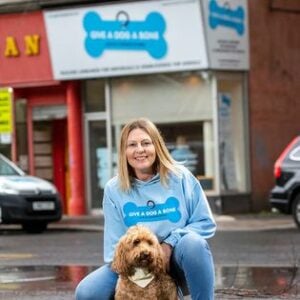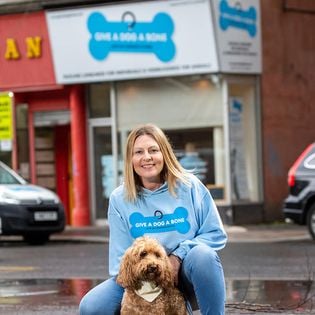 Give a Dog a Bone founder Louise Russell discusses her mission to provide companionship for elderly individuals through the love and comfort of pets. Learn more about her inspiring work to improve the lives of older people.
Read More »