In our last interview with Sarah Mitchell, we spoke about 'Home First', where it came from and how it became instrumental in managing capacity during the pandemic when it was written into law last year.
The article prompted a few of you to get in touch and share your experience with implementing Home First in your respective communities.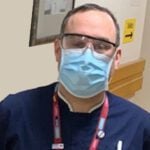 In this edition of our Elder Magazine Interview series, we're covering a response we received from Lee Moran, Home First Service Lead at Rotherham NHS Foundation Trust, who was able to share with us how the Home First system is working in his local area.
Rotherham is a high-performing locality, with 96% of adults, including older adults smoothly discharged home with no need for additional services.
With 18 years experience in the health and social care sector, Lee brings a broad perspective from his work as a Support Worker, Senior Nurse and Social Worker across areas such as Dementia Services, Community Nursing, Continuing Healthcare and Therapy Services in South Yorkshire. 
What are your key goals as Home First Lead at Rotherham NHS Foundation Trust?
My purpose is really to continually enable as many people as possible to return home from the acute hospital setting – through networking different services, facilitating clear communication between support teams, patients and their families, and ensuring their responsible practitioners are kept in the loop.
As multi-professional practitioners, we aim to not only ensure the right post-hospital stay management plan is in place for our patient's health, but also to do our best to support their manoeuvre through the complex support network of services in our community.
What does your role entail, and who do you cooperate with to carry it out?
As a Service Lead, I work to operationalise the NHS-approved SAFER discharge framework; whereby each patient receives a senior clinician review, is assigned an expected discharge date and, in cases of extended stay, is reassessed by a multidisciplinary team with a clear 'Home First' mindset.
A core element of my role is first and foremost understanding patient needs, in particular throughout their journey from acutely unwell to no longer in need of acute care. Another critical aspect is facilitating communication with our private sector partners and, crucially, patients' families.
It's important for us to reassure families that out-of-hospital care is proven to drive better recovery outcomes, and help dismantle the myth that the hospital is the safest place for older adults to stay: the Coronavirus, and the risk of contracting it in healthcare facilities, has certainly helped battle this misconception.
A key role is undoubtedly played by our Health Service Journal award-winning Integrated Discharge team – made up of Social Workers, Nurses, Inpatient and Community Therapists – our Transfer of Care Team, which brings together the health system's discharge practitioners; and a health and social care jointly appointed lead.
Our work is also made possible by our close ties, streamlined communication flow, and strategic collaboration with the local Clinical Commissioning Group, the Mental Health and Learning Disability Trust and the team at Rotherham NHS Foundation Trust.
Prior to the COVID-19 outbreak, our multidisciplinary team would have to review around 100 'stranded patients' every week, but a year's work and a constant revision of our processes have helped reduce our weekly long-stay patient reviews to only 15. Even in the complex circumstances of the pandemic, our goal remains to support the patients in greater need, who require hospital care, and to enable a prompt 'Home First' exit whenever possible.
We strongly encourage other NHS organisations to dive into the difficult discussions around increasing lengths of stay (LOS), delayed transfers of care and precarious hospital capacity in their areas, as a fundamental first step to improving their patient flow.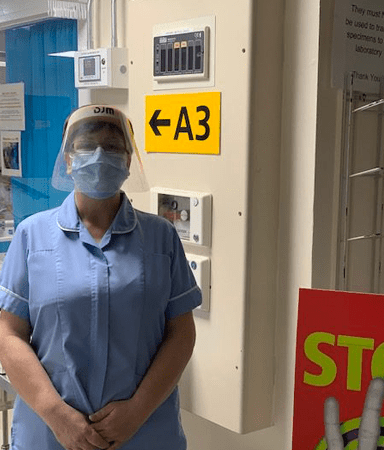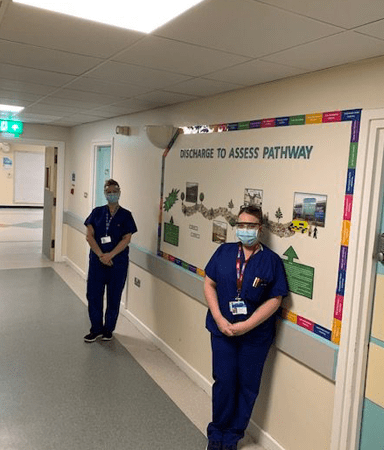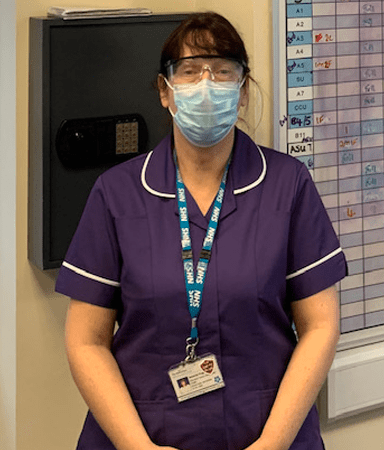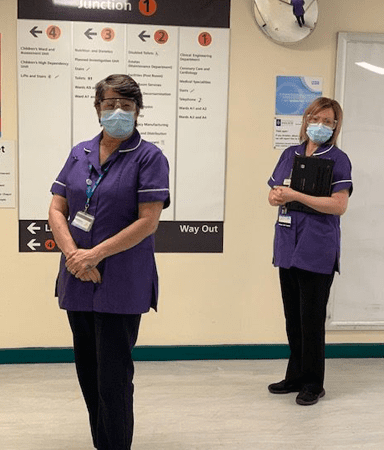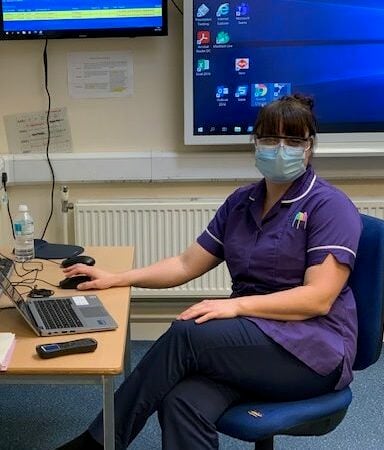 The success of Home First is also dependent on the transition into home, how have you facilitated this part of the journey for patients? 
In Rotherham, we work with Age UK who provide a transition and settle-at-home service. Settling a patient back in their own home requires attention to basic necessities – including transportation back home, emptying bags, making a cuppa or a meal, putting the heating on, doing a tidy-up, clearing the fridge and doing some essential shopping. It also includes a view beyond the short-term, in potentially assessing day-to-day needs and signposting or referring to other services and sources of support.
Our team also works closely with the local authority, including fitting of key safes within four hours, to allow the provision of carers to start or other basic home repair services, especially if the patient can't answer the door. These seemingly small gestures have made Home First  a reality in Rotherham.
How has COVID-19 impacted the Home First model? 
The learnings from the ongoing COVID-19 pandemic has been astonishing to see – vast changes to discharge services across the nation, that have been underpinned by the publication of hospital discharge service requirements has actually been liberating for both staff and patients – removing barriers in discharge processes, and ensuring home is considered as the first option.
In fact, we saw the longest stay for patients of 21+ days away from home, which we were able to reduce to 15, decrease even further to zero. In my 18 years in the NHS, this was the first time I had ever seen the hospital operate without a single long stay.
With barriers removed to funding and who pays, increased focus on social care support, redeployment of colleagues for additional support,  and the public really understanding the risks of extended stay in hospital, hospital discharge has advanced in the right direction. The strengthening of relationships between health and social care organisations was widely seen across the country. 
The foundations of the Discharge to Assess model, which is used for patients who simply can't go home without some sort of support, was improved – ensuring that individuals had the time to recover or rehabilitate before any decisions were made regarding long-term health and social care needs.
Personal budgets and direct payments for those who can manage their own care provision at home are a great solution in personalising care needs  and are still underutilised. 
As we enter a new phase of the pandemic, we are looking at how patients in recovery from COVID-19 can be better cared for once out of hospital. To avoid a situation in which care providers are overwhelmed, we need to work together on solutions across health and social care services with a longer-term view than we had the first time around. 
Tell us about the journey you've been on in Rotherham to get you to where you are now – what improvements have you recently made? 
Pathways in hospital discharge at Rotherham used to be complicated to understand, managed by different services and a bit dysfunctional due to the complex nature of peoples' needs. We needed to change that.
The first thing we did was to understand and map the different ways patients could get home, which was essential to see what resources we had and how we could use them better.
A single point of access (SPA) for health was established by bringing our Care Coordination Centre into Community Services, with Corporate Operations working alongside myself and the IDT, thus creating closer ties with the SPA within the local authority to support the Rotherham community.
IDT became a gatekeeper in managing all exit pathways from the hospital, thus ensuring Home First was always the first pathway, however complex a patient's needs, before any other more restrictive option was offered.
We also found that feedback was poor in our high-flow ward areas, which are typically the busiest. Minor non-clinical things were being missed and noticed by patients and families, such as the second attempt to reach a family member or a call to home to see what were pre-existing social care issues.
We decided to ask two well established Health Care Support Workers on busy wards to assume and build out a Discharge Liaison role, ultimately supporting the multidisciplinary team to ensure smooth discharges across the trust. As a result, we saw positive feedback within the wards increase from 40% to 83% in just two months.
What are the key improvements you and your team have identified in the coming year? 
By the end of February 2021, we will be recruiting for 12 full-time Discharge Coordinators across our wards to ensure Home First is at the forefront of discharge at Rotherham NHS FT. A discharge coordinator will be essential in leveraging digital records to understand frequency and drivers of hospital admission, work with patients to develop management plans, connect patients and families with community services.
It's essential that we become more 'personalised' in identifying barriers to discharge and resolving these where and when possible. Starting with better understanding of why a patient may not be managing at home: is the carer overwhelmed, does a person need advice about finances, are they receiving eligible state help they need?
Once we understand the root causes, we can better provide support either in making a Rotherham IDT single referral, providing the number to our Care Coordination Centre or the local authority's single point of access, or signposting to other services.
While having a high-level strategy is directionally important, we must continue to humanise our objectives by translating the numbers and figures to real patient experiences and stories that are heard by our leadership team.
Finding the balance in providing data at a national level for information sharing across NHS services but always having a 'Home First' ethos at the core of our practice for patients is really important.
The Elder Magazine aims to highlight and raise additional perspectives from those who work in the health and social care sector. Please email us at – partnerships@elder.org  or call at 02039665933 if you are interested in interviewing on topics of interest and importance in your community.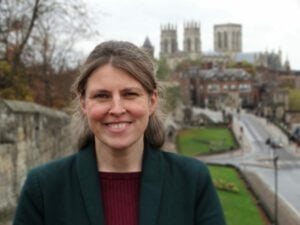 Giving the elderly a voice in Parliament: An interview with Rachael Maskell MP We talked
Read More »