When choirmaster Grenville Jones set up the first Golden Oldies in 2007, he had no idea that his singing groups for older people would take off so successfully. With over 200 regular sessions now held across the UK, "Goldies" as it's known, provides a sociable and relaxed place for singers and non-singers to meet and enjoy themselves.
How did you come to set up Goldies?
My background is as a choir leader and I've taken evening choirs for a long time – one of my choirs is the Bath Male Choir, which got to the finals of the BBC's Last Choir Standing.
In 2007 I watched a Channel Four programme called Young at Heart, which featured an American choir for older people. It was very moving and I remember one part where the choir went to a prison and sang to some pretty serious criminals who were crying as they listened.
Not long after, I was talking to a friend and renowned choir leader about singing and we were discussing the best part of a rehearsal. We both agreed that it was the atmosphere at the end, when everyone is packing up to go home. People are usually laughing and having fun at this point in the atmosphere that comes from making music together.
It occurred to me there was an opportunity to take that atmosphere and drop it into community rooms and church halls and other places where people meet during the week, so I decided to start a charity.
We had support from Bath Housing Association for the first four sessions, which I took myself. Two ladies who lived in sheltered housing nearby turned up to one of the first – and probably only came because they had nothing else to do.
A friend asked me how it went, and I said, "I think it went well, but I'm not sure people will come and if they do then who is going to take all the sessions? How could it go forward and succeed and develop? And my friend said," If you have faith in it, it will work." I remember that clearly. Now, years later, we run over 200 regular sessions across England and Wales and have 67 session leaders.
What is the aim of Goldies?
There are so many older people who live isolated lives and have so little to look forward to in society today. I believe that governments do, generally speaking, care for older people in their homes reasonably well, but there are no social activities anymore. It's left for people like me and other wonderful organisations to fill that gap.
There's a reluctance to step across the doorstep and a temptation to just put the television on – and figures show that 51 percent of people say the only company they have is the TV on a daily basis. We're trying to give people the opportunity to be sociable – with a good old-fashioned sing-along.
Who is the typical Goldie?
If you had asked me all those years ago to describe the "typical Goldie" I would probably have said, 'likely to be an elderly lady, now widowed, who doesn't have many opportunities to get out and be with other people."
Of course, that has changed as we have grown – now it's also those in early stage dementia who come to special memory sessions with our memory books, or adults with learning difficulties who come to sing, as well as our traditional attendees. A young lady with depression has joined one of our sessions in Wales because the folk there are so full of fun. It's the highlight of her week – and she's got 50 aunties and uncles who care for her and look forward to seeing her every week.
And of course, we also have a schools intergenerational programme now– for which we won the National Lottery Education award last year – a major achievement for a small charity. In the beginning I would never would have thought that we'd have reached out to people with those sort of issues – but Goldies is for everyone.
Why do you not consider Goldies to be a choir?
I always say that Goldies is not a choir – because you don't have to be a singer to come to a session. It's a bit like going to your pub and joining in when someone starts playing songs on the piano, and we base sessions on the music of the 60s and 70s – which takes people back to happier times and brings them joy.
I led a session years ago in Swindon where we were singing The Wonder of You by Elvis. A couple was sitting in the corner and the husband was obviously in the early stages of dementia and had no light in his eyes. When we started singing though, the light came on again all of a sudden – and I saw him singing to her and her singing to him.
At the end of the song he wrapped his arms around her, and they had a huge kiss – for them was a magical moment. A few months later he passed on and the family got in touch to say that when the wife came home from that session, she had told her family about how he had come alive to this song.
Perhaps that was one of his favourite songs or perhaps he was an Elvis fan? I can't explain that really – but that song reached through all the fog and brought him back to life – and I can explain the privilege of being able to make that happen. The power of singing is well documented now – and we're not the only organisation to help people with isolation through music. But I think we are fairly unique in the way that we deliver our sessions which are open to everyone.
How do the sessions work?
The sessions are monthly, and can be held in a community room or other gathering place. People sit round tables or in circles – every session has its own way of doing things.
The session leader hands out the song books, which we have as a deliberate policy because reading the songs from the book exercises the brain. We ask the people who come to choose the songs for our song books every year and suggest songs that they'd like to sing. The session leader will then ask the group what they fancy starting off with, and some might say Hi Ho Silver Lining or a bit of Tom Jones.
Then those who love to sing will sing, and others not – but after about thirty minutes someone will ask for Dancing Queen or another lively song and some people will start to dance. By the end of 60 minutes the room is buzzing, full of laughter and joking and everyone always leaves the session with a smile on their face.
How do you find volunteers to lead the sessions?
Generally, session leaders find us – I don't know how that happens. Personally, I think it's a bit of divine intervention.
You need to be fairly extrovert to be a session leader – not everyone can stand up in front of a group of people. And we have session leaders who are singers and sing in a gospel choir community choir for example, but also people who aren't singers and just care a lot about what we do.
When we start a new session, we might put an advertisement in the local paper to say we're looking for session leaders which sometimes gets a response. More often than not though, the session leaders come to us because they may have bought their mum or dad to a session, or perhaps seen Goldies at a local school.
Cliff Richard is your patron – did you know him beforehand?
I knew from the outset of the charity that he was the person I would want, because of what he stands for in his outlook and his beliefs and because he'd witnessed dementia first-hand with members of his own family. So, I wrote to him a few times and eventually had a message back to say he had agreed to be our patron.
I met him a few years ago when he was doing a show up in the Midlands. I took a group of Goldies with me and we went backstage, where he came and chatted to them – and then let us watch the band's warm up on the stage, which was great.
How would you like Goldies to develop in the next few years?
London is our big challenge. I always knew that one day taking Goldies into the capital would come as a request. But to do that wouldn't be about setting up five sessions, or 50 –it is more like 150 sessions and I only have one full time member of staff.
North Wales is another area we want to develop into, and we've had a huge amount of lottery support there. And generally, across the UK I'd like the 200 sessions to be 500…and why shouldn't they be? If we have 67 session leaders now, then why not 200? I believe in life that if you want something you have to work hard to make it happen and persevere…
This interview was part of a series brought to you by Elder, the company who provides live-in carers for the elderly. Whether you are looking for London live-in care or require assistance in another part of the country, Elder will ensure that all of your care needs are taken care of.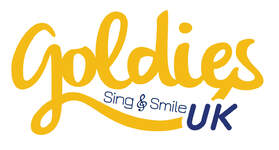 Goldies is a community choir charity that's helping 1000s of isolated  people across England and Wales. 
The charity welcomes all to it's choirs and musical groups, and has been a significant hit among older people living in community housing, adults with learning difficulties and people living with dementia. 
Read our latest interviews
Browse our latest interviews, and research on elderly living, from leading national experts.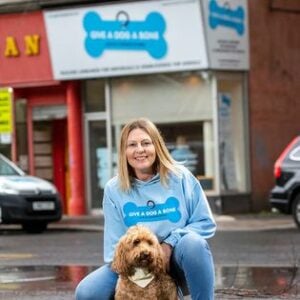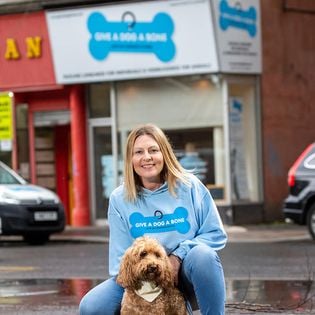 Give a Dog a Bone founder Louise Russell discusses her mission to provide companionship for elderly individuals through the love and comfort of pets. Learn more about her inspiring work to improve the lives of older people.
Read More »