Author of Doll Therapy in Dementia Care: Evidence and Practice, Dr Gary Mitchell is one of the UK's leading researchers on doll therapy. Despite being widely and internationally used, doll therapy is a controversial and often misunderstood intervention for people living with dementia – we talked to him about the myths and misunderstandings around it and the positive impact it can have on people living with the condition in all settings.
What led to your interest in this unique therapy?
I graduated with a nursing degree from Queen's University in Belfast in 2010 – and my first job was on a dementia care unit in a care home.
At the time we were looking at ways to reduce reliance on sedative medications, behavioural modification drugs and antipsychotic medications – and something that was being practised there was 'empathetic doll therapy'.
Initially, I found the experience perplexing as I thought it contradicted a lot of what I had been taught with regards to person-centred care. I thought giving dolls to people with dementia was massively inappropriate and infantilising. So, in my early months in the unit, I would not practice the therapy when I was on duty and 'ignored' it for the longest time.
One day on my shift there was a resident who usually had the doll with her but hadn't been given it that day. The lady believed the doll to be her child, that was her reality – and she had spotted it sitting on top of a radiator in another room and become distressed.
She cried throughout the day, wouldn't take her medications and didn't eat her dinner. It was awful to see her so upset. Later on that evening, I gave in and gave her the doll, and her whole aura changed. She was settled and at peace. I realised at that moment that I'd been looking at the doll when really I should have been looking at the residents living with dementia who were engaging with it.
Doll therapy is still quite a controversial area – how are you moving understanding forward?
That incident in the care home started me on the path to understanding the therapy better. Initially, I learned about the theory that underpinned doll therapy from a national dementia specialist called Joanne Agnelli.
Joanne, who has mentored me throughout my career, helped me understand how doll therapy could help people living with dementia and I was lucky to have the support of such a forward-thinking practitioner. Unfortunately, there was limited research and few articles about doll therapy at the time so learning about the therapy was challenging for many other practitioners.
In order to promote its benefits, I ran external workshops on doll therapy in dementia care throughout the UK and Ireland. I was also supported to write a number of articles on it, including a literature review in an International Dementia Journal with Professor Brendan McCormack from Queen Margaret University, Edinburgh and Professor Tanya McCance from Ulster University, Belfast – two internationally renowned experts on person-centred practice.
Evidence showed that doll therapy could be beneficial for many people living with dementia, most likely for those in the advanced stages of the disease and for women, although, men did use it. And that it was already being employed in diverse ways in the USA, UK, Canada and Japan.
Should person-centred care be based on the evidence of how people react rather than our ideas of what is appropriate?
I find that when I'm out in the field and explain that doll therapy has the potential to make someone's mum or dad feel better without the need for medication, most people want to give it a go.
I think a certain degree of taking your cue from the person and using your clinical intuition is needed to consider whether this might be something that will make a difference – rather than getting caught up too much on the ethics. I think the end result is what is important, from an ethical perspective – and that is 'to do good'.
Doll therapy is not for everyone, and not everyone has a good experience with it. Some residents will see a doll and think, "What do you want me to do with that?" and you can't predict who's going to engage and who won't. However, it's always an option I feel should be trialled to see.
What role do the dolls play, and how can they be used?
People with dementia may not remember where they are or recognise their surroundings. But with doll therapy, often if they're holding, carrying or cradling a doll it gives them a layer of security. The doll acts as an anchor to where they are, and it can alleviate a lot of fear.
In my experience, people with more advanced dementias are most likely to perceive the doll to be a live baby, and people with early to moderate dementia will perceive it to be something 'more than a doll'.
Doll therapy is led by the person with dementia; so, you would offer them a doll first to see what happens next. Some people perceive it to be a soft toy that they can cuddle and hold; others perceive it to be a baby that they're looking after.
Follow Dr Gary Mitchell on Twitter HERE.
The doll can be used in a range of ways. Some people use it as a therapy; you might see them changing the doll's clothes or dressing it, brushing the hair or just cuddling it.
It can help with maintaining weight, because the person can take their doll into the dining room with them and eat with it and "feed" it, leading to a more pleasurable dining experience. It's good for pain management, because people with dementia sometimes aren't able to articulate that they're in pain, but can often say, "My baby's got a sore foot" and transfer their broken communication onto the doll.
It also gives people a sense of purpose and can improve communication between those living with dementia and family members, because they've something to talk about.
Does the person have to use the same doll every time – and what kind are best to use?
When someone with dementia locks on to a particular doll, you should try and keep it with them, because they think of it as an anchor.
Some people go with childish-looking dolls while others buy dementia-specific dolls from a specialist retailer such as Find Memory Care. Dolls bought from specialist retailers often are more appropriate as they look less like children's toys. The dolls can be quite distinctive in appearance to, so you have different ethnic origins, colour hair, genders and clothes.
There has been no real research done on different types of dolls to see which one is more effective though, and I think, ultimately, it's about the resident's attachment to them. It all works on attachment and the resident's perception.
Are there any challenges to providing doll therapy?
The only barriers to delivering it relate to people getting confused over the ownership of the dolls – especially in group settings such as care homes. Also, people who are left with the doll for an extended period can become exhausted by providing care for it because they perceive it to be their child. This fatigue can lead to things like falls, so it has to be carefully managed.
Borrowing on Naomi Feil's work on validation therapy, you have to step into the world of the person living with dementia. When you're introducing the doll, you should never say, "this is your son," or, "this is Bill," or whatever.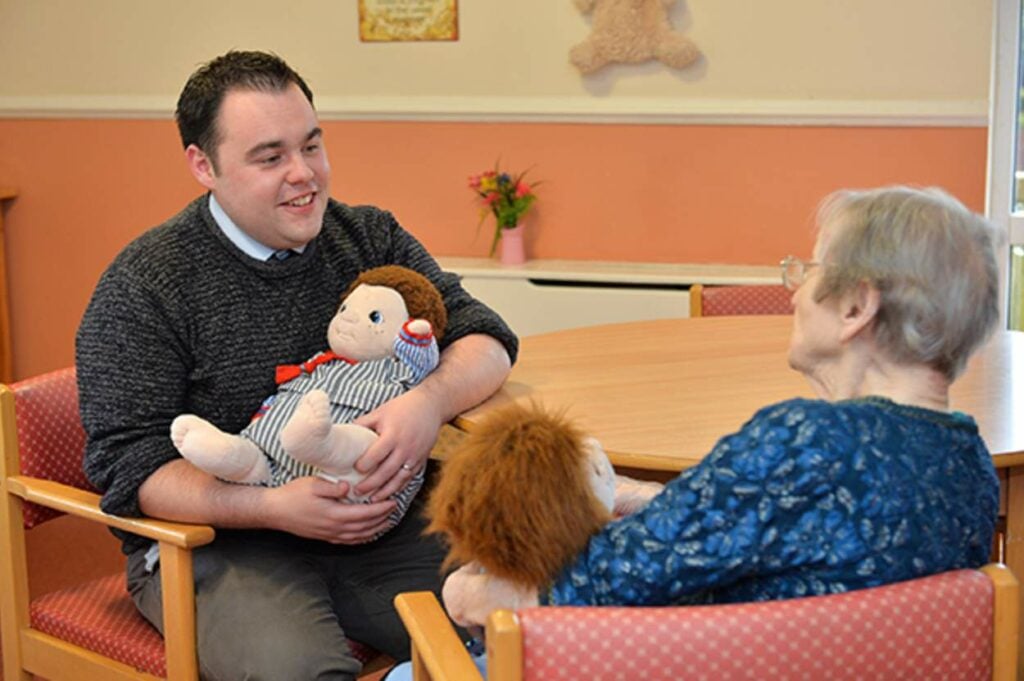 You should just present the doll to the person, and if they begin to call it John, that's what you should call it. If they treat it and hold it like a child, then whenever you give any physical intervention to that person, you should treat that doll as a baby too, because that's what they perceive. Doing something other than this will confuse and upset the person.
If you're assisting someone to the bathroom, for example, don't take the doll from them and set it on the radiator or on top of the TV. Some people can find that peculiar though, and so it's essential that staff are trained on how to use the doll.
Could somebody use doll therapy with a relative who has dementia, or would they need training?
The beauty of doll therapy is you don't need any special training. You just need to have a bit of an understanding of how it works.
The person with dementia guides the therapy. So, if they want to take it to bed and use it like a teddy, that's fine. I wouldn't force anything different. And if they want to have it with them all day, stroke it and take it with them when they have something to eat – then that's what you let them do.
As long as family members know that it is led by the person with dementia, it can be done anywhere; in homes, hospital units or care homes.
What is your aim for doll therapy in the future?
My wish is that it's given equitable consideration with other non-pharmacological treatments. It remains a niche and one that is often not considered alongside things like music, art or garden therapy.
We know there can be significant benefits to doll therapy, but there needs to be a lot more research done on it. There have only been 16 studies carried out in the last 20 years, and we still don't know how often it's being practised or where or even what the "best" dolls are to use.
It's even hard to get even family members' opinions about doll therapy pre- and post- using it. And we don't know enough about when doll therapy is introduced, and it doesn't work. There's a lot of work to be done, but what we know so far is promising. Doll therapy can be a life-changing therapy for people living with dementia.
This interview was part of a series brought to you by Elder. Wherever you may need a live-in carer in the UK, Elder can help.
Related Features
See the Person, Not the Dementia: Tommy Whitelaw on Carers and the Power of People in Isolating Times
Tommy Whitelaw became a full-time carer after his mum was diagnosed with dementia. His Tommy on Tour blog helped him to deal with the isolation, asking people to share their own stories of caring. We talk to Tommy about his experience and commitment to raising awareness by aiming to give 794 talks in four years.
Building Confidence in Mind and Body with The Dementia Swimming Project
Swim England's Dementia Swimming Project is based around pool sessions designed to create a safe and friendly swimming environment for those with the condition. We talked to Karen Tremlett from Bristol's Hengrove Park Leisure Centre about the importance of these special sessions for building confidence and activity.
Music in Mind: Exploring the Relationship Between Music and Dementia with John McHugh
Music in Mind's 'Hidden Voice' project uses the power of music to improve health and wellbeing in those living with dementia. Not only does it raise awareness but also successfully gives a voice to those who still wish, and deserve, to be heard.
Dementia 2020 Citizen's Panel: Making Britain the Best Place in the World for Dementia Care
Commissioned by the Department of Health the Dementia 2020 Citizen's Panel gives people with dementia and their carers a chance to discuss the experience of living with dementia. We talked to Gareth James from the Dementia and Disabilities Unit about the aims for and importance of this wide-ranging initiative.
Safe to Be Me: The Issues Around LGBT Ageing – An Interview with Sally Knocker
Sally Knocker, consultant trainer with Dementia Care Matters and author of the Age UK resource Safe to be Me, looks at the issues around LGBT ageing and offers practical advice for inclusive services in which people can feel safe to be themselves.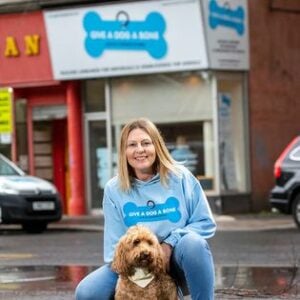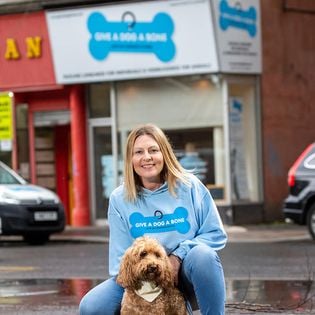 Give a Dog a Bone founder Louise Russell discusses her mission to provide companionship for elderly individuals through the love and comfort of pets. Learn more about her inspiring work to improve the lives of older people.
Read More »