Alzheimer's Disease International (ADI) is the umbrella organisation of 90 Alzheimer associations around the world. ADI is in official relations with the World Health Organization (WHO) and has consultative status with the United Nations (UN). We talked to ADI's CEO Paola Barbarino about the global challenge of dementia and how local information and initiatives can help move understanding forward.
Who does ADI represent?
ADI was founded in 1984 by four organisations from the US, UK, Canada and Australia and we now have 90 members around the world.
We were set up when the Alzheimer's movement was very much in its infancy, which is why we are called Alzheimer's Disease International. These days, local organisations like to use the term 'dementia', because Alzheimer's disease is just one of over 100 different forms.
We have one member per country, and our UK member is the Alzheimer's Society, although we are aware of the many other organisations in the UK that are doing fantastic work, such as Dementia UK and Alzheimer's Research UK.
How important is a global approach to dementia and how does it inform ADI's work?
ADI has advocated for over a decade for WHO to approve a global action plan on dementia that will encourage all countries to act – and this finally happened in May 2017.
The adoption of the plan has been followed by the development of the WHO Global Dementia Observatory (GDO), which will encourage and collect data about what's happening on dementia in every country. This could become a powerful tool, and provides ADI with a strong platform to monitor and continue to influence global change.
The real challenge now is how are we are going to ensure that the Global plan is turned into action in the 90 countries where we work – and beyond.
Currently, only 30 countries in the world have an action plan on dementia, so the scale of the challenge is huge. There are 194 countries in WHO, but although the adoption of the Global plan was unanimous, that doesn't mean that its targets will be met.
Our own strategic plan at ADI for the next five years mirrors the Global plan with four main objectives including making dementia a global health priority and reducing stigma.
We do a huge amount around this, including running World Alzheimer's Month every September, and World Alzheimer's Day on 21 September every year.
The third objective is strengthening membership, and the fourth is facilitating research, although ADI is not a research organisation per se.
One of the important things that we are doing is advocating for one percent of the societal costs of the disease to be devoted to a broad range of research, both social and medical.
There is a feeling that there are certain matters that only governments can tackle. At some point, governments have to say, "This issue is real, and we have to look at it in its entirety."
What role does the ADI Alzheimer's University play in your work?
ADI's Alzheimer's University Programme is a learning forum that takes place in various locations around the world and is available to members, or aspiring members, of ADI.
There are two main Alzheimer's University Programmes: one is run twice a year to teach organisations how to become more effective as charities. The second is around policy – looking at how to interact with government, what kind of arguments, constructs and data you need and how to build relationships.
More recently we've started to hold regional Alzheimer's University Programmes, where the local members usually decide the focus.
For example, I attended one in Indonesia last year, on corporate communications because a lot of our Asian members are interested in understanding how can they can better use the industry as partners.
Are global and local solutions both essential for awareness and change?
There is a constant complexity to the discourse around dementia with new ideas being added in all the time.
In high-level discussions around dementia, you need to try and distil all the things that belong to this particular subject to create solutions that can work across borders. In order to do that you really need to understand different contexts in different cultures.
The other local strand that is needed for global solutions is data. To persuade multilateral organisations to act, we have to produce the figures that show them just how enormous the issue is.
As such, ten years ago ADI became the major source and promoter of socioeconomic data on dementia, including on global trends, prevalence and incidence, biomedical research, care and research information and policy.
Are there cultural differences in the way that countries view and deal with dementia?
Dementia still has a huge stigma attached to it globally and locally. I see it in this country and in Italy where I grew up – and both have an action plan for dementia. These are countries that really tackled the problem early on, and yet, people still don't like talking about it.
There are countries though where the stigma can even translate to violence which is shocking. We did a regional conference in Nairobi last year, for example, and heard about issues surrounding the stigma in sub-Saharan Africa and how people with dementia are perceived. Our recent report, 'Dementia in sub-Saharan Africa' showed that in several countries, there was no sufficient word for dementia.
Find out more about the work of the Alzheimer's Disease International or make a donation at www.alz.co.uk.
Often dementia is not acknowledged as a disease, and that can mean that the person is perceived as being possessed by evil spirits. This is not dissimilar, however, to what would happen in Europe just a few years back, when people might have said that the person had "lost their mind".
One of our most significant challenges globally is to make sure people understand that dementia is a physical disease and it is not a normal part of ageing.
What can be done to reduce the stigma?
I spoke to a number of charitable organisations that were active in the change of the discourse around cancer and HIV – diseases that have also attracted a lot of stigmas – and the lack of a cure seems to be an important factor.
In HIV, things really seemed to improve once diagnosis, and importantly the ability to do something afterwards, were available.
There is no cure for dementia, but there are still things you can do once you have a diagnosis, such as keeping your brain active, remaining an active part of society and even medication in some instances. All of which make your life and the life of your family easier – because you can live with dementia for a long time. This is something we really need to tell people.
Can local initiatives make an impact in an understanding of best practice globally?
There's a lot that you can do locally that doesn't cost a huge amount of money – voluntary work is one. You can also do things that are scalable as well. For example, the idea of setting up dementia friendly communities started in Japan a few years back. The Japanese were among the first to acknowledge that dementia is a huge problem and they were trying to find local solutions.
Other members heard about this initiative and realised that they too could establish community-based cafés or activities. Now there are dementia friendly initiatives all over the world – and in fact, the Alzheimer's Society UK is one of the strongest promoters of the concept.
One of its journalists had a relative with dementia and came up with an idea to get the person delivering the Asahi to knock on the door if they saw someone hadn't collected their paper for more than two days to check they were all right. Now, this initiative is being rolled out all over Japan.
In Costa Rica too, the government has been implementing a dementia plan for many years and is now embedding education around the care of individuals with dementia into university curriculums.
They have also created senior citizen councils to look after the welfare of the senior person, taking the human rights of older people and embedding them in legislation. Therefore, this means that the individual has a right to a daycare centre, the family has a right to support mechanisms and so on. It's been amazing to see.
Idea sharing is very important. ADI runs the oldest global conference worldwide on dementia, providing a platform for a diverse group of healthcare professionals, researchers, Alzheimer's association representatives, industry partners, scientists, and many others to present what they do – and we encourage everyone to go, not just our members.
This year's conference is in Chicago in July, with panels and workshops where you can hear about new ideas or make sure that other people hear about yours. It is one of the only conferences where you can hear the experiences and views of people with dementia and their carers on every day of the programme.
Again, an amazing initiative doesn't always have to be complex, it can be something simple, but a lot of the new ideas in the field of dementia that you see will often have been pioneered at ADI conferences quite early on.
This interview was part of a series brought to you by Elder. If you're looking for live-in care in the UK, Elder can ensure that all of your loved one's care needs are met.
Related Features
Michael Hornberger, Professor of Dementia Research at UEA and Cocreator of Sea Hero Quest Smartphone Game
The Sea Hero Quest smartphone game is a research project designed to gather data on people's navigation strategies, or how they get from point-to-point. To-date, around three million people have played the free smartphone game and contributed vital information to the project. We talk to Professor Michael Hornberger, Professor of Dementia Research at UEA and one of the game's cocreators, about the exciting potential of this 'big data' – the first of its kind in the field of dementia research, and the implications of the findings so far…
Dementia Care: Tracey Shorthouse, Living with Early Onset Dementia
Tracey Shorthouse was diagnosed with early-onset dementia at the age of 45. Now 47, she talks to us about how her life has changed and the challenges – and opportunities – to keep independent and engaged with life.
Tommy Dunne: Living With Dementia, Not Suffering From It
Campaigner Tommy Dunne was diagnosed with Alzheimer's at the age of 58 and now spends much of his time working with organisations such as SURF (Service Users Reference Forum), Liverpool Dementia National Alliance and YoungDementia UK to raise awareness of the issues around dementia. We talked to Tommy about the challenges of living with Alzheimer's and how important is it for those with dementia to realise that they can still contribute to society and make a real difference.
Interview with Jeni Lennox of The Dementia Dog Project
The Dementia Dog project is a pioneering initiative in Scotland that aims to pair people in the early phases of dementia with an assistance dog trained to provide tailored support in their day-to-day lives.
Living With Dementia: An Interview with Chris Roberts and his Wife Jayne
We talked to Chris Roberts and his wife Jayne about the perceptions of dementia, the challenges for families on diagnosis and the power of working together as a husband and wife team.
Shining a Light on Lewy Body Dementia – An Interview with Ashley Bayston of The Lewy Body Society
We talked to Ashley Bayston, about the importance of raising awareness of Lewy body dementia and making it as much of a recognised name as Alzheimer's – and how the society is supporting vital research into the condition.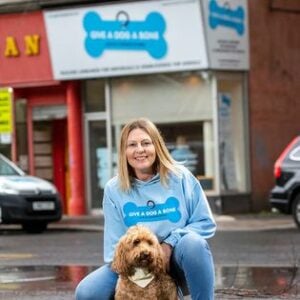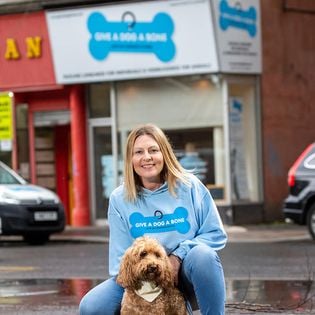 Give a Dog a Bone founder Louise Russell discusses her mission to provide companionship for elderly individuals through the love and comfort of pets. Learn more about her inspiring work to improve the lives of older people.
Read More »