Later Life Ambitions (LLA) brings together the collective voices of a quarter of a million pensioners to encourage today's decision makers to confront the challenges of tomorrow. We talked to LLA about the importance of focusing on an aspirational and ambitious future for those in later life.
Later Life Ambitions (LLA) in collboration with the National Federation of Occupational Pensioners, the Civil Service Pensioners' Alliance and the National Association of Retired Police Officers Association encourage today's decision makers to confront tomorrow's challenges. We talked to LLA about how imperative it is to shine a light on the ambitions of pensioners rather than their perceived 'costs' to the rest of society
Why was LLA set up and what is its aim?
Our members have ambitious aspirations for themselves and the next generation of pensioners. From fair pensions to safe and sustainable care services, and from accessible housing to regular bus services to promote independence, we require bold and forward-looking action from our political leaders.
Later Life Ambitions was set up ahead of the 2015 general election to change the terms of the debate – to focus on the ambitions and contribution of pensioners rather than the perceived 'costs' to the rest of society.
Almost three years later, our campaign has gone from strength to strength and continues to provide a strong and united platform from which to champion all that older people bring to society.
Where does change really happen in your opinion – is it at the personal or the policy level?
Change is brought about by a number of contributing factors – there is no single silver bullet. For example, gradual attitudinal shifts are played out in the policy arena as MPs listen to what their constituents are saying. More active political campaigning is a good way to harness this gradual change and drive it up the political agenda in a more targeted manner.
How does LLA work with older people to amplify and condense their voices for positive change?
As a campaigning organisation, we work with our members to influence political debate and policymaking. In practice, this means that we provide the advice and tools to enable older people to influence politicians at a local level, and beyond.
Ahead of the 2017 general election, for example, we devised a 'members toolkit' which provided guidance to our members, enabling them to write to the Prospective Parliamentary Candidates in their local area about the issues that matter most to older people.
We also run regular surveys, which enable our members to tell us what they think about key political issues and policy announcements. Most recently, we worked with an influential group of cross-party MPs, the Housing, Communities and Local Government Committee, to inform their inquiry on housing and older people.
Over 1,500 of our members responded to the survey and provided real insight to the Committee about the housing issues older people experience. Our member's views will now be used to inform the Committee and their final report.
Why is it important to focus on the ambitions of those in later life, rather than the 'cost' of this demographic, within the social dialogue?
We seek to tell a positive story about people in later life, and ensure that the contribution older people make to society is recognised by political leaders.
In the policymaking arena, it is hugely important that older people aren't overlooked, particularly as the population over the age of 65 is set to increase to over 13 million people by 2030. That's why we seek to engage with Parliamentary Committees such as the Housing, Communities and Local Government Committee and tell the story of our members.
What is the biggest challenge facing those in later life at the moment?
For many of our members, social care is their biggest concern. Not only is urgent reform crucial for the future viability of the sector, but it is desperately needed by older people and their families, who are having to navigate an increasingly complex and costly system.
Although there has been renewed political focus on social care in recent months, we are working to ensure that any reforms are made on a cross-party and sustainable basis, that properly take into consideration the views of older people.
We will be submitting a response to the long-awaited social care green paper when it is published and will publish a member survey to ensure that our submission properly reflects the view of our members.
---
Further Information
LLA is calling upon older people and their friends and family to share their stories, and experiences so that it is able to fully represent the views of a wide range of people in later life. Get in touch at laterlife@connectpa.co.uk, call 020 7592 9592 or follow LLA on Twitter.
Related Features
Ageing Well: Creating an Age Friendly UK with the Beth Johnson Foundation
Lynne Wealleans from the Beth Johnson Foundation talks about the need to give people a voice in challenging times, how "ageing well" is a personal definition and the power of making a real difference at community level.
Alix McDonald, Head of the Centre for Lifelong Learning at University of Strathclyde
Strathclyde University's Centre for Lifelong Learning brings education and interest to over 2000 older learners each year offering a variety of courses, from short and online to accredited and undergraduate access. Its programme aimed at 50+ students is run alongside a lively Later Life Students' Association, offering social benefits as well as educational ones. Centre Head Alix McDonald, talks to us about the University's commitment to positive ageing and how learning at any age can engage, inspire and stimulate health, well-being and interest in the world about us.
Challenging Stereotypes Around Ageing: Alex Rotas, Photographer
Alex Rotas is challenging stereotypes of old age and helping to create a 'new ageing narrative'. We talk to her about her work, the perception of growing old in our society and how we can open up our minds to what's possible as we age…
How to Age: Exploring Cultural Anxiety Around Ageing with Author Anne Karpf
We talked to Anne Karpf about the cultural anxiety around ageing, the question of what "feeling old" means – and the impact of austerity on the narrative of later life in the UK today.
On a Mission to Improve Later Life: Young Trailblazer Natasha Wilson of Age UK Sheffield
We talked to Natasha Wilson, Care Coordinator at Age UK Sheffield, about the importance of intergenerational relationships, what she has learned about later life working with older people and her vision for the future of dementia and later life care.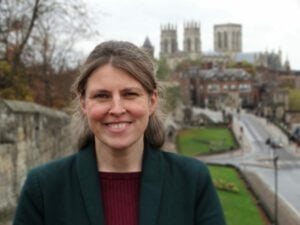 Giving the elderly a voice in Parliament: An interview with Rachael Maskell MP We talked to Rachael about how she helps constituents with issues around
Read More »