The choice to be a vegetarian or vegan often comes with deeply held beliefs and is a key part of someone's identity. So what happens in later life when people are not able to shop and cook for themselves – or even, in the case of dementia, to always remember to eat in accordance with their own convictions? 
How can Vegetarian for Life help vegetarians and vegans in later life?
We provide support and advice for people that cater for older vegetarians and vegans as well as individuals themselves. This includes nutrition and menu planning, through to training for care caterers and we even run an annual award for excellence in vegetarian care catering. For individuals, we have an online directory of over 1300 services that cater well and ethically for vegetarians and vegans, who can search it to find a service that is local and suits their needs. We also offer grants to help people with independent living as well as a range of recipe publications and advocacy support should that be needed. Plus, we have compiled our Dinners to your Door database of companies that have decent vegetarian and vegan offerings and can deliver frozen, ambient foods or chilled foods to those with limited mobility or health issues.
What are the main issues around being an older vegetarian or vegan, especially if they are receiving care?
The main concern is the loss of a vegetarian or vegan identity when a person can no longer cater for themselves. So the issues for people are, "Does my carer understand how strongly I feel about my decision to be vegetarian or vegan?" and "will they respect it?" Again, vegetarianism and veganism are not always understood as being as strong a conviction as a religion, but they are a philosophical belief that affects the decisions that people have made around what they have eaten and bought throughout their lives. For many people receiving care there are concerns around whether carers will know how to shop in line with their beliefs or to create a varied and interesting diet for them as a vegetarian or vegan.
Are carers and care organisations respectful of dietary choices like this, or is there still a lack of understanding that needs to be addressed?
Arguably things are getting better over time. For us, the standards of the nominations for our awards for excellence in vegetarian and vegan care catering are definitely of a higher quality now, especially in recent years. Last year's winner of the Vegetarian Care Chef of the Year award provides 20 daily vegetarian meal options for residents to choose from at their care home, for example. Vegetarians are now found in at least one in every four care homes and many vegetarians also opt for live-in care at home – so the number of meat free options is increasing on menus, but we've still got a long way to go. And there are still common misconceptions, for example, that vegetarians eat fish, or that vegans – and also those practicing religions such as Hinduism – eat eggs.
How can you help live-in carers who are not knowledgeable about vegetarian or vegan cooking to improve the dining experience for their care recipients?
Our charity is set up to support people and increase their practical skills in this area, and we offer care caterer training, but also plenty of resources that are of equal use for an individual who is cooking for one person and in smaller portions. These resources include guides such as, "Cooking for one" and "Cooking on a Budget". We also have our guide "Take Five", which are based around recipes with no more than five ingredients. It is also important for carers to understand the nutritional needs of vegetarians and vegans – and how that changes as we age – such as protein needs which increase over time. We're about to release a new version of our free nutrition guide this autumn which covers this and many other issues.
How many people over 65 are vegetarian and vegan in the UK – and will they have been lifelong vegetarians or vegans?
Around 300,000 people over 65 in the UK are vegetarian or vegan and many will have been so since they were a young adult. They might not have been raised as one, but often made that decision when they moved away from home and were able to cook for themselves. We know people who have been vegetarian or vegan since the 1940s and the UK Vegan Society was itself founded in 1944. The number of people becoming plant-based is growing too and a 2014 British Social Attitudes Survey that looked at attitudes towards meat reduction found that people age 65 to 79 were actually twice as likely than 18 to 24-year-olds to describe themselves as a meat reducer if not fully vegetarian or vegan now.
The survey found that health reasons were a key reason to adopt the diet – people might find they have raised cholesterol or blood pressure and that might be a trigger. People's tastes change over time as well and they might find it harder to chew or swallow and digest meat, for example. But we also hear concerns around food safety in relation to meat, environmental concerns and of course animal welfare.
What challenges does dementia bring for people on special diets?
There are only two fully vegetarian care homes in the UK so the likelihood is that most vegetarians or vegans who enter a care setting will be in a mixed dining environment. Recently, we heard of a professor in a care home being served salmon, even though he said specifically in his care plan that he wished to be vegetarian. Another person with dementia told us she found having options confusing. She said that she'd remember either the first or the last option on the menu if it was read out to her and choose that.
How difficult must it be when most of the meals served in a care home contain meat?
The vegetarian option isn't always even written down and it's rare to see the vegetarian or vegan symbol listed against any menu options. If you're asked "Would you like the steak and ale pie today? Or would you like the vegetable moussaka?" the pie is probably going to sound familiar and has been written on the board all day, therefore quite easy to recognise, whereas you might not be able to picture what vegetable moussaka is.
Should people be putting their dietary wishes in writing when they get a dementia diagnosis?
Absolutely. It's all about having those conversations with as many people as possible and making sure that you've made an advance care statement – we have a template for that on our website. It's about a vegan with dementia putting in black and white, for example, that if they ever appear to be asking for meat or dairy to be given alternatives that might be similar in appearance, as they feel very strongly about their beliefs.
As a vegan or a vegetarian you might have put yourself in inconvenient situations or have always been the one asking for different food throughout your life. It's not easy and these are beliefs that you hold strongly. Someone looking after you might think of veganism or vegetarianism or as a whim – but it is a key part of your identity.
Some people have even made a video of themselves talking about their wishes for the benefit of anybody caring for them in the future. Doing something like this can also help your own memory of why you were vegetarian or vegan in the first place. One gentleman even got a vegan symbol tattooed on his arm in his seventies so he could see it every time he reached for food. At Vegetarian for Life we've also started to sell merchandise to help with this, from a Vegetarian for Life wristband through to a mug with your name and the fact you're a vegan on it.
Is it incumbent on the organisation or carer to maintain the integrity of the vegetarian /vegan identity for a person with dementia?
We'd hope so. We've created something called a 'memory care pledge' covering five fundamentals to help minimise issues like this happening in the first place. That includes everything from making use of the vegetarian and vegan symbols to seating people together that are choosing meat-free options if appropriate. Or if an accidental choice is made, then suggesting that a carer could offer that person an alternative dish that maintains their philosophical beliefs.
In 2016 we also launched the All-Party Parliamentary Group (APPG) on Vegetarianism and Veganism with the Vegan Society and the APPG is launching an inquiry next month around people with cognitive loss or capacity issues being fed in a way that contradicts their beliefs – whether those are philosophical or religious. So this could be a Muslim being fed pork, for example, or a vegan with dementia being fed meat or dairy. We often hear stories around this – and this is our chance to document it with people's evidence and finally get it looked at in Parliament.
This interview was part of a series brought to you by Elder, the company who can take care of all your loved one's live-in care needs. The cost of a live-in carer starts at just £1225 per week. Whether you are looking for live-in care in London or require assistance in another part of the country, Elder can help.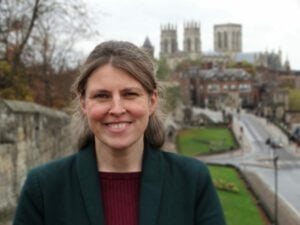 Giving the elderly a voice in Parliament: An interview with Rachael Maskell MP We talked to Rachael about how she helps constituents with issues around
Read More »