Dr. Jackman is a Chartered Clinical Psychologist, specialising in Neuropsychology and with the psychology of Older Adults. She is a full-time lecturer at the University of Manchester, having worked as a clinical psychologist in the NHS for almost a decade. In her clinical career she worked in community, hospital and private care settings with older people, their families, nursing and care staff. She is a member of the British Psychological Society and the co-editor of the FPOP Bulletin, part of the Faculty of the Psychology of Older People.
Louisa, what do you believe the impact of self-isolating will be on the elderly, particularly of those living with conditions such as dementia and other underlying mental health issues?
There are going to be a lot of implications. There are practical problems regarding access to essential services and resources, including real basics like food and drink.
Psychologically, the isolation is going to restrict access to the outside world, which includes face-to-face contact with others. But the other side of that is that people may find themselves living closely with members of their family with whom they have conflict or who can't help them manage their lives in a way they're used to. Both of these potential scenarios can make vulnerable people feel extremely isolated and unhappy. This can have serious implications for older people specifically.
We must remember that across the 65-plus population, there are going to be people who have mental health problems like depression and anxiety, but also long-standing mental health problems like psychosis. Older people are not immune to some really chronic long-term mental health problems and will potentially need to access support both because they are older and because they have additional needs.
Changes to daily routines can cause a huge amount of stress, particularly for people living with the kinds of conditions you mentioned. How can families and carers support and minimise the impact of these changes on people receiving care?
The first thing is to think about is: what is actually causing us all this stress?
We're all in the same boat, as many people will say. We all have this total uncertainty about what the virus is going to mean for us, our lives, our families, our jobs, our income, our housing. But for older people and people who care for them, there is an extra level of worry and stress on top of that.
As human beings we like to know what's going to happen next. We like to be able to predict our environment because if we can't, it feels dangerous. We'll expend a lot of energy trying to make life predictable and safe.
That's why we go to the same cafe every day when we go on holiday, because it's safe and predictable. Whatever circumstance we're in, we develop routines and try to make a safe world around us. We seek this physical and psychological safety around what's going to be next. Right now, that isn't possible, which leaves us all concerned.
This anxiety is about unpredictability, so something really helpful that you can do, for yourself or others, is ensure your environment remains as predictable as possible. For example, it's a good idea to timetable your day. It might seem like a daft recommendation, but it's comforting to know what's going to happen next. It's reassuring to know that you have lunch or tea at certain times.
It's also important to avoid falling into the trap of not getting up and getting dressed. It's about making sure that you're creating a routine for yourself, your family and your care recipient. It means that at the end of the day, you take your clothes off, you wash, you get into bed, you're giving your body the signals to go to sleep. At this time, it's important to keep the body and psychology in a normal, natural rhythm.
It's possible to go too far though. Sometimes we worry about the 'what-ifs' and that kind of worry isn't helpful. People should try to look at what is solvable and what isn't. We can't do anything about the virus ourselves, but we can talk to family members about questions like: "how will I get medication and food or keep in contact with loved ones if I have symptoms or test positive?" It's about playing out the worst case scenario and creating certainty about the outcome.
Many people living with serious health conditions can sometimes feel detached from the rest of society and their carers and family members often act as a bridge between them and the wider world. How should people broach the subject of Covid-19 and its developments with the person they care for?
The first question to ask is: does your care recipient, whether that be an elderly person, adult or child, have the capacity to make important decisions about the information they access or receive?
If you have somebody who has a mental health problem that hasn't affected their capacity to make decisions, then withholding information is not right. You could be denying them information which they may need to either keep themselves safe or make fundamental life decisions.
But so much information on the news at the moment is scary for all of us. When you look at some of the estimates about the number of people over 70 dying, some of this information isn't actually very helpful for older people. If I were a care-giver, I would be thinking about sharing information around the virus and the government's recommendations, and then maybe watching those recommendation updates together.
If a person without full capacity then asks questions, some carers are going to be in a position of deciding whether or not to tell the whole truth, which is a really uncomfortable position to be in. Carers have to judge what reality the person they're caring for is living in. We may have to adjust for their best interests, the type of information we give as well as the way that we give it.
We already know that loneliness and isolation is a huge problem in the older community in the UK. In a situation where we are being told to self-isolate, what steps can both older people and their closer network of family, care professionals, and friends can do to control the impact of that on their mental health and wellbeing?
We all have a responsibility for monitoring isolation and loneliness among the elderly. For people in full-time in-home care, having to make extra efforts to contact other people is very difficult if you do have a mental health problem. This is particularly tough for people living with depression or another condition where you would have a tendency to avoid other people.
But as I say, we all have an obligation to make sure that everybody's okay around our neighborhood. One of the really heartwarming things happening at the moment is that people are genuinely reacting compassionately to this crisis and reaching out to other people. There are neighborhood groups coming together and neighbors are all stepping up.
The British Psychological Society recommendations includes a link to a website that teaches people how to use internet resources. There are a lot of simple step-by-step instructions on how to use programmes like Skype. But there are also things as obvious as waving when you pass someone's house and see them sitting at a window. We should make sure that people receive attention, whether or not they seem to need it.
Even if someone says they're fine, don't stop that contact, keep asking them, or just ring up and tell them how your day has been, so they don't have to tell you whether they're okay or not.
As you mentioned, some older people living with serious health conditions, such as depression, Alzheimer's and stroke can require constant monitoring and carer attention. What does self-isolation mean for the carer and care recipient relationship?
There's always the possibility of tension when there are two adults, one needing care and one providing the care.
Sometimes a carer takes on a parental role, which can make the person they are caring for feel infantilised, for example. It's an easy trap to fall into when you're providing lots of personal care for someone or making decisions on their behalf.
I think that if we assume that this person has any idea of what is going on in the world, they're going to be subject to the same anxieties as the rest of us. So there is likely to be a change in mood and behavior, which may be a reaction to current events, not a change in their mental health per se. It's not necessarily that their mental health condition is worsening, but it may be that they are naturally worried and concerned about the situation.
However, it may be that a change in behavior is an indication of worsening mental health, in which case people need to call their care team. If they don't have a care team, ring the GP and find out who may be available. Some GPs are not taking calls, so people may need to email to find out who the best professional to speak to is.
Saying this, I'm a glass-half-full person who sees opportunity in these situations. When people feel themselves in conflict over caregiving, it might be a really good opportunity to have the kind of conversations that you've never had before, about difficulties that may crop up. It may be that people can actually sit down and have conversations about their care in a way that they couldn't before.
If a carer is looking after someone who has dementia or Alzheimer's, the presence of conflict in that relationship can be very difficult. If the older person doesn't understand what's happening in the world right now and tries to carry on with life as normal, a carer can find themselves in conflict by trying to stop them.
At that point, the carer has to make a quick decision. Do they allow that conflict to take place and potentially escalate, possibly even to the point of physical aggression, or do they make a plan to support that person in going out, with help from neighbours or the police?
There is something called the Herbert Protocol, where carers can actually inform the police that they have somebody at home who may be vulnerable when they leave their home. There's more info on this on the AgeUK website or you can contact your local police station.
It's really important for people to know that they're not alone in this. If you're concerned that you need to keep somebody safe inside, but it's actually putting you in a point of conflict which is physically dangerous, you need to minimise that conflict in whatever way you can. Ultimately, you need to prioritise your safety as a carer, because when any incident is over and done with, you have to pick up the caring responsibilities.
What would be your top line of advice that people should bear in mind and what resources can carers, care recipients, and families use to find more information?
AgeUK, is a fantastic organisation and they often are an umbrella provider for other services. The National Activity Providers Association are also providing free access to their website for ideas and Activities, while Dementia UK are also offering great advice for people living with the condition and their carers.
Advice-wise: we need to remember that every single one of us has encountered something that we have found difficult to cope with. But we are all still here, which shows that we all have the resources to manage. It's about remembering that we've got those resources and applying them to a new, novel, unpredictable situation.
We need to reach deep inside, remembering the last time that something felt really catastrophic, remember how we managed it, acknowledge that it passed and that things became normal again. The way to do that is by being proactively compassionate and attuned to both ourselves and the people around us.
We can't ever lose sight of the fact that we are going to get through this.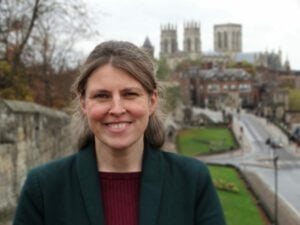 Giving the elderly a voice in Parliament: An interview with Rachael Maskell MP We talked to Rachael about how she helps constituents with issues around
Read More »