TSA, which stands for TEC Services Association, is the governing body for Technology Enabled Care (TEC), representing over 370 organisations from Local Authorities to business, which commission, provide and supply technologies such as telehealth, telecare, and telemedicine. We spoke to CEO Alyson Scurfield about the importance of modernising health and social services through technology to enable people to take control of their own health and wellbeing.
Can you explain what exactly TEC is, and why it's so important?
TEC stands for Technology Enabled Care.
It's a new way of talking about care which incorporates services such as telecare, telehealth, telemonitoring, digital health and devices like alarms, monitors, apps or wearables – any technology-based solution that improves care in our homes and communities.
In reality, we've seen analogue-type technology used for decades in sheltered housing where alarms and mobile warden services help people to remain independent and safe.
But despite the name, TEC isn't just about the technology itself; the shiny kit is only part of the story. It's about bringing in innovative systems that enable carers to manage their work better and for care service users to remain more independent. TEC also enables family and friends to better cope with caring for their loved ones.
Just as online shopping has made our lives simpler, technology is having a similar effect in the care environment. It's about making care services more efficient, and designing systems that better suit user's needs.
Technology enables us to use data differently too, so we can share information between caregivers, doctors, health professionals, families – anybody that has anything to do with that individual's care.
The TSA's mission is to drive awareness of TEC. What's the motivation for this?
Our vision is to enrich the everyday lives of those receiving and giving care.
We talk about meeting people's needs, but we also need to ask individuals about their wants: what technology would make life as good as it can be for that individual who has a long-term condition or, at times, multiple conditions?
Conditions like dementia or diabetes are progressive. So how can we make those diagnosed with them feel good about themselves at all stages, so they are empowered to participate in activities, engage in self-management and slow down that progression?
The minute someone has dementia, we feel the need to control their environment. If their illness progresses, the majority might think the only option to keep them safe and well would be residential care. But this won't necessarily be the ideal solution for the individual or that person's family. Technology can allow people to stay independent in their own homes by being tailored to their individual needs.
I myself am a diabetic and I have a whole new outlook on how I manage my health and care through TEC. My consultant manages my care remotely through technology, and that's how it could be for all of us. Unfortunately we currently have professionals delivering health and social services which haven't changed much for the last two decades.
We really need to stop and consider what would make a more efficient and effective system of care. TSA's mission is to show people how technology embedded in health, wellbeing and prevention can help that person who wants to remain at home, but also support them as their illness and needs progress.
Do you think people are apprehensive about relying on technology?
Yes. Within the health and care world, if we say, 'We're going to replace your carer with a piece of technology', naturally people would choose to have a person there.
For me, there are three things to consider when you embed technology in a care environment.
If you look at the technology first, you'll fail.
You need to look at your systems, and you need to look at the people who should be benefitting from these.
You have to look at all the people involved in that person's care. And there needs to be a clear idea of what exactly you're trying to change.
Unless you look at the whole package, the technology itself will never be mainstream and normalised.
'Ageing in place' is an important concept in TEC. Can you explain why it is core to your mission?
Ageing in place is all about meeting the needs of an individual as they get older, helping to maintain independence and dignity.
My father has mixed vascular dementia, one of his wishes is not to have any formal carers, but to live in his own home with my mum for as long as he can.
The thought of going into care is really not what the majority of people want, especially if that person is living with dementia, so ageing in place looks at creative new ways of delivering care in a familiar environment.
We have had to figure out how we can help my dad, but more importantly for his sake, how we help the family to care better for him.
We use technology not just to connect us, but to connect all the professionals that work with dad should his condition progress. It also gives us all reassurance that we are somewhat in control.
What kind of products currently support ageing in place?
You can find technology for almost anything, from detecting falls to a GPS chip you can install in the sole of someone's shoe. You can set parameters within the areas they usually frequent – which is something we use with my dad, so that if he wanders outside of that, we'll get an alert.
There are medication compliance systems and even everyday devices in the house, like Alexa, which can be used as part of a care package. There are also wellness tools and apps to tackle social isolation.
So with my dad, we utilise what's available to us to keep him motivated and stimulated – for example, using Skype regularly for family chats.
We have to think: how do we use technology in a different, simple way to ensure dad can stay in place for as long as he can, and make sure he's still getting everything he needs?
There are many technologies out there and the data those technologies give us is important. We can better predict whether the individual's behaviour is changing and intervene at a much earlier point.
How have you seen TEC being integrated into health or social care?
There are lots of examples up and down the country. But the one that really shines out for me is Liverpool Hospital Trust, who have a virtual care system, when someone is discharged from hospital they are monitored remotely.
This encourages self-management of their condition, with the added support of someone who can mentor them about that condition and what to expect – this slows down readmission into hospital.
One nurse I talked to had moved into telehealth services, she said: 'This is nursing at its best because it means I can give one-on-one care to more people than I ever could out in the community.' She was able to cover more ground without compromising on the quality of the care she was delivering.
TEC is part of a bespoke care package that isn't about replacing people with technology: it's the silent thing that enables good care to happen. We're all connected by technology, so why shouldn't we use some of those techniques to enable ageing in place?
The opportunity is there; we just need to embrace it.
What is the 'whole-system, whole-concept' approach when it comes to the integration of health, housing and social care?
It's about putting the person who requires care at the centre of all we do. Connecting health professionals, social care providers, housing associations or voluntary services.
The question is: how can the digital world better connect those individuals, and how can we work together with all those professionals to get better quality care?
Technology can enable us to do that, but as I've said, it's people who help us to achieve a marriage of these services.
Technology by itself is still uncoordinated care: it's the people utilising this technology to deliver better care that makes up the whole system.

---
In terms of the future of care, how do you think that these technologies will develop?
Advancements in technology are hard to keep up with. There are always innovators delivering new products; these days robots are carrying out complex surgery!
For me, it's not so much about advancements in technology as it is about developing better systems and reimagining what good care looks like.
We have to use our resources more meaningfully, technology too, but rather than making technology the centre of the focus we need to put people centre-stage.
How can people find out more about the care enabling technologies available to them?
What's really relevant for the individual who needs care, for the carer, for family, is trust.
You wouldn't pick a care provider without looking at reviews to make sure they are up to standard. That's precisely what TSA does when it comes to technology enabled care.
We have a Quality Standards Framework (QSF), with auditors who certify organisations to ensure they are delivering quality services. But at the end of the day, the technology is only as good as the system within which is sits. Anyone looking at how technology can aid in their care should look for providers who are QSF certified.
What's next for TSA Voice?
We, along with our president, ex-Health and Care Minister Paul Burstow, will continue lobbying the government to support us with a national campaign, so everyone knows what TEC is and can maximise the benefits.
Here at TSA, we are its champion and voice. We need to fight for change, and we need ministerial support.
We also need to do a lot of work with the services on the ground to look at how they integrate technology and people in service transition.
This interview was part of a series brought to you by Elder. Whether your are looking for London live-in care or require assistance in another part of the country, Elder will ensure that all of your care needs are taken care of.
Ageing Science and Wellbeing: Translating Scientific Research into Tangible Social Benefits
Chief Scientist for Age UK, Professor James Goodwin was one of the creators of the pioneering Wellbeing Index, used by governments and organisations around the world. We talked to him about the importance of this as a measure – and of translating scientific research into tangible social benefits.
Addressing Ageism: How Data Can Change Society's Perception of Our Ageing Population
Age International supports older people in low and middle income countries providing age-friendly emergency relief, challenging attitudes and helping to influence policy. We talked to Head of Policy and Influencing Ken Bluestone about the experience of ageing in the developing world and how best to meet changing need.
Dhruv Sharma: Mitigating Later Life Loneliness Through Radical Innovation & Digital Technologies
Dhruv Sharma is a Senior Innovation Associate at Newcastle University's National Innovation Centre for Ageing (NICA), an initiative that brings together academics and businesses to share knowledge relevant to developing innovative products and services for older adults. Dhruv is currently researching the role of radical innovation and digital technologies in mitigating later life loneliness and social isolation as part of his PhD at the HighWire Centre for Doctoral Training, Lancaster University. We talk to him about his two strands of work in the ageing space, and how they can contribute to solutions for important later life issues in society.
Eight Great Dementia Products That Can Make Life Easier
A diagnosis of dementia means finding new, adapted and often innovative ways to support everyday living. We list some of the challenges faced by those living with dementia – and some great products, from low-key to high-tech, that can help.
Is Virtual Reality the Future of Mental Health? Professor David Roberts, Professor of Telepresence, University of Salford
With Virtual Reality moving into the mainstream, what is the potential for its use in the dementia space? We talk to leading researcher Professor David Roberts about the new realities of this technology.
Michael Hornberger, Professor of Dementia Research at UEA and Cocreator of Sea Hero Quest Smartphone Game
The Sea Hero Quest smartphone game is a research project designed to gather data on people's navigation strategies, or how they get from point-to-point. To-date, around three million people have played the free smartphone game and contributed vital information to the project. We talk to Professor Michael Hornberger, Professor of Dementia Research at UEA and one of the game's cocreators, about the exciting potential of this 'big data' – the first of its kind in the field of dementia research, and the implications of the findings so far…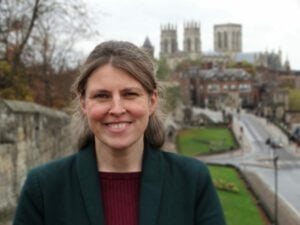 Giving the elderly a voice in Parliament: An interview with Rachael Maskell MP We talked
Read More »