Choosing a care home
Live-in care in Yorkshire might not be suited to everybody who lives there. Your loved one may not live in a house that is big enough to accomodate a home carer, or perhaps the idea of it just isn't their cup of tea.
Even so, Elder would still like to help you make the best later life care choice for your loved one because despite the abundance of information out there, you might not have time to filter through it all.
That's why we've summed up our top ten care home picks in Yorkshire to ensure that not only do you make the right choice for your family, but you don't get flustered trying to piece it all together either.
The top care homes in Yorkshire
If you're considering residential care for your parents or loved ones in Yorkshire, the following eight options may be worth considering.
Lister House
13 Heaton Road, Heaton, Bradford BD8 8RA
Lister House is privately owned and offers long- and short-term care with nursing to the elderly and younger adults. There are 26 single rooms and 3 shared rooms, 14 of which have ensuite facilities.
Suitable for old age.
Norwood Grange Care Home
Longley Lane, Sheffield S5 7JD
Provides long-term residential care close to Longley Park in Sheffield. The home is staffed 24-hours a day and is managed by the Country Court Care group.
Suitable for those requiring residential, dementia care and short-term respite care.
Abbeydale Care Home
Grove Road, Ilkley LS29 9QE
Beds for 32 residents in a range of bedroom apartments. 22 care workers operate on a shift basis offering roughly one qualified staff member to every 5 residents. This is a family owned and operated business.
Suitable for old age, dementia, physical disability and sensory impairment.
Victoria House
2 Nostell Lane, Ryhill, Wakefield WF4 2DB
Part of the Care Homes UK Ltd group, furnished in a traditional style. Meals are made on-site, not shipped in by a catering supplier as in many other homes.
Suitable for those with reduced mobility.
Dearnevale
Elizabeth Street, Grimethorpe, Barnsley S72 7HZ
Accommodation for up to 42 residents in a nurse-led care home. This home accepts adults of all ages. Organised into 4 units, each with 10 beds. Staff members include a full-time neuro physiotherapist and therapy assistant. This is an Exemplar Health Care Ltd property.
Suitable for those with complex care needs.
St John's House
Parker Lane, Kirk Hammerton, York YO26 8BT
Offers residential care in Kirk Hammerton, located between York and Harrogate. A country setting with free-range chickens. The property has single bedrooms and ensuites and is run by Clifton St Annes PCS Ltd.
Suitable for old age.
Ascot House
88/90 Oswald Road, Scunthorpe DN15 7PA
Offers single ensuite bedrooms. A team of experienced carers is on-site 24 hours a day. Managed by Kapil Care Homes group.
Suitable for those living with dementia.
Orchard Court Care Home
7 Wrawby Road, Brigg DN20 8DL
Located in the market town of Brigg, the property offers single rooms as well as managed, self-contained apartments.
Suitable for those requiring residential care and dementia care.
Thornhill House
Church Street, Darfield, Barnsley S73 9LG
Thornhill residents include those with a wide range of complications. Offers 38 single rooms, 7 of which have ensuite facilities. Managed by Strong Life Care Ltd.
Suitable for those requiring residential and dementia care.
Willersley House
85 Main Street, Willerby, Hull HU10 6BY
Owned and operated by MHA, Willersley House provides residential and day care, offering 34 single rooms with private ensuite facilities.
Suitable for people over the age of 65.
Hallamshire
3 Broomhall Road, Sheffield S10 2DN
Hallamshire is run by Carewise Homes Ltd, and is located in the heart of Sheffield within landscaped grounds. There are 32 single rooms, 18 of which have ensuites.
Suitable for dementia, Alzheimer's and sensory impairment.
Firth House
18 Firth Mews, Millgate, Selby YO8 3FZ
Owned and managed by Anchor, Firth House provides dementia and residential care in a tranquil setting. The home offers 41 single rooms with ensuite facilities.
Suitable for dementia and Alzheimer's.
Harry Priestley House
30 Fieldside, Thorne, Doncaster DN8 4BQ
Harry Priestley House is owned and managed by RMBI (Royal Masonic Benevolent Institution Care Company), and provides residential care for elderly people as well as younger adults. The home offers 12 single rooms with private facilities.
Suitable for learning disabilities and challenging behaviour.
Beech Hall
1 Far Fold Lane, Armley, Leeds LS12 3UE
A purpose-built facility owned and managed by Anchor, Beech Hall offers residential and respite care for people over the age of 65. The home has 64 single rooms, each of which has its own ensuite.
Suitable for dementia.
Realising your elderly loved one requires extra, full time care isn't easy and when there seems to be so many options, it might be overwhelming to know where to start.
At Elder, we are always on hand to offer the best impartial advice, every day between 8 am and 8 pm to help you decide on the best care solution for the your loved one.
Get in touch with one of our expert care advisors today.
Frequently asked questions
Do care home residents eat together, or can they choose to eat in their rooms?
When it comes to dining, the wishes of care home residents are always taken into account and menus are planned to provide a pleasant mealtime experience. While residents can choose to eat in their rooms, they're usually encouraged to dine with the other residents in order to benefit from social interaction.
However, some older people may find the atmosphere and approach of communal dining overwhelming, which is one reason why you might consider live-in care. Your loved one will be encouraged to eat tasty and healthy meals prepared by their carer in a relaxed atmosphere.
If you feel your loved one would benefit from the kind of person-centred approach that only comes with live-in care, contact us today to discuss your loved one's requirements.
Live-in care or nursing homes: What's the difference?
If you choose nursing care for your loved one, they will move into a residential home where 24-hour care will be available to deal with complex needs, often with a number of people in a similar situation. Nurses are on hand at all times but with many residents to consider, their services may be stretched thin.
In contrast, live-in care means that your relative doesn't have to leave their own home. Instead, a live-in carer can move in with your relative and cater for their individual needs on a one to one basis.
Live-in care can be adapted to meet the level of support required by your loved one, whether they happen to be struggling to cope on their own, wants or needs companionship or has more complex. In all cases, live-in care can be a less stressful option than facing the upheaval of a move into residential care without compromising on the quality of care.
How do live-in care fees work?
Many people assume that paying live-in care fees involves the same choices as those involved in meeting the costs of a residential care home. However, because your loved one is able to stay in their home, there are some extra funding options when it comes to live-in care.
When people move into care homes, there is a chance they may be entitled to government benefits or local authority help alongside their pension. However, they may need to sell their house.
With live-in care, the funding possibilities above still apply, but there are also some other options. For example, equity release may be something to look into for your loved one. Recently approved retirement interest-only mortgages may provide another solution. Someone needing live-in care would also be likely to be granted the higher rate of Attendance Allowance.
Read our useful Cost of Care guide for a full explanation of care costs and potential options for meeting them.
Dementia live-in care: what is it?
For people living with dementia, live-in care means that they wouldn't have to face the increased anxiety and confusion that moving into a care home would involve. Elder has specially trained staff who can provide dementia care in your loved one's own home so you will know they are safe and looked after 24 hours a day.
Dementia is a progressive disease, and your loved one's condition may change over time. Both their physical and mental abilities may decline, so Elder's carers will review their individual care plan regularly and ensure that you know about any changes whenever necessary.
If you would like to find out more about how Elder can help you to help a loved one who is living with dementia, contact our friendly care advisors for more information any day between 8am and 8pm.
Need a little more advice?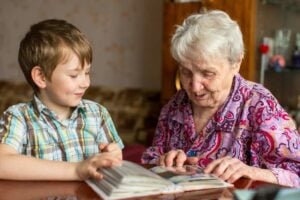 The true cost of care – everything you need to know Discover the true cost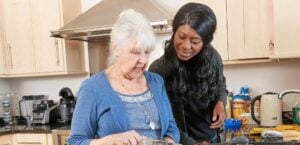 Live-in care Vs Other types of care If your loved one has reached a stage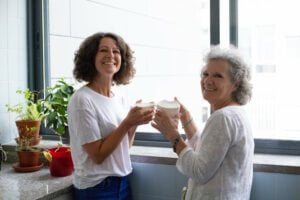 A Guide for Caregivers – Everything You Need to Know If your loved one needs