Choosing a care home
While your loved one might prefer to receive care at home, for some live-in care in Twickenham just isn't possible. Whether as a result of space restrictions or perhaps they have complex medical needs.
Even so, Elder still want to be able to help. Your loved one deserves care in a safe and comfortable environment that is not only suitable but also something they would choose themselves.
To help ensure you make the right care choice for your loved one, we've summed up our top care home picks in Twickenham.
The top care homes in Twickenham
Here we've selected our top residential care homes in Twickenham that might be worth considering for your relative or loved one.
Barchester Lynde House Care Home
Meadowbank, 28 Cambridge Park, Twickenham, TW1 2JB
Privately operated, nursing and residential care home for people over 40. It has single ensuite rooms for up to 76 service users.
Suitable for physical disability, dementia, hearing, visual and speech impairments.
Brinsworth House
72 Staines Road, Twickenham, TW2 5AL
Owned by the Royal Variety Charity, this care facility offers nursing services for up to 38 people over the age of 65. Four rooms have an ensuite WC.
Suitable for old age and physical disability.
Whitefarm Lodge
Vicarage Road, Whitton, Twickenham, TW2 7BY
Part of the Care UK Nursing & Residential Care Services group, Whitefarm Lodge offers care for those over 55 years old in 60 single ensuite rooms.
Suitable for dementia and old age.
Dalemead Care Home Ltd
10-12 Riverdale Gardens, Twickenham TW1 2DA
A privately owned care facility which offers accommodation for up to 49 residents. There are 43 single rooms and 3 shared rooms, all with ensuite facilities.
Suitable for dementia and learning disabilities.
Roy Kinnear House
289 Waldegrave Road, Twickenham, TW1 4SU
Operated by the Choice Support Group (People with Learning Disabilities), Roy Kinnear House can cater for up to 6 service users.
Suitable for younger adults with learning disability, physical disability or sensory impairment.
Cambridge Park Home
40b Cambridge Park, Twickenham, TW1 2JU
Operated by Lifeways Community Care, this offers residential care in single rooms for up to 8 service users.
Suitable for learning disability.
Nightingale House
10 Strafford Road, Twickenham, TW1 3AE
A privately-owned residential care home for up to 21 service users over the age of 65. There are 17 single rooms and 2 shared rooms.
Suitable for dementia, mental health conditions, physical disability, sensory impairment.
Realising a loved one requires extra, full-time care isn't easy, and when there seem to be so many options in Twickenham, it might be overwhelming to know where to start.
At Elder, we are always on hand to offer the best impartial advice, every day between 8 am and 8 pm to help you decide on the best care solution for your loved one.
Get in touch with one of our expert care advisors today.
Frequently Asked Questions
Can my loved one still get Attendance Allowance if they live in a care home?
Attendance Allowance is a government-funded benefit payable to elderly people with a disability so severe that they need assistance with daily chores. Home care assistance doesn't necessarily need to be in place in order to claim it.
Your loved one will continue to receive Attendance Allowance for the first four weeks of residential care, if they qualify for the benefit. After the initial four-week period, they may still qualify for the benefit, provided that they are self-funding their place in the care home.
Where your loved one's local Trust is paying for, or contributing towards, their care home fees, then Attendance Allowance is not normally payable.
Attendance Allowance may be payable to your loved one after their 12th week of care, where their Trust has contributed to the first 12 weeks, whilst your loved one is waiting for their property to be sold.
Check out our guide for more on the cost of care.
Live-in Care: What you need to know
If you have decided on live-in care for your loved one, there are some preparations to make for when the carer moves in.
In addition to what is required by your relative, you will also need to ensure that there is a separate bedroom for the live-in carer. Ideally, as well as a bed and a place to store clothes there will also be a comfortable chair and TV. The carer will need their own private space where they can relax, although they will be happy to share kitchen and bathroom facilities with your elderly loved one.
Internet access is useful so that the carer to keep in touch with Elder and with other professionals involved in the care of your loved one. If your relative is a car owner, it is a good idea to insure the vehicle for the carer who can then use it to chauffeur your loved one.
What can you take into a care home?
The rules governing what residents can and cannot take with them when they move into a dedicated care home vary wildly according to each individual establishment, so check and double check before committing to moving your loved one's belongings.
Most homes encourage residents to decorate their rooms with personal possessions, including items of furniture. Do check on the home's policy and be sure to take details of the room's dimensions to avoid costly errors. Space is obviously limited, but even the smallest of care homes should encourage your loved one to bring treasured possessions, photographs and keepsakes with them.
Some homes allow complete room decorations, including changing the paint colours and repapering the walls.
Some care homes will even allow pets, but once again, check before making a firm commitment to avoid disappointment and upset.
Elder Live-in Care: How are carers selected?
Carers who will be looking after your loved one in their own home are carefully vetted and checked, and are recruited not only for their qualifications and training, but also for their empathy and real-world caring experience.
Other important attributes include that the carer speaks excellent English and is good at communicating with people who may find hearing or speaking difficult.
Unlike care homes, which have large staff teams working in shifts, live-in home care is a very personalised service, with the cared-for person at the centre of the daily routine and activities.
As well as the vetting process, carers must provide two references and are also assessed to see whether they need any further training in order to meet the needs of the particular individual they will be caring for.
Need a little more advice?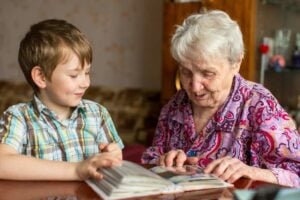 The true cost of care – everything you need to know Discover the true cost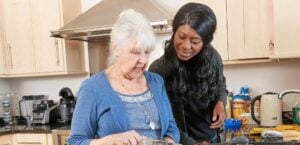 Live-in care Vs Other types of care If your loved one has reached a stage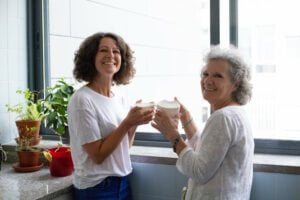 A Guide for Caregivers – Everything You Need to Know If your loved one needs