Choosing a care home
Here at Elder, we understand that live-in care in Tooting might not be for everyone. Your family member or loved one's home might not have adequate space, or perhaps the idea of it just doesn't quite suit them.
Even so, Elder would still like to help you make the ideal later life care choice for your loved one. They deserve the type of care that is not only suitable but something they would choose themselves.
To save you time, and to help you make the right choice for your family, we've summed up our top care home choices in Tooting.
The top care homes in Tooting
If you're considering residential care for your parents or loved ones in the Tooting area, the following options may be worth considering.
Heritage Care Centre
30 Gearing Close, Tooting, London, SW17 6DJ
This two-storey, purpose-built centre provides 72 ensuite rooms for residents and is managed by Maria Mallaband Care Group Ltd. Residents are provided with WiFi throughout the facility, as well as wheelchair access and a nurse call system.
Suitable for dementia, physical disability, Alzheimer's, stroke, cancer care, sensory impairment.
Brendoncare Ronald Gibson House
236 Burntwood Lane, Tooting, London, SW17 0AN
This purpose-built care facility is located on the grounds of Springfield Hospital and is managed by the Brendoncare Foundation, a registered care charity. The centre's 56 ensuite bedrooms are divided into three wings: frail residents, dementia, and recently discharged from hospital. Pets accepted by prior arrangement.
Suitable for dementia, Alzheimer's, learning disability.
Trinity Court
165/167 Trinity Road, Wandsworth Common, London, SW17 7HL
Managed by Clearstone Care Ltd., Trinity Court provides accommodation for 50 residents in the form of 48 single rooms, and one shared room. The centre arranges weekly and on-request visits by GPs, as well as on-request visits by other health professionals such as opticians, dentists and physiotherapists.
Suitable for dementia, Alzheimer's, Parkinson's, stroke, sensory impairment.
Rosedene Nursing Home
141-147 Trinity Road, Wandsworth Common, London, SW17 7HJ
This privately-owned care home is managed by T Lewis and provides 67 rooms. The facility is wheelchair accessible and residents can bring their pets by prior arrangement.
Suitable for dementia, Alzheimer's, Parkinson's, stroke, cancer care, physical disability.
St Mary's Care Home
3 Tooting Bec Gardens, Streatham, London, SW16 1QY
St Mary's was originally established in 1931 to care for nuns from the Church of the English Martyrs. Since then, the original care facility has been greatly extended and now provides 82 rooms for residents. All rooms have a 24-hour nurse call system, TV and phone points.
Suitable for elderly residents over the age of 65, including those with dementia.
Aashna House Residential Care Home
2 Bates Crescent, Streatham Vale, London, SW16 5BP
Located in a quiet residential area and managed by Sanctuary Care Ltd., Aashna House has 38 en-suite rooms. The centre caters primarily to residents of South Asian heritage, so all members of staff speak at least one Asian language, in addition to English. There are separate kitchens for preparing vegetarian and non-vegetarian meals and the facility allows all-hours visiting by family members.
Suitable for dementia, physical disability.
Woodlands House
118 Cavendish Road, Colliers Wood, London, SW19 2HJ
Managed by Country Court Care, this 64 ensuite room facility has established ties with the local community and provides activities for residents in collaboration with local schools. Residents with limited mobility can make use of assisted bathrooms and shower rooms and the entire facility is wheelchair accessible.
Suitable for dementia, Alzheimer's.
South Park
193 South Park Road, Wimbledon, London, SW19 8RY
This privately-owned care home is managed by South Park Residential Home Ltd. and provides a total of 11 rooms for residents. Each room has a phone and TV point and the entire centre is wheelchair accessible.
Suitable for dementia, Alzheimer's.
Realising your elderly loved one requires extra, full-time care isn't easy, and when there seem to be so many options in the Tooting area, it might be overwhelming to know where to start.
At Elder, we are always on hand to offer the best impartial advice, every day between 8 am and 8 pm to help you decide on the best care solution for your family or loved one.
Get in touch with one of our helpful expert care advisors today.
Frequently asked questions
How do I self-fund live-in care?
There are several options for self-funding live-in care in the home, so it's important to consider them all carefully before coming to a decision.
Use of money from pensions, investments and savings can be a good option. It's also possible to free up money invested in your loved one's home, either through selling it and downsizing or by freeing up some of all of the money invested in it through an equity release scheme.
You might like to consider a lifetime mortgage, or home reversion, which allows your loved one to carry on living in their own home for as long as they need to.
It's important to seek out professional advice before going ahead, but you can find out more by reading our online guide on The True Cost of Care.
Our Customer Care Advisors are also available seven days a week to answer your questions.
How do I choose a dementia care home for my elderly parent?
When considering a dementia care home for your parent, you should first arrange for a local authority assessment of their needs. This will ascertain the type of care that is needed, and you may find that remaining in their own home with dedicated live-in care would be the best option for your elderly parent's circumstances.
Where a care home is considered the best option, it's important to spend plenty of time researching potential homes. Search for online reviews, talk to local healthcare personnel and visit potential residential homes in person to see how they are run.
Prepare a list of questions in advance. While visiting, you should ask yourself: do the residents seem happy and well cared for? Is the home clean and tidy, with friendly and approachable staff? And will they accommodate a trial period, so that you can establish that it's the best option?
Live-in Care: What will the carer need?
If you are proceeding with live-in care, it's important that your carer has access to a few basic amenities.
They will require a bedroom of their own and internet access in order for them to stay in contact with friends and family while they're are staying in your loved one's home.
Live-in care allows carers to offer 24-hour care and support to people in vulnerable positions while enabling them to remain in their own homes. Your loved one's carer will also need privacy (for break times), and you will also need to ensure there is space for your carer to have meals with your loved one.
Care Homes: Will my parent be free to make their own choices?
Life in a care home is tailored to meet the needs of all its residents. Although your loved one will be able to make certain choices, their day-to-day routine may not always be able to accommodate all their wishes.
The safety of all residents must be the priority for care homes, although the majority of residential homes will do their best to accommodate individual requests wherever possible.
With live-in elderly care, however, your parent is very much in control of their own choices, with a dedicated caregiver on hand at all times to aid them whenever, and wherever, help is needed.
If your loved one decides that they would like to go out to the shops on the spur of the moment, for example, then their caregiver can action that request immediately, without having to take into account any other care recipients' needs.
Need a little more advice?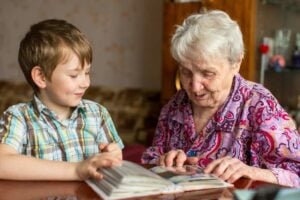 The true cost of care – everything you need to know Discover the true cost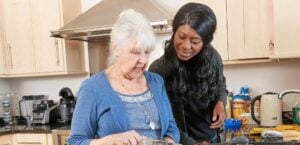 Live-in care Vs Other types of care If your loved one has reached a stage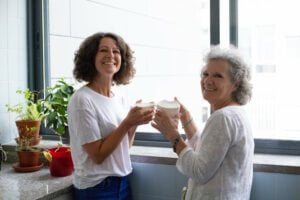 A Guide for Caregivers – Everything You Need to Know If your loved one needs