Choosing a care home
At Elder, we understand that the circumstances might not be right for everyone to get live-in care in Thanet. Maybe there isn't enough room to accommodate another person or the home would require too many adaptations for their needs.
No matter the reason, we'd still like to help and we know we're in a good position to do so. Good care is available out there and we want everyone to make informed decisions about their later life care.
Your loved one has every right to be supported and cared for in the way they choose, which is why we've found the best residential options in the area for you.
The top care homes in Thanet
If you're considering residential care for your parents or loved ones in Thanet, the following eight options may be worth considering.
St. Michael's
Elm Grove, Westgate-on-Sea CT8 8LH
Situated just outside the seaside town of Margate, St. Michael's is owned and operated by Charing Lodge Ltd. Located in a residential area and near to the sea, the lounge overlooks a nearby golf course. Capacity for up to 65 residents.
Suitable for those living with dementia and Alzheimer's.
Ashcroft House Nursing Home
Fairview Close, Cliftonville, Margate CT9 2QE
Ashcroft House has capacity for up to 88 residents and is positioned in a seaside location. The home is run by the Regal Care Trading Ltd care home investment group.
Suitable for those living with dementia, old age, physical disability and sensory impairment.
Kent House
Fairfield Road, Broadstairs CT10 2JY
Located in Broadstairs, Kent House is a small care home providing residential care for the elderly. The home is run by UV Care Group and has capacity for up to 25 residents.
Suitable for those requiring residential care.
The Willows Care Centre
5/13 Second Avenue, Cliftonville, Margate CT9 2LL
The Willows is an adult residential care centre which welcomes adults of all ages. Specialises in a range of complex mental health issues, such as memory loss and anxiety, with capacity for up to 40 residents.
Suitable for those living with dementia.
Grosvenor Court
1/5 First Avenue, Cliftonville, Margate CT9 2LF
Also located in Margate, Grosvenor Court offers care to those with specialist needs, such as dementia and learning disabilities, as well as care for patients with sensory impairments and Parkinson's Disease. This Premiere Care Southern Ltd facility offers care to those with both long and short-term needs, with capacity for up to 62 residents.
Suitable for those living with dementia.
Maurice House
Callis Court Road, Broadstairs CT10 3AH
Located in Broadstairs on the Kent coast, Maurice House is run by the Royal British Legion and has capacity for up to 77 residents. A specialist residential Dementia Care Unit was opened in March 2016 and comprises three wings of 10 bedrooms.
Suitable for those living with dementia.
Grenham Bay Court
Cliff Road, Grenham Bay, Birchington CT7 9JX
Located in Birchington-on-Sea, Grenham Bay Court is owned and operated by Grenham Bay Care Ltd and offers a range of care options, including residential long-term care and respite care for up to 34 residents.
Suitable for those living with dementia and Alzheimer's.
Gresham Residential Care Home
47/49 Norfolk Road, Cliftonville, Margate CT9 2HU
This converted Victorian house is privately owned with capacity for up to 30 residents.
Suitable for those requiring residential care.
Realising your elderly loved one requires extra, full time care isn't easy and when there seems to be so many options, it might be overwhelming to know where to start.
At Elder, we are always on hand to offer the best impartial advice, every day between 8 am and 8 pm to help you decide on the best care solution for the your loved one.
Get in touch with one of our expert care advisors today.
Frequently asked questions
How to arrange overnight care at home?
Worrying about how your ageing loved one copes at night can lead to sleepless nights for everyone. Whether it's dispensing medication, helping with toilet visits or trying to prevent your elderly relative from leaving the home in the small hours – something that can often occur with some types of dementia – coping with your loved one's night-time needs isn't always practical or even possible.
Elder makes it easy to organise overnight care in the home, often with as little as 24 hours' notice. As the leading supplier of live-in care in the UK, we offer trained and empathetic carers who can provide 24-hour care in your loved one's own home.
From companion care to dementia care, our live-in carers provide help whenever it's needed, giving you much-needed peace of mind in the process. So call us today for a no-obligation chat and find out how an Elder carer could help.
Do care homes have trial periods?
Finding the right care home for a loved one is a big decision. Some residential care homes now offer trial periods during which you and your loved one will have a chance to assess the quality of care on offer.
Always check the care home contract carefully for an opt out clause and look out for unfair terms or confusing language. Avoid any care homes which don't offer a trial period or a cancellation period, or who retain your deposit in the case of a cancellation.
If you feel that your loved one will not be able to cope with the transition into residential care and you would prefer to have home care for your relative, Elder can provide a replacement carer in as little as 24 hours if the initial placement doesn't work out.
Live in care can offer a cost effective alternative to residential care, so call for more details.
How long does it take to arrange a care home for my loved one?
Arranging a care home for a loved one can be quite a time-consuming process, given that it's akin to finding a new home. In order to choose the right home, you and your relative should make time to get to know everything about the homes available, from the comparable attributes of each home to the areas where they're located.
Your loved one may even decide to move into a care home temporarily in order to assess whether they have made the right choice and this can considerably add to the time it takes to get them feeling truly settled.
In contrast, choosing a live-in care at home option can allow for a much quicker, easier and less stressful transition, enabling the right level of care to be put into place speedily and efficiently and removing the need for your relative to move home at all.
To find out more about care homes vs. live-in care, check out our guide.
Live-in Care: What you need to know
If you have decided on live-in care for your loved one, there are some preparations to make for when the carer moves in.
In addition to what is required by your relative, you will also need to ensure that there is a separate bedroom for the live-in carer. Ideally, as well as a bed and a place to store clothes there will also be a comfortable chair and TV. The carer will need their own private space where they can relax, although they will be happy to share kitchen and bathroom facilities with your elderly loved one.
Internet access is useful so that the carer to keep in touch with Elder and with other professionals involved in the care of your loved one. If your relative is a car owner, it is a good idea to insure the vehicle for the carer who can then use it to chauffeur your loved one.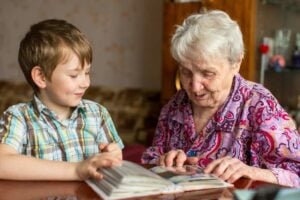 The true cost of care – everything you need to know Discover the true cost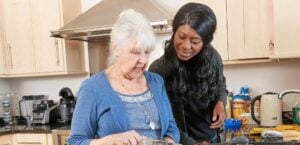 Live-in care Vs Other types of care If your loved one has reached a stage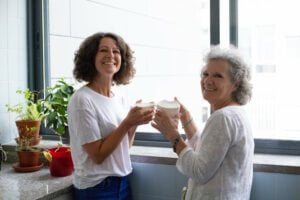 A Guide for Caregivers – Everything You Need to Know If your loved one needs