Choosing a care home
Live-in care in Swansea isn't for everyone. Your loved one may not live in a house that has an extra room to accomodate a home carer, or perhaps the idea of it just isn't for them.
Even so, Elder would still like to help you make the ideal later life care choice for your loved one. They deserves the kind of care that is not only suitable, but something they would choose themselves.
That's why we've summed up our top eight care home picks in Swansea to ensure that you make the right choice for your family without spending hours trying to whittle your options down.
The top care homes in Swansea
If you're considering residential care for your parents or loved ones in Swansea, the following eight options may be worth considering.
Brynfield Manor Nursing & Residential Care Home
42 Brynfield Road, Langland Bay, Swansea, SA3 4SX
Brynfield Manor is operated by Langland Care Ltd and offers care with nursing to up to 68 service users aged 65 plus. Palliative care, convalescent care, respite care and day care are also available. Accommodation is in 62 single and 3 shared rooms. 64 of the rooms have an en-suite WC.
Suitable for dementia and old age.
The Newton Grange Residential Care Home
Langland, Newton, Swansea, SA3 4QD
Also owned by Langland Care Ltd, Newton Grange Residential Care Home provides residential care for a maximum of 21 service users who are aged 65 and older. Day care, respite care and convalescent care are available. There are 2 shared rooms and 17 single rooms. En-suite WCs are available in 17 rooms.
Suitable for physical disability, old age and dementia.
Swn-y-Gan
Banc Bach, Penclawdd, Swansea, SA4 3FN
Privately owned purpose-built care home with nursing for a maximum of 28 service users. Accommodation consists of 10 shared and 8 single rooms. Convalescent care available.
Suitable for mental health conditions, physical disability and old age.
Glais House Nursing Home
615 Birchgrove Road, Glais, Swansea, SA7 9EN
Privately operated care home with nursing in large grounds. The home provides care for up to 49 service users aged 18 plus in 45 single and 2 shared rooms. 20 of the rooms have en-suite WC facilities.
Suitable for detention under Mental Health Act, dementia, mental health conditions, younger adults, old age, sensory impairment and physical disability.
April Court Care Home
137/144 St Helens Road, Swansea, SA1 4DE
Large care home with nursing offering care to up to 78 service users aged 65 plus. The home is operated by Wellchime Ltd and has 76 single rooms and 1 shared. 23 rooms have en-suite WCs.
Suitable for old age, physical disability and mental health conditions.
Peniel Green Care Home
216 Peniel Green Road, Llansamlet, Swansea, SA7 9BD
Part of the HC-One group, Peniel Green Care Home is registered to provide nursing care for up to 37 service users aged from 65. Respite care is also provided. All accommodation is in single rooms with en-suite WCs.
Suitable for dementia, old age and physical disability.
Hawthorn Court
12 Bayswater Road, Tycoch, Swansea, SA2 9HA
Care home offering residential care for a maximum of 25 service users aged 65 plus. There are 21 single and 2 shared rooms, 18 with en-suite WC. Day care and respite care can also be provided.
Suitable for dementia and old age.
Barchester Awel-y-Mor Care Centre
Brynafon Road, Gorseinon, Swansea, SA4 4YF
Care home with nursing operated by Barchester Healthcare Ltd offering care for a maximum of 56 service users in the age group 18 plus. Convalescent care, respite care and day care are provided. The home has 56 single rooms, all with en-suite WC.
Suitable for old age, learning disability, physical disability, sensory impairment and younger adults.
Realising your elderly loved one requires extra, full time care isn't easy and when there seems to be so many options, it might be overwhelming to know where to start.
At Elder, we are always on hand to offer the best impartial advice, every day between 8 am and 8 pm to help you decide on the best care solution for the your loved one.
Get in touch with one of our expert care advisors today.
Frequently asked questions
Are residential homes the only care option available?
No, a residential home is only one of the many options available to your loved one, if they are struggling to cope in their own home.
Retirement villages offer amenities and services to their residents, although these can be expensive. A more affordable option is sheltered housing, which usually offers alarm buttons, and the help of an on-site warden in case of emergency.
Many older people are reluctant to move away from their home and familiar surroundings, so in-home care may be the most appropriate solution. Daily care can be sourced through your loved one's local authority, or privately, offering help with daily tasks.
For the most convenient and cost-effective solution, live-in care provides 24-hour help, support and companionship from a dedicated live-in caregiver, allowing your loved one to continue to live their life as they choose, but with the reassurance of assistance whenever it is needed.
What kind of care do nursing homes provide?
Nursing homes provide a comprehensive package of care for elderly residents. This may include personal care such as help with bathing and eating, social care, companionship and even medical care for those who need help and support 24 hours a day.
If your loved one requires a high level of care but is unwilling to enter a nursing home, live-in care can provide a viable alternative that allows them to stay in their own home, surrounded by familiar possessions and enjoying the support of friends and family.
Private home care is often more cost-effective than a nursing home and it provides bespoke care that is personally adapted to your loved one's specific needs.
What if my loved one struggles to settle into a care home?
If your loved one is having problems settling into a care home, you could try to make the environment more homely for them by bringing in photos and important items from their home.
If possible, help them to keep in touch by using a laptop or mobile phone, so they do not feel as though they have been abandoned by their family. Care staff will help your family member to settle in, so give them plenty of information about their likes, dislikes, favourite foods and interests.
If it is not working out, why not consider hiring live-in carers for the elderly in your loved one's own home if they still have it? As long as there is a spare room, a live-in carer could move in with them and provide all the care they need in the place they love best or even in your home if that is more convenient.
How quickly can I arrange live-in care?
If you need to arrange care at home for a loved one, we can provide a highly trained live-in carer in as little as twenty-four hours.
Elder's carers are carefully matched with each care recipient so that you can be sure your elderly family member will be well looked after and able to enjoy the best quality of life possible in the comfort of their own home.
You may need to arrange live-in care at short notice if your loved one has had a fall or is ill, the usual care provider has let you down or circumstances have changed unexpectedly.
With 24-hour care from Elder your family member can be supported to remain in the place they love best, and you will have the peace of mind of knowing that they will receive the best care day and night.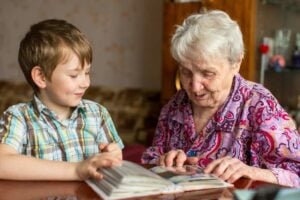 The true cost of care – everything you need to know Discover the true cost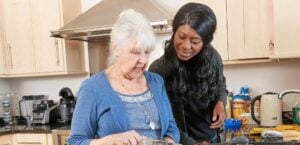 Live-in care Vs Other types of care If your loved one has reached a stage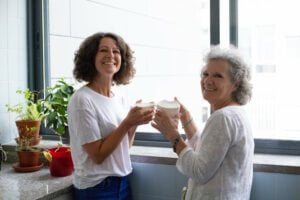 A Guide for Caregivers – Everything You Need to Know If your loved one needs