Choosing a care home
We understand that live-in care in Sutton Coldfield might not be a possibility for everyone. Perhaps your family member or loved one's home doesn't have the required space, or maybe the idea of it doesn't quite suit them.
Even so, we still want to help you make the perfect later life care choice for your loved one. They deserve to receive care in a safe and comfortable environment that is not only suitable but something they would choose themselves.
That's why we've summed up our top care home picks in Sutton Coldfield to help you make the right care choice for your family, without spending hours trying to find the best option for your loved one or relative.
The top care homes in Sutton Coldfield
If you're considering residential care for a relative or loved one in the Sutton Coldfield area, the following options may be worth considering.
Gracewell of Sutton Coldfield
134 Jockey Road, Sutton Coldfield B73 5PP
Operated by Gracewell Healthcare, Gracewell of Sutton Coldfield offers residential and nursing care for elderly people and can provide private rooms. There are numerous Gracewell Healthcare facilities across the country.
Suitable for nursing care, dementia and residential care.
Mercia Grange
538 Lichfield Road, Four Oaks, Sutton Coldfield B74 4EH
Mercia Grange has 67 ensuite rooms and is part of the Care UK group, which operates more than 100 day clubs and care facilities. The home offers nursing care, residential care, dementia care and respite care.
Suitable for dementia, physical disability, respite, residential care, nursing care.
Aston Court Care Home
Little Aston Hall Drive, Little Aston, Sutton Coldfield B74 3BF
This is a purpose-built Bupa facility in the village of Little Aston. It provides long-term residential and nursing care, as well as respite care and accommodation for people recovering after illness.
Suitable for post-op, Parkinson's, short stays and respite, nursing care, residential care, palliative care.
Asprey Court Care Home
Orphanage Road, Erdington, Birmingham B24 0BE
Asprey Court offers care for elderly people and others with complex needs in 86 suites, each with a kitchenette. The home has its own consultant psychiatrist who visits regularly.
Suitable for dementia, nursing care, residential care, mental health needs, challenging behaviour, physical disability, sensory impairment, younger adults.
St Catherine's Residential Home
326/328 Boldmere Road, Boldmere, Sutton Coldfield B73 5EU
St Catherine's provides residential care for people with personal care needs, including people living with dementia. It has 22 single rooms, 12 of which have ensuite facilities
Suitable for elderly residents, dementia, sensory impairment.
Greville House
40 Streetly Lane, Four Oaks, Sutton Coldfield B74 4TU
This is a Greville House Care Home Ltd property for females aged 65 or older. Care is provided in 25 single rooms.
Suitable for elderly people, visual impairment, females, respite care, convalescent care.
Wyndley Grange Nursing Home
2 Somerville Road, Sutton Coldfield B73 6JA
Situated on the outer edge of Sutton Park, the building dates back to 1872 and is operated by the Homecroft Care Group. The facility has 17 single rooms with ensuite facilities, four shared rooms and five single rooms, along with six wet rooms.
Suitable for elderly people, dementia.
Beech Hill Grange
1 Beech Hill Road, Wylde Green, Sutton Coldfield B72 1DU
Beech Hill Grange is an Edwardian Building that was opened as a care home in 1986. It offers dementia and nursing care in a residential area next door to Walmley Golf Club. It has 58 single rooms and eight shared rooms.
Suitable for dementia, physical disability, sensory impairment, Parkinson's disease, stroke, dementia, cancer care, Alzheimer's.
Realising your elderly loved one requires extra, full-time care isn't easy, and when there seem to be so many options in the Sutton Coldfield area, it might be overwhelming to know where to start.
At Elder, we are always on hand to offer the best impartial advice, every day between 8 am and 8 pm to help you decide on the best care solution for your family or loved one.
Get in touch with one of our helpful expert care advisors today.
Frequently asked questions
How do I self-fund live-in care?
There are several options for self-funding live-in care in the home, so it's important to consider them all carefully before coming to a decision.
Use of money from pensions, investments and savings can be a good option. It's also possible to free up money invested in your loved one's home, either through selling it and downsizing or by freeing up some of all of the money invested in it through an equity release scheme.
You might like to consider a lifetime mortgage, or home reversion, which allows your loved one to carry on living in their own home for as long as they need to.
It's important to seek out professional advice before going ahead, but you can find out more by reading our online guide on The True Cost of Care.
Our Customer Care Advisors are also available seven days a week to answer your questions.
How do I choose a dementia care home for my elderly parent?
When considering a dementia care home for your parent, you should first arrange for a local authority assessment of their needs. This will ascertain the type of care that is needed, and you may find that remaining in their own home with dedicated live-in care would be the best option for your elderly parent's circumstances.
Where a care home is considered the best option, it's important to spend plenty of time researching potential homes. Search for online reviews, talk to local healthcare personnel and visit potential residential homes in person to see how they are run.
Prepare a list of questions in advance. While visiting, you should ask yourself: do the residents seem happy and well cared for? Is the home clean and tidy, with friendly and approachable staff? And will they accommodate a trial period, so that you can establish that it's the best option?
Live-in Care: What will the carer need?
If you are proceeding with live-in care, it's important that your carer has access to a few basic amenities.
They will require a bedroom of their own and internet access in order for them to stay in contact with friends and family while they're are staying in your loved one's home.
Live-in care allows carers to offer 24-hour care and support to people in vulnerable positions while enabling them to remain in their own homes. Your loved one's carer will also need privacy (for break times), and you will also need to ensure there is space for your carer to have meals with your loved one.
Care Homes: Will my parent be free to make their own choices?
Life in a care home is tailored to meet the needs of all its residents. Although your loved one will be able to make certain choices, their day-to-day routine may not always be able to accommodate all their wishes.
The safety of all residents must be the priority for care homes, although the majority of residential homes will do their best to accommodate individual requests wherever possible.
With live-in elderly care, however, your parent is very much in control of their own choices, with a dedicated caregiver on hand at all times to aid them whenever, and wherever, help is needed.
If your loved one decides that they would like to go out to the shops on the spur of the moment, for example, then their caregiver can action that request immediately, without having to take into account any other care recipients' needs.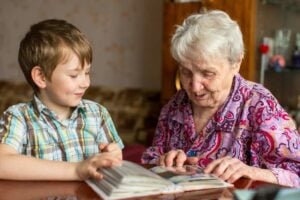 The true cost of care – everything you need to know Discover the true cost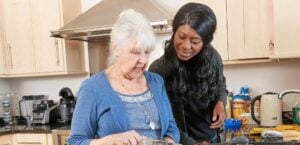 Live-in care Vs Other types of care If your loved one has reached a stage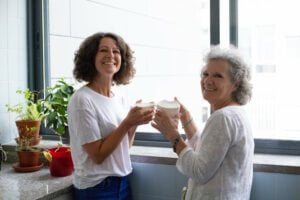 A Guide for Caregivers – Everything You Need to Know If your loved one needs