Choosing a care home
At Elder, we understand that not everyone is in the right situation to receive live-in care in Stoke-on-Trent, perhaps there's no space or maybe they require much more complex care.
No matter the reason, we'd still like to help and we know we're in a good position to do so. We know what good care looks like, even outside of the home.
Your loved one has every right to be supported and cared for in the way they deserve, which is why we've found the best residential options in the area for you.
The top care homes in Stoke-on-Trent
With an in-depth understanding of later life care across the nation, we're perfectly placed to recommend the best residential options near you.
Claybourne
Turnhurst Road, Chell, Stoke-on-Trent, ST6 6LA
Specialising in dementia care for older adults, Claybourne is registered for up to 46 people aged 55 and over. Accommodation is in single rooms with en-suite WC. There are spacious communal areas and day care can also be provided.
Suitable for dementia.
Brindley Court Care Home
Station Street, Longport, Stoke-on-Trent, ST6 4ND
Brindley Court is a purpose-built care home with nursing. Services offered include residential, nursing, respite and end-of-life care. The home is registered for people aged 65 plus and has 52 single en-suite bedrooms.
Suitable for old age, younger adults and physical disability.
Lawton Manor Care Home
Church Lane, Church Lawton, Stoke-on-Trent, ST7 3DD
This rurally situated care home with nursing is registered for up to 63 service users aged 45 and over. There are 63 single rooms, 52 of which have an en-suite WC.
Suitable for old age, physical disability and sensory impairment.
Spratslade
Spratslade House, Belgrave Avenue, Dresden, Stoke-on-Trent, ST3 4EA
Spratslade is a privately owned care home registered for up to 30 service users aged 65 and over. There are 30 single rooms, 28 of which benefit from en-suite WCs.
Suitable for old age and dementia.
Park Hall
Ubberley Road, Stoke-on-Trent, ST2 0QS
This Anchor home can accommodate up to 60 service users in single rooms each with an en-suite WC. Service users are 65 plus.
Suitable for dementia and old age.
Maple Tree Court
140 Gloucester Road, Kidsgrove, Stoke-on-Trent, ST7 1EL
Care home registered for a maximum of 64 older people aged 65 plus. Services offered include convalescent care and respite care. All rooms are single and have an en-suite WC.
Suitable for dementia and old age.
The Place Up Hanley Ltd
Wooliscroft Road, Bucknall, Stoke-on-Trent, ST2 9HP
This care home offers residential care for up to 51 service users who are 60 or over. There is a separate dementia care unit. The home also provides day care and respite care. There are 47 single rooms and 2 shared rooms. 4 rooms have an en-suite WC.
Suitable for dementia and old age.
Hanford Court Care Home
Bankhouse Road, Hanford, Stoke-on-Trent, ST4 8EN
Privately owned residential care home for up to 61 service users in the age group 65 plus. There is a separate dementia care unit. All bedrooms are single and have an en-suite WC. The home can also provide respite care and convalescent care.
Suitable for physical disability, dementia and old age.
Make sense of your options
Realising your elderly loved one requires extra, full time care isn't easy and when there seems to be so many options, it might be overwhelming to know where to start.
At Elder, we are always on hand to offer the best impartial advice, every day between 8 am and 8 pm to help you decide on the best care solution for the your loved one.
Get in touch with one of our expert care advisors today.
Frequently asked questions
How can I tell if a care home is good or not?
Your first step in assessing the quality of elderly care in a care home is to make a formal visit. During this visit you should ask the manager about staffing levels, carer training, dementia care and resident activities.
You should be assessing the property for suitability – is it a purpose-built facility on one level? Does it have security doors, wide corridors, and spacious and light communal areas? If the home makes a good initial impression, try to drop by unannounced at another time. Catching a care home off guard often gives you a truer picture of life there.
But the best way to tell if a care home is good or not is by word of mouth. Both residents and employees can help paint a true picture, so keep your ears pricked for any insider information.
How many people live in a care home?
Care homes vary in quality of service and also in the number of beds they provide.
In the UK, the average care home has approximately 20 beds. Twenty sounds like a nice manageable number but the reason for this figure is that many UK care homes are in converted Victorian buildings. This means that some of the rooms are small and upstairs and there is often no lift installed.
Around 10% have more than 50 beds, and these are usually the mega-care homes run by large companies. So while they may appear clean and modern, many residents may feel overwhelmed.
Many more care homes have 5 beds or less. However, these facilities tend to be run as private care arrangements. In the end, counting the number of beds residential care homes have is rarely a good way to determine their quality.
Is there an alternative to care homes?
There's a wide choice of care homes available, some of which provide a stimulating program of events to entertain their residents. But no matter how good the food, or how dedicated the staff in a care home, the majority of older people would much prefer to remain in the familiar surroundings of their own homes.
Employing a live-in care worker allows your loved one to retain their sense of independence. Unlike in the majority of residential care homes, a live-in carer means that your loved one can keep their pets, stay with their spouse and stick to their familiar and comforting routines that they have built up over many years.
With no need to downsize a lifetime's worth of treasured possessions, moving a live-in carer into your loved one's home couldn't be easier, and it will allow them to continue enjoying their current lifestyle, whilst being supported at every turn.
Is live-in care affordable?
Bespoke, one-on-one care sounds like it would be expensive. Unlike a care home, when you would have to share care with several other residents, your loved one would get a carer all to themselves.
The reality is live-in care can be up to 30 percent cheaper than a place in a care home. This doesn't mean that here at Elder we skimp on paying the carers who work with us. We make sure to screen our carers meticulously so we get only the best of the best and we pay them above industry standard to make sure we keep the best.
And the cost isn't the only benefit of live-in care. The best part is they wouldn't have the upheaval of leaving their own home or downsizing their possessions. Nothing at all will need to change except for having a new companion to share their home with.
If live-in care is required for a couple, you'll save even more money and potentially a separation if their care needs differ and would need to live in different kinds of residential care.
For more information, check out our Cost of Care guide.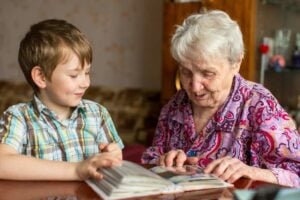 The true cost of care – everything you need to know Discover the true cost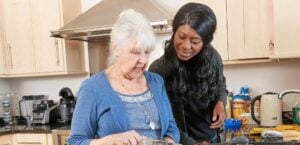 Live-in care Vs Other types of care If your loved one has reached a stage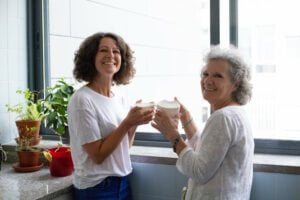 A Guide for Caregivers – Everything You Need to Know If your loved one needs