Choosing a care home
Live-in care in Sheffield isn't for everyone. Your loved one may not live in a house that has an extra room to accomodate a home carer, or perhaps the idea of it just doesn't quite take their fancy.
Even so, Elder would still like to help you make the ideal later life care choice for your loved one, who deserves the kind of care that is not only suitable, but something they would choose themselves.
That's why we've summed up our top ten care home picks in Sheffield to ensure that not only do you make the right choice for your family, but you don't get flustered trying to piece it all together either.
The top care homes in Sheffield
If you're considering residential care for your parents or loved ones in Sheffield, the following eight options may be worth considering.
Norwood Grange Care Home
Longley Lane, Sheffield S5 7JD
Close to Sheffield's Longley Park and to local amenities, Norwood Grange is a privately-owned care home offering 24-hour care to those aged 55+. There are 31 single rooms, 22 of which are en-suite, and two shared rooms.
Suitable for short-term respite care, dementia care and long-term residential care.
Broomgrove Nursing and Convalescent Home
30 Broomgrove Road, Sheffield S10 2LR
Operating as a registered charity, Broomgrove provides specialist care for residents with long-term illnesses, acute conditions and physical disabilities. There are 40 single rooms, all of which are ensuite.
Suitable for sensory impairment, cancer care, Parkinson's disease, chronic illness, terminal illness and physical disability.
Bridgedale House
381 Fulwood Road, Sheffield S10 3GA
Set in landscaped grounds and close to public transport links, Bridgedale House is a privately-owned residential care home that provides 24-hour care to residents aged 65+. There are 25 single rooms, all of which are ensuite.
Suitable for dementia care and respite care.
Hallamshire
3 Broomhall Road, Sheffield S10 2DN
Part of the Carewise Homes Ltd, Hallamshire is located within the city of Sheffield, offering access to local amenities. There are 32 single rooms, 18 of which are ensuite.
Suitable for dementia care, Alzheimer's and sensory impairment.
The Lodge
109a, Worksop Road, Swallownest, Sheffield S26 4WB
Specialising in providing nursing care for adults with learning disabilities, The Lodge is a small, privately-owned care home that offers social activities and group holidays. There are six single rooms, all of which are ensuite.
Suitable for profound and multiple learning disabilities, mental health disorders and physical disabilities.
Overdale Christian Retirement Home
29/31, Kenwood Park Road, Sheffield S7 1NE
Run by trustees from local churches, Overdale Christian Retirement Home is located in quiet residential surroundings. This Christian-influenced home welcomes residents aged 75+. There are 25 single rooms, 21 of which are ensuite.
Suitable for long-term and respite care.
Rosebank
48 Lyons Road, Sheffield S4 7EL
Part of the Silver Healthcare Ltd group of residential care homes, Rosebank is located in a quiet residential area close to Sheffield city centre. There are 20 single rooms and three twin companion rooms. Three of the rooms are ensuite.
Suitable for Alzheimer's, dementia care, mental health disorders and respite care.
Nightingale
Nether Lane, Ecclesfield, Sheffield S35 9ZX
Located in Ecclesfield, close to public transport and local amenities, Nightingale is a purpose-built care home that welcomes residents aged 65+. There are 26 single rooms and two shared rooms, with 26 ensuites.
Suitable for dementia care, Alzheimer's, respite care, hearing impairment and visual impairment.
Realising your elderly loved one requires extra, full time care isn't easy and when there seems to be so many options, it might be overwhelming to know where to start.
At Elder, we are always on hand to offer the best impartial advice, every day between 8 am and 8 pm to help you decide on the best care solution for the your loved one.
Get in touch with one of our expert care advisors today.
Frequently asked questions
What do care homes provide?
No two care homes are the same, even when run by the same company. But all aim to ensure the ongoing care and safety of their residents is met. A care home often has individual bedrooms and communal lounges and dining rooms. And staff are responsible for helping residents to get in and out of bed, wash and use the toilet.
For many years, care homes have been the go-to option for elderly care. It seems to make the most sense financially, residential care means fewer staff can be on hand for more residents and thus reduce costs.
However, recent years have seen poor management and high property costs offset this advantage. And not enough carers available means reduced quality of care. This means, for someone with their own home, choosing one-on-one live-in care can be cheaper and can ensure a better standard of care.
Would I have to sell my parents' home to fund care?
Paying for care isn't necessarily straightforward, and many of our clients worry that they will have to sell their parents' home in order to fund their long-term care. However, there are other options – your loved one may qualify for government funding in the form of benefits, grants or direct payments.
Alternatively, equity release in the form of a lifetime mortgage or home reversion could allow them to remain in their own home with the help of live-in care, without having to sell their home.
To see all the available options and their benefits and restrictions, have a look at our in-depth guide – "The True Cost of Care".
The guide also talks you through applying for a Power of Attorney, which is particularly important, as it allows you manage your loved one's financial affairs if they become unable to cope themselves.
Does live-in care support those with pets?
One of the major problems that elderly people can face is having to be separated from their beloved pets if they have to go into a care home.
With live-in care from Elder, your loved one can continue to enjoy the company of their animals, and if they now find looking after them difficult, their live-in carer will happily do this for them.
In addition to the emotional comfort a cat or dog may provide for your family member, the health benefits of pet ownership are also well recognised.
Live-in care makes it possible for your elderly relative to continue enjoying the company of their pets without having to worry about the practical aspects of caring for them.
What activities do care homes provide?
All reputable care homes should offer a varied program of activities to encourage residents to engage with each other and reap the full benefits of living in such a social environment.
Keeping your loved one's mind active and engaged helps to foster a positive self-image, so look out for residents who seem engaged with their surroundings when you visit prospective establishments.
Ask to see examples of regular timetables of events on offer, such as outings, exercise classes and other social and health-related activities. There may be onsite therapies on offer, as well as regular visits by local entertainers and special interest groups, for example.
Some care homes encourage residents to take care of gardening duties, or perhaps there are designated days for arts and crafts activities and even opportunities to interact with visiting animals. Go prepared with a list of questions, and talk to other residents about their experiences.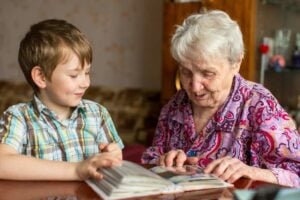 The true cost of care – everything you need to know Discover the true cost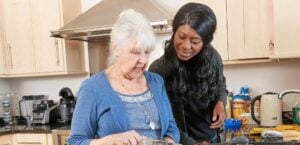 Live-in care Vs Other types of care If your loved one has reached a stage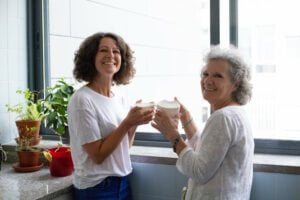 A Guide for Caregivers – Everything You Need to Know If your loved one needs