Choosing a care home
Elder understand that not everyone is in the right circumstance to receive live-in care in Scotland. Perhaps the care required is quite complex, or there are issues with space.
No matter the reason, we want to help you make the best later life care choice for your loved one. The amount of information available may seem overwhelming, and you might not have time to filter through it all.
We know we're in a good position to recommend the best care, so to help save you time we've found the best residential options throughout Scotland for you.
The top care homes in Scotland
If you're considering residential care for your parents or loved ones in Scotland, you might like to consider one of the following eight carefully selected care homes in Scotland.
Kinnaird Manor Care Home
Brown Street, Camelon, Falkirk, FK1 4QF
With a private garden area, Kinnaird Manor Care Home is suited to service users with a wide range of care needs. The home has 53 single rooms and 2 shared rooms; 53 of the rooms have private ensuite facilities.
Suitable for dementia and old age.
Barchester Archview Lodge Care Home
Newmills Road, Dalkeith, EH22 2AH
Set in woodland and with its own private gardens, this care home is operated by Barchester Healthcare Ltd. Barchester Archview Lodge Care Home has a total of 72 single rooms and 3 shared rooms. Sixty-three of the rooms have their own ensuites.
Suitable for old age and dementia.
Mugdock House Care Home
Stockiemuir Road, Bearsden, Glasgow, G61 3SF
Operated by the HC-One group, Mugdock House Care Home provides care for service users with a wide range of requirements. All 64 rooms in the home are single rooms with their own ensuite facilities.
Suitable for dementia and old age.
Foxley House
107 Hamilton Road, Mount Vernon, Glasgow, G32 9QN
Located in a refurbished period property, Foxley House has 11 single rooms and 6 shared rooms. Ten of the rooms have private ensuites.
Suitable for dementia, old age, physical disability and sensory impairment.
Westerlands Care Home
Clifford Road, Stirling, FK8 2AQ
Operated by the Westerlands Association group, Westerlands enjoys a setting in green and well-maintained gardens. The home has a total of 23 rooms, all of which are for single use and have their own ensuites.
Suitable for dementia and old age.
Murrayside
34 South Beechwood, Edinburgh, EH12 5YS
Located in green and leafy natural surroundings, Murrayside offers tailored care to and is registered for up to 63 service users, the home has 63 single ensuite rooms.
Suitable for dementia, old age and physical disability.
Orchar Nursing Home
31/39 Beach Crescent, Broughty Ferry, Dundee, DD5 2BG
Offering views of the surrounding area, Orchar Nursing Home has 36 single rooms and 2 shared rooms. Thirty-six of the rooms have private ensuite facilities.
Suitable for physical disability and old age.
Crofthead Care Home
Sheephousehill, Eastfield Road, Fauldhouse, Bathgate, EH47 9EF
Located in the small town of Fauldhouse, Crofthead Care Home is within reach of local shops and services. All 57 rooms are single and feature private ensuites.
Suitable for dementia and old age.
Realising your elderly loved one requires extra, full-time care isn't easy, and when there seem to be so many options in Scotland, it might be overwhelming to know where to start.
At Elder, we are always on hand to offer the best impartial advice, every day between 8 am and 8 pm to help you decide on the best care solution for your loved one.
Get in touch with one of our expert care advisors today.
Frequently asked questions
How to arrange overnight care at home
Worrying about how your ageing loved one copes at night can lead to sleepless nights for everyone. Whether it's dispensing medication, helping with toilet visits or trying to prevent your elderly relative from leaving the home in the small hours – something that can often occur with some types of dementia – coping with your loved one's night-time needs isn't always practical or even possible.
Elder makes it easy to organise overnight care in the home, often with as little as 24 hours' notice. As the leading supplier of live-in care in the UK, we offer trained and empathetic carers who can provide 24-hour care in your loved one's own home.
From companion care to dementia care, our live-in carers provide help whenever it's needed, giving you much-needed peace of mind in the process.
Get in touch today for a no-obligation chat and find out how an Elder carer could help.
Who can I speak to about arranging care?
If you feel that your loved one needs help and assistance from a carer, it can be useful to make a list of their requirements in the first instance – do they need help with the housework, for example, or are they likely to need assistance with bathing and dressing? This will help you to establish the level of care that they require.
You can contact our friendly and helpful customer care advisors seven days a week, between 8am and 8pm on 0333 920 9150. They will talk you through the various options, with absolutely no obligation and, if you feel that you would like to proceed with an Elder live-in carer, we can arrange for live-in care in as little as 24 hours.
Home care: how do I pay for it?
Organising home care for a loved one can be an incredibly stressful experience. We are here to make the process as straightforward and fast as possible, and to help you find all the answers you are looking for.
There are many ways to finance home care, and each case is different. Some clients will have savings that they can use to pay for live-in care, while others will be able to use their pension to fund their care. Another option popular among homeowners is equity release.
Please visit our Cost of Care page to learn more about the options available to your loved one.
Home care: what does it provide?
Home care is a broad term that can cover anything from companion care through to complex care. This can include specialist live-in dementia care. The overall aim is to offer the care recipient the support they need to allow them to live independently in the comfort and familiarity of their own home.
The carer will provide 24/7 support with day-to-day activities, such as transport, cooking and housekeeping. They will also support the care recipient in their social activities, including hobbies and outings.
One crucial aspect of in-home care is the fact it is one-to-one. This means that the carer develops a real bond with the recipient and provides valuable companionship, as well as practical support. The benefits, flexibility and cost-effectiveness of in-home care mean that it is an attractive alternative to residential care homes for many families and their loved ones.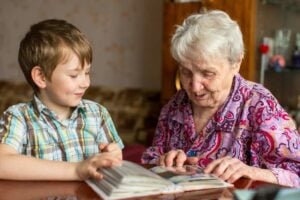 The true cost of care – everything you need to know Discover the true cost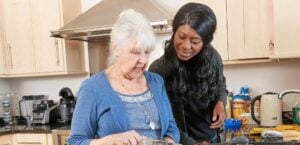 Live-in care Vs Other types of care If your loved one has reached a stage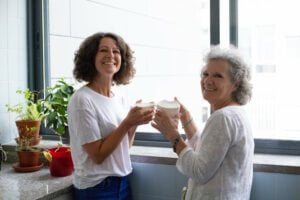 A Guide for Caregivers – Everything You Need to Know If your loved one needs