Choosing a care home
Live-in care in Richmond isn't for everyone. Your loved one may not live in a house that has an extra room to accomodate a home carer, or perhaps the idea of it just isn't for them.
Even so, Elder would still like to help you make the ideal later life care choice for your loved one. They deserves the kind of care that is not only suitable, but something they would choose themselves.
That's why we've summed up our top eight care home picks in Richmond to ensure that you make the right choice for your family without spending hours trying to whittle your options down.
The top care homes in Richmond
If you're considering residential care for your parents or loved ones in Richmond, the following eight options may be worth considering.
Cecil Court
2/4 Priory Road, Kew, Richmond TW9 3DG
Located in a residential area, Cecil Court is registered for up to 45 service users and owned by C&C Group. Its provision includes 11 residents with dementia care needs and it offers a range of respite to long-term care packages. The purpose-built home has 45 single rooms, each with an ensuite WC.
Suitable for elderly residents and those with Dementia or Alzheimer's, from ages 55+.
Greville House
Greville Road, Richmond TW10 6HR
Located close to the River Thames, Richmond Park and local shops and amenities, Greville House offers residential, nursing and respite care for older people. The purpose-built home includes ten rooms for dementia care and multi-purpose rooms for residents located across three floors.
Suitable for elderly care, nursing care, respite and dementia care.
Victoria House
4 Ennerdale Road, Kew, Richmond TW9 3PG
Located in Kew, the original two Victorian buildings have been refurbished, with plenty of amenities and services provided. There are 30 single rooms and 13 of these have an ensuite WC. The home, owned by Abbeyfield Society, takes ages 65+ and offers care home only services.
Suitable for frail and elderly patients, including those with mild dementia.
Barchester Lynde House Care Home
Meadowbank, 28 Cambridge Park, Twickenham TW1 2JB
Owned by Barchester Healthcare Ltd, Barchester Lynde House Care Home is located by the Thames and offers 76 single rooms for ages 40+. All rooms are en-suite and have been renovated.
Suitable for patients with a range of conditions including dementia, physical disability, cancer, MS, Parkinson's and old age.
Charlotte House
Snowy Fielder Waye, Isleworth TW7 6AE
Located in Isleworth and with attractive grounds, Charlotte House is owned by Care UK Nursing and Residential Care Services and looks after elderly patients, many of which have dementia or other complex mental health issues. All of the 52 rooms are ensuite. Suitable for patients aged 55+.
Specialist care is offered for dementia, sensory impairment, Alzheimer's and other conditions.
Barchester Atfield House Care Home
St John's Road, Isleworth TW7 6UH
A purpose-built and modern residential home, Barchester Atfield House is located in its own landscaped gardens, opposite St John's Park. Owned by Barchester Healthcare Ltd, the home offers specialist care and nursing facilities for up to 68 services users. The home takes residents aged 60+.
Suitable for Dementia care patients along with residents needing specialist palliative care and long-term care.
Galsworthy House Care Home
177 Kingston Hill, Kingston upon Thames KT2 7LX
Situated on Kingston Hill with views over Richmond Park, Galsworthy House Nursing and Care Home is fully refurbished and takes residents aged 65+. It has 72 rooms, all of which have ensuite WCs. Owned by Caring Homes Group. Suitable for patients with complex needs thanks to a highly-skilled nursing team.
Specialises in care for elderly residents, those with physical disabilities and dementia.
Brinsworth House
72 Staines Road, Twickenham TW2 5AL
Brinsworth House is set within an acre of private land and is a specialist mansion home that is the home of entertainers and artists. It has 36 bedrooms, with 2 WC en-suites and it is owned by the Royal Variety Charity.
Suitable for patients with physical disabilities and Parkinson's from ages 65+.
Realising your elderly loved one requires extra, full time care isn't easy and when there seems to be so many options, it might be overwhelming to know where to start.
At Elder, we are always on hand to offer the best impartial advice, every day between 8 am and 8 pm to help you decide on the best care solution for the your loved one.
Get in touch with one of our expert care advisors today.
Frequently asked questions
Do you get to meet prospective carers before committing to live-in care?
One of the biggest queries people have when considering live-in care in the UK is how carers are matched with clients and what happens if the pairing does not work.
At Elder, we understand why this is such a high priority given that carer and client will be living in the same property and may spend considerable periods of time together, but this understanding this means we place an equally high priority on getting the match right – if not higher.
We go to great lengths to choose exactly the right carer to match your relative's personality and to provide the greatest possibility of a healthy relationship being formed.
If, however, your loved one does experience any issues or the relationship simply fails to work out, a trial period means that the choice of live-in carer can be changed with ease if the situation demands that this needs to be done.
What activities do live-in carers support?
In short, all of them! One of the main advantages of live-in care is that your loved one will be supported in all their day-to-day activities, ensuring that they stay as active and as independent as possible.
For example, the carer will support your loved one if they want to visit friends and family, go to the shops, pursue their hobbies and pastimes, or enjoy a spontaneous outing.
While residential care homes might offer a planned programme of activities, these may not suit every resident. With in-home care, your loved one can keep doing the things they love, while enjoying 24/7 practical support tailored to their individual needs.
Contact us on 0333 920 7214 to find out more about home care.
What is assisted living?
Assisted living can be viewed as a kind of halfway house between fully independent living and living in a care home. Assisted living generally involves people over a certain age living in a community, with staff and support available 24 hours a day.
It offers a great way for your loved one to retain his or her independence, but also provides reassurance that help is close at hand if it's needed. It's ideal for those in relatively good mental and physical health, and there are often events and activities laid on by the community which can greatly enhance residents' lives.
Assisted living is unlikely to be suitable for those with degenerative conditions who will continue to need more and more care. In these cases, a residential care home or live-in care might be the better option.
Care homes: will my parent be free to make their own choices?
Life in a care home is tailored to meet the needs of all its residents, so although your loved one will be able to make certain choices, their day-to-day routine may not always be able to accommodate all their wishes.
The safety of all residents must be the priority for care homes, although the majority of residential homes will do their best to accommodate individual requests wherever possible.
With live-in care, however, your parent is very much in control of their own choices, with a dedicated caregiver on hand at all times to aid them whenever, and wherever, help is needed.
So, if your loved one decides that they would like to go out to the shops on the spur of the moment, for example, then their caregiver can action that request immediately, without having to take into account any other care recipients' needs.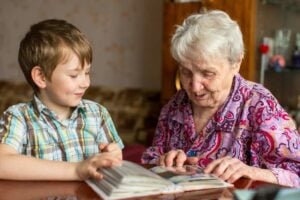 The true cost of care – everything you need to know Discover the true cost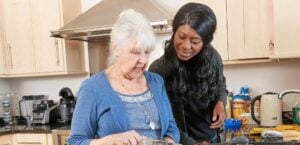 Live-in care Vs Other types of care If your loved one has reached a stage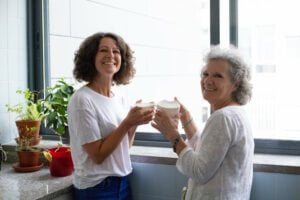 A Guide for Caregivers – Everything You Need to Know If your loved one needs