Choosing a care home
Live-in care in Oxford isn't for everyone. Elder understands that your loved ones home may not have the space to accommodate a home carer, or perhaps the idea of it just isn't for them.
Elder still want to help you with making an ideal later life care choice. Care for your loved one should be suitable, and something they would choose themselves.
That's why we've summed up our top eight care home picks in Oxford to ensure that you make the right choice without spending hours trying to whittle your options down.
The top care homes in Oxford
Check out our selection of the best residential care homes in Oxford.
Featherton House
Chapel Square, Deddington, Banbury, OX15 0SG
Care home operated by Wren Retirement Living in Deddington. Offers residential care for 25 service users in 21 single and 2 double rooms. 2 rooms have en suite WCs.
Suitable for elderly, hearing impairment and deafness and visual impairment.
Gracewell of Adderbury
Banbury Road, Adderbury, Banbury, OX17 3FW
Large care home with nursing accommodating 60 service users.
Suitable for dementia, old age and physical disability.
Richmond Witney
Coral Springs Way, Richmond Village, Witney, OX28 5DG
Privately owned care home with nursing offering care for up to 63 service users aged 60 plus. Accommodation is in 61 single rooms and 1 shared room.
Suitable for dementia, old age and Alzheimer's disease.
Highmarket House
North Bar Place, Banbury, OX16 0TD
Part of Care UK Nursing & Residential Care Services, Highmarket House is a care home with nursing for 73 service users aged 55 plus. Accommodation consists of single rooms with en suite WC. On-site parking is available.
Suitable for dementia, old age and physical disability.
Rush Court
Shillingford Road, Shillingford Hill, Wallingford, OX10 8LL
Not for profit care home with nursing registered for a maximum of 50 service users. Admits professional individuals aged 18 and over. Offers palliative care, respite care and convalescent care.
Suitable for old age and physical disability.
Madley Park House
Madley Park, Madley Way, Witney, OX28 1AT
Modern residential care home on the outskirts of Witney with 60 en suite single rooms. The home is operated by The Orders of St John Care Trust
Suitable for old age.
Isis Care and Retirement Centre
Cornwallis Road, Donnington, Oxford, OX4 3NH
Also operated by The Orders of St John Care Trust, this care home with nursing can accommodate up to 80 service users in single rooms with en suite WC. Service users must be aged 65 plus.
Suitable for dementia and old age.
Abbeycrest Care Home
Essex Way, Kennylands Road, Sonning Common, Reading, RG4 9RG
Care home with nursing registered for up to 70 service users aged 65 plus. All accommodation is in single rooms with en suite WC.
Suitable for dementia, old age, physical disability and Alzheimer's disease.
Realising your elderly loved one requires extra, full-time care isn't easy, and when there seem to be so many options in Oxford, it might be overwhelming to know where to start.
At Elder, we are always on hand to offer the best impartial advice, every day between 8 am and 8 pm to help you decide on the best care solution for your loved one.
Get in touch with one of our expert care advisors today.
Frequently asked questions
Live-in Care or Nursing Homes: What's the difference?
If you choose nursing care for your loved one, they will move into a residential home where 24-hour care will be available to deal with complex needs. In contrast, live-in care removes the need for your relative to leave their own home. Instead, a live-in carer can move into the home and cater to their individual needs.
Live-in care can be adapted to meet the level of support needed by the specific care recipient, whether your loved one is just struggling to cope on their own, wants or needs a companionship and care option or has complex needs that need to be met. In all cases, live-in care can be a less stressful option than facing the upheaval of a move into residential care.
Live-in care: When is it appropriate?
There are plenty of occasions when live-in care is a valuable service for a loved one. Every individual will have their own reasons for choosing this type of care, and these can include professional help, company, medical care or safety.
For example, some clients will choose this service if they feel they can no longer be at home safely on their own, perhaps if they have been sent home after hospital care, are struggling to be steady on their feet or feel lonely or insecure alone in their home. Other care recipients may have chronic and progressive health conditions that require help and support.
Live-in care is flexible, targeted to individual needs and highly effective, allowing individuals to retain their independence for as long as possible whilst accessing professional, ready and affordable support.
Get in touch with one of our expert care advisors if you would like further details about live-in care.
Elder Live-in Care: How are carers selected?
Live-in carers who will be providing home care for your loved one in their own home are carefully vetted and checked, and are recruited not only for their qualifications and training, but also for their empathy and real-world caring experience.
Other important attributes include that the carer speaks excellent English and is good at communicating with people who may find hearing or speaking difficult. Unlike care homes, which have large staff teams working in shifts, live-in care is a very personalised service, with the cared-for person at the centre of the daily routine and activities.
As well as the vetting process, carers must provide two references and are also assessed to see whether they need any further training in order to meet the needs of the particular individual they will be caring for.
Live-in Care: How does the relationship work on a daily basis?
For many older people, remaining in their own home with a live-in carer helps them to retain a better quality of life and can be more cost-effective than a residential home.
If you believe your loved one would benefit from live-in care, then it's reassuring to know that the relationship with a carer works like a friendship but with the added care and support your loved one needs.
Your loved one will be matched with their carer based on their personality and interests, so they can enjoy shopping or a movie together. Care plans are always drawn up with the utmost tact and discretion, so the carer always knows when they're required.
If you're interested in finding high-quality live-in care for your loved one based on a comfortable and caring relationship, contact us today for more information.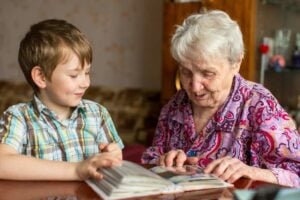 The true cost of care – everything you need to know Discover the true cost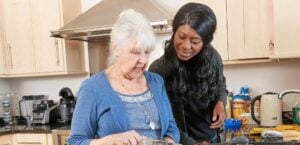 Live-in care Vs Other types of care If your loved one has reached a stage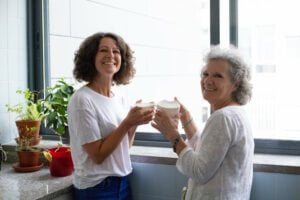 A Guide for Caregivers – Everything You Need to Know If your loved one needs