Choosing a care home
Live-in care in Newcastle might not be for everyone. Your family member or loved one may not live in a home with adequate space requirements, or perhaps the idea of it just doesn't quite suit them.
They deserve the kind of care that is not only suitable but something they would choose themselves. That's why Elder would still like to help you make the ideal later life care choice for your loved one.
We've summed up our top care home choices in Newcastle to help you make the right choice for your family and to ensure that you don't become overwhelmed trying to piece it all together either.
The top care homes in Newcastle
If you're considering residential care for your parents or loved ones in the Newcastle area, the following options may be worth considering.
Fleming Court Care Home
Burdon Terrace, Jesmond, Newcastle upon Tyne, NE2 3AE
Offering 24 hour care, this HC One property is located within reach of shops and cafes, with transport links to the city centre. Residents aged 60+ are accommodated in 65 single rooms and 2 shared rooms, 61 of which have ensuite facilities.
Suitable for old age care, Alzheimer's disease and dementia.
Ella McCambridge Residential Home
Winslow Place, Walker, Newcastle upon Tyne, NE6 3QP
A purpose built facility with 67 ensuite rooms for residents over-55 who need residential or dementia care. Owned and operated by Manor Care Home Group.
Suitable for old age care, dementia and physical disability.
Whorlton Grange
Whorlton Grange Cottages, Westerhope, Newcastle upon Tyne, NE5 1ND
This Wellburn Care Homes Ltd property accommodates 51 residents in single and shared rooms, 38 with ensuite facilities. The home is set in its own gardens on the outskirts of Newcastle.
Suitable for Alzheimer's disease and dementia, old age care.
Phillip Cussins House
33/35 Linden Road, Gosforth, Newcastle upon Tyne, NE3 4EY
A privately owned and operated care home for the over 65s with library and own grounds. Service users live in 18 single rooms and 4 shared rooms, 17 of them with ensuite facilities.
Suitable for old age care.
Sovereign Lodge
Newbiggin Lane, Westerhope, Newcastle upon Tyne, NE5 1NA
Operated by Mariposa, this purpose built facility offers residential care, respite care and dementia care. Residential accommodation comprises 48 ensuite single rooms for older adults aged 65+.
Suitable for Alzheimer's, dementia, and old age care.
Briardene Care Home
Newbiggin Lane, Westerhope, Newcastle upon Tyne, NE5 1NA
Another purpose-built Mariposa facility, this home specialises in nursing care, residential care, respite care and dementia care for adults over-65. The home is set in communal grounds and offers 59 ensuite rooms for residents.
Suitable for physical disability, dementia, Alzheimer's, and old age care.
Astell Care Centre
Wharrier Street, Walker, Newcastle upon Tyne, NE6 3BR
Located within reach of shops, amenities and public transport to the city centre, this Four Seasons Health Care centre offers nursing and residential care for over 65s in 96 single ensuite rooms. Short term respite care is also available.
Suitable for dementia, Alzheimer's, learning and physical disability, and old age care.
Realising your elderly loved one requires extra, full-time care isn't easy, and when there seem to be so many options in Newcastle, it might be overwhelming to know where to start.
At Elder, we are always on hand to offer the best impartial advice, every day between 8 am and 8 pm to help you decide on the best care solution for your family or loved one.
Get in touch with one of our helpful expert care advisors today.
Frequently asked questions
How do I self-fund live-in care?
There are several options for self-funding live-in care in the home, so it's important to consider them all carefully before coming to a decision.
Use of money from pensions, investments and savings can be a good option. It's also possible to free up money invested in your loved one's home, either through selling it and downsizing or by freeing up some of all of the money invested in it through an equity release scheme.
You might like to consider a lifetime mortgage, or home reversion, which allows your loved one to carry on living in their own home for as long as they need to.
It's important to seek out professional advice before going ahead, but you can find out more by reading our online guide on The True Cost of Care.
Our Customer Care Advisors are also available seven days a week to answer your questions.
How do I choose a dementia care home for my elderly parent?
When considering a dementia care home for your parent, you should first arrange for a local authority assessment of their needs. This will ascertain the type of care that is needed, and you may find that remaining in their own home with dedicated live-in care would be the best option for your elderly parent's circumstances.
Where a care home is considered the best option, it's important to spend plenty of time researching potential homes. Search for online reviews, talk to local healthcare personnel and visit potential residential homes in person to see how they are run.
Prepare a list of questions in advance. While visiting, you should ask yourself: do the residents seem happy and well cared for? Is the home clean and tidy, with friendly and approachable staff? And will they accommodate a trial period, so that you can establish that it's the best option?
Live-in care: what will the carer need?
If you are proceeding with live-in care, it's important that your carer has access to a few basic amenities.
They will require a bedroom of their own and internet access in order for them to stay in contact with friends and family while they're are staying in your loved one's home.
Live-in care allows carers to offer 24-hour care and support to people in vulnerable positions while enabling them to remain in their own homes. Your loved one's carer will also need privacy (for break times), and you will also need to ensure there is space for your carer to have meals with your loved one.
Care homes: will my parent be free to make their own choices?
Life in a care home is tailored to meet the needs of all its residents. Although your loved one will be able to make certain choices, their day-to-day routine may not always be able to accommodate all their wishes.
The safety of all residents must be the priority for care homes, although the majority of residential homes will do their best to accommodate individual requests wherever possible.
With live-in elderly care, however, your parent is very much in control of their own choices, with a dedicated caregiver on hand at all times to aid them whenever, and wherever, help is needed.
If your loved one decides that they would like to go out to the shops on the spur of the moment, for example, then their caregiver can action that request immediately, without having to take into account any other care recipients' needs.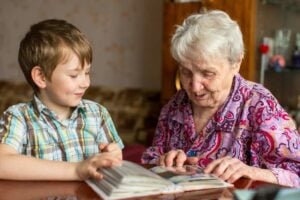 The true cost of care – everything you need to know Discover the true cost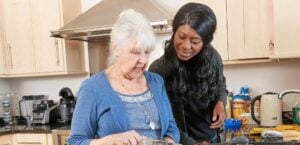 Live-in care Vs Other types of care If your loved one has reached a stage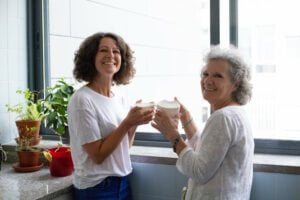 A Guide for Caregivers – Everything You Need to Know If your loved one needs