Choosing a care home
Live-in care in Milton Keynes might not be suited to everybody who lives there. Your loved one may not live in a house that is big enough to accomodate a home carer, or perhaps the idea of it just isn't their cup of tea.
Even so, Elder would still like to help you make the best later life care choice for your loved one because despite the abundance of information out there, you might not have time to filter through it all.
That's why we've summed up our top ten care home picks in Milton Keynes to ensure that not only do you make the right choice for your family, but you don't get flustered trying to piece it all together either.
The top care homes in Milton Keynes
If you're considering residential care for your parents or loved ones in Milton Keynes, the following eight options may be worth considering.
Lakeview Lodge Care Home
Jersey Drive, Newton Leys, Bletchley, Milton Keynes MK3 5SD
Situated in a peaceful residential area close to a lake, Lakeview Lodge is a modern purpose-built residential home for the over-55s, with 54 single rooms and 4 shared rooms, 54 of which have private ensuite facilities.
Suitable for dementia, Alzheimer's, sensory impairment, stroke, physical disability.
Burlington Hall
9 Station Road, Woburn Sands, Milton Keynes MK17 8RR
Located in the village of Woburn Sands, Burlington Hall offers residential, respite, convalescent and palliative care for people over the age of 65. Burlington Hall offers 53 bedrooms, all with private ensuite facilities.
Suitable for dementia, Alzheimer's, Parkinson's, sensory impairment, challenging behaviour, stroke, schizophrenia or physical disability.
Highclere Care Home
1 Chapman Avenue, Downs Barn, Milton Keynes MK14 7NH
Highclere provides residential care, on a short or long-term basis, for up to 40 residents over the age of 65, across 40 single rooms, 22 of which offer private ensuites.
Suitable for dementia, Alzheimer's, Parkinson's, Huntington's or stroke.
Castlemead Court Care Centre
Wolverton Road, Newport Pagnell MK16 8HW
Close to the centre of Newport Pagnell, Castlemead Court is a purpose-built residential home set within its own grounds. The home offers 79 bedrooms, all with private facilities, for permanent and temporary residents over the age of 65.
Suitable for dementia, Alzheimer's, sensory impairment and physical disability.
Waterhall Care Centre
Fern Grove, Bletchley, Milton Keynes MK2 3QH
Within walking distance of local amenities, Waterhall is a modern, purpose-built residential home catering for elderly people and younger adults. In addition to 56 single rooms, all with private facilities, there is a sensory room and a hairdressing salon on the premises.
Suitable for dementia, Alzheimer's, sensory impairment or physical disability.
The Willows Care Centre
Heathercroft, Great Linford, Milton Keynes MK14 5EG
Set amidst spacious grounds in the village of Great Linford, The Willows offers permanent, respite and palliative care to elderly residents across 128 single rooms, all with private ensuites.
Suitable for dementia and Alzheimer's.
Milton Court Care Home
Tunbridge Grove, Kents Hill, Milton Keynes MK7 6JD
A modern, purpose-built residential and nursing home set in Kents Hill, Milton Court has space for 148 residents over the age of 65. With 148 single bedrooms, 131 of which have private ensuites, Milton Court also boasts an on-site café-bar, along with a specialist dementia unit.
Suitable for dementia, Alzheimer's, sensory impairment, physical disability, epilepsy, MND, MS, Parkinson's, stroke, cancer care or head injury.
Linford Grange
16 Lakes Lane, Newport Pagnell MK16 8HP
Offering a range of services to elderly residents and young adults with complex care needs, Linford Grange is set within its own grounds in Newport Pagnell. With 20 rooms and suites, 17 of which have private ensuite facilities, the emphasis is on tailored care for each resident.
Suitable for Alzheimer's, Parkinson's, Huntington's, MND, MS, muscular dystrophy, cancer care, stroke, sensory impairment and learning difficulties.
Realising your elderly loved one requires extra, full time care isn't easy and when there seems to be so many options, it might be overwhelming to know where to start.
At Elder, we are always on hand to offer the best impartial advice, every day between 8 am and 8 pm to help you decide on the best care solution for the your loved one.
Get in touch with one of our expert care advisors today.
Frequently asked questions
What can you take into a care home?
The rules governing what residents can and cannot take with them when they move into a dedicated care home vary wildly according to each individual establishment, so check and double check before committing to moving your loved one's belongings.
Most homes encourage residents to decorate their rooms with personal possessions, including items of furniture. Do check on the home's policy and be sure to take details of the room's dimensions to avoid costly errors. Space is obviously limited, but even the smallest of care homes should encourage your loved one to bring treasured possessions, photographs and keepsakes with them. Some homes allow complete room decorations, including changing the paint colours and repapering the walls.
Some care homes will even allow pets, but once again, check before making a firm commitment to avoid disappointment and upset.
How do I self-fund live-in care?
There are several options for self-funding live-in care in the home, so it's important to consider them all carefully before coming to a decision.
Freeing money tied up in pensions, investments and savings can be a good option, but it's also possible to free up money invested in your loved one's home, either through selling it and downsizing or by freeing up some or all of the money invested in it through an equity release scheme.
You might like to consider a lifetime mortgage, or home reversion, which allows your loved one to carry on living in their own home for as long as they need to. It's important to seek out professional advice before going ahead, but you can find out more by reading our online guide on The True Cost of Care, and our Customer Care Advisors are available seven days a week to answer your questions.
What is assisted living?
Assisted living can be viewed as a kind of halfway house between fully independent living and living in a care home. Assisted living generally involves people over a certain age living in a community, with staff and support available 24 hours a day.
It offers a great way for your loved one to retain his or her independence, but also provides reassurance that help is close at hand if it's needed. It's ideal for those in relatively good mental and physical health, and there are often events and activities laid on by the community which can greatly enhance residents' lives.
Assisted living is unlikely to be suitable for those with degenerative conditions who will continue to need more and more care. In these cases, a residential care home or live-in care might be the better option.
Live-in care: can care recipients choose their routine?
One of the principal advantages of live-in care over a move into a residential care home is the flexibility that care within your loved one's own home provides.
In a care home setting, the needs of the group may outweigh the specific needs of your elderly relative, since the staff members are unable to dedicate themselves specifically to one person throughout the day. However, with live-in care, the sole focus of the caregiver is your loved one.
Of course, that doesn't mean that your loved one has the final say in absolutely everything, particularly if they are living with dementia, for example, which could lead to them making poor choices that compromise their safety. But a care plan is clarified with the care recipient and their wider family, ensuring that all parties are happy with the plan. It can be adapted over time as your relative's needs change.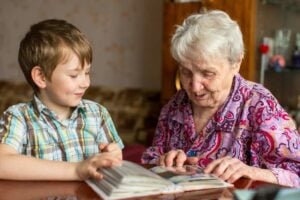 The true cost of care – everything you need to know Discover the true cost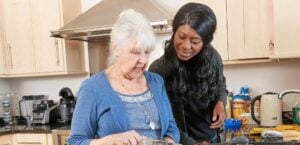 Live-in care Vs Other types of care If your loved one has reached a stage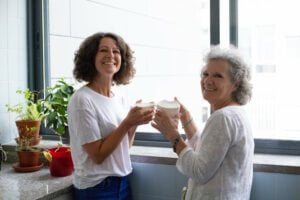 A Guide for Caregivers – Everything You Need to Know If your loved one needs