Choosing a care home
Elder recognises that there will be situations where dedicated, one-to-one care in Manchester isn't feasible, say, if your loved one doesn't have a spare room, for example.
But this doesn't mean that we don't still want all elderly people who require help to live happily ever after in the way they choose.
We know a thing or two about care, so who better to select some of the best care homes in the area who can help your relative to thrive in later life and provide the kind of care they deserve.
The top care homes in Manchester
With an in-depth understanding of later life care across the nation, we're perfectly placed to recommend the best residential options near you.
Auden House
473 Audenshaw Road, Audenshaw, Manchester M34 5PS
Situated on a residential street in Audenshaw, Auden House offers residential care for the elderly in 24 single rooms, 18 of them with private ensuite facilities.
Suitable for physical disability, dementia and sensory impairment.
Manorhey Care Centre
130 Stretford Road, Urmston, Manchester M41 9LT
Manorhey is a purpose-built residential home with nursing care for the over-60s, with 83 rooms, all offering ensuite facilities.
Suitable for mental health conditions, dementia and physical disability.
Bickham House
Green Walk, Bowdon, Altrincham WA14 2SN
Set in extensive grounds, Bickham House offers residential and respite care to the over-65s with 26 single rooms, 5 of them with ensuite facilities.
Suitable for visual impairment, hearing impairment.
Norley Hall Care Home
Norley Avenue, Pemberton, Wigan WN5 9LP
Norley Hall Care Home offers residential and respite care for residents across 50 single rooms and 1 shared room, all with ensuite facilities.
Suitable for dementia, Alzheimer's and end of life care.
Spennymoor
Ivy Road, Bolton BL1 6EE
Offering residential care for the over-65s, Spennymoor has space for 19 residents, offering 11 single rooms and 4 shared rooms, one of which has its own private ensuite.
Suitable for elderly residents over the age of 65.
Guide Lane Care Home
232 Guide Lane, Audenshaw, Manchester M34 5HA
A purpose-built care home situated in one of Audenshaw's side streets, offers residential and respite care for the over-55s, with 41 single rooms, 4 of which have ensuites.
Suitable for physical disability, epilepsy, MS, Muscular Dystrophy, Parkinson's disease, stroke, visual impairment, orthopaedic and cancer care.
Dryclough Manor
20 Shaw Road, Royton, Oldham OL2 6DA
Dryclough Manor offers respite and residential care to residents over the age of 65. There are 38 single rooms and 2 shared rooms, 36 of which have private ensuite facilities.
Suitable for physical disability, sensory, speech, visual and hearing impairment, dementia.
Carrington Court Care Home
190/191 Darby Lane, Hindley, Wigan WN2 3DU
With 48 single rooms, all with private ensuite facilities, offers residential and respite care for young adults with a range of physical and mental conditions, in addition to providing care for elderly residents.
Suitable for hearing, speech and visual impairments, stroke, MS, MND, Parkinson's disease.
Make sense of your options
Realising your loved one requires care isn't always easy and deciding on what your options are can be daunting.
At Elder, we are always on hand to offer the best advice, with no commitment necessary to help you decide on the best outcome for everyone.
Get in touch with one of our expert care advisors today.
Frequently asked questions
Are residential homes the only care option available?
No, a residential home is only one of the many options available to your loved one, if they are struggling to cope in their own home.
Retirement villages offer amenities and services to their residents, although these can be expensive. A more affordable option is sheltered housing, which usually offers alarm buttons, and the help of an on-site warden in case of emergency.
Many older people are reluctant to move away from their home and familiar surroundings, so in-home care may be the most appropriate solution. Daily care can be sourced through your loved one's local authority, or privately, offering help with daily tasks.
For the most convenient and cost-effective solution, live-in care in the UK provides 24-hour help, support and companionship from a dedicated live-in caregiver, allowing your loved one to continue to live their life as they choose, but with the reassurance of assistance whenever it is needed.
Will my loved one be able to keep their own furniture in a care home?
Depending on the care home that you choose for your loved one, they may be able to retain some items of furniture. It is always advisable to ask the care home what is permitted.
Bear in mind that fire regulations will mean that some older chairs and upholstered items would not be allowed, even if there is sufficient space in the room. In any residential or nursing home, space is somewhat restricted, and your relative would have to choose which items to discard if they went into a care home.
If you opted for live-in care in their own home, then of course there would be no need to worry about downsizing.
To find out more about the advantages of live-in care, contact our advisers.
What is 24-hour care?
When you employ a live-in carer to look after your elderly loved one in their own home, you are providing them with 24-hour care. The caregiver is on hand throughout every single day and night, offering help and support whenever your relative needs assistance.
Because the carer lives in your loved one's home, they are able to provide a constant reassuring presence, whether your relative is in need of companionship or more practical help, such as help with getting out and about.
From helping with housework, cooking and pet care, to facilitating fun and entertaining social events and trips out of the house, the carer will perform any task necessary for the safety and wellbeing of your loved one.
The carer will deal with any emergencies that arise, and knowing that someone is on hand throughout every day and night provides reassurance to your loved one, and to the rest of your family too.
Who can I speak to about arranging care?
If you feel that your loved one needs help and assistance from a carer, it can be useful to make a list of their requirements in the first instance – do they need help with the housework, for example, or are they likely to need assistance with bathing and dressing? This will help you to establish the level of care that they require.
You can contact our friendly and helpful customer care advisors seven days a week, between 8am and 8pm on 0333 920 9150.
They will talk you through the various options, with absolutely no obligation and, if you feel that you would like to proceed with an Elder live-in carer, we can arrange for live-in care in as little as 24 hours.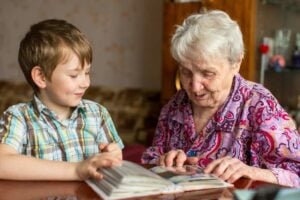 The true cost of care – everything you need to know Discover the true cost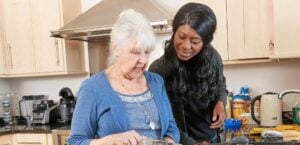 Live-in care Vs Other types of care If your loved one has reached a stage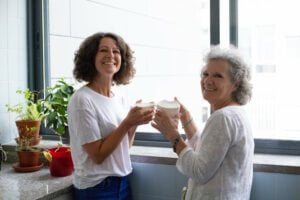 A Guide for Caregivers – Everything You Need to Know If your loved one needs