Choosing a care home
At Elder, we understand that not everyone is in the right circumstance to receive live-in care in London, whether it be due to issues of space or that the home would need too many adaptations to suit your loved one.
No matter the reason, we'd still like to help and we know we're in a good position to do so. Who better to advise on care than the care experts?
Your loved one has every right to be supported and cared for in the way they deserve, which is why we've found the best residential options in the area for you.
The top care homes in London
With an in-depth understanding of elderly care across the UK, we're perfectly placed to recommend the best residential options near you.
Ebury Court Care Home
438 Rush Green Road, Romford RM7 0LX
Set within several acres of landscaped grounds, Ebury Court offers care for people over the age of 60, across 39 rooms, all with their own private ensuites.
Suitable for dementia and physical disability.
Ryefield Court
Ryefield Avenue, Uxbridge UB10 9DE
Ryefield Court boasts accommodation for people over the age of 50, with 60 rooms, all with private ensuites. Ryefield Court also has its own bar and bistro, cinema, spa and hairdressing salon.
Suitable for dementia and Alzheimer's.
Groveland Park Care Home
43 Stephen Road, Bexleyheath DA7 6EF
Groveland Park caters for elderly residents over the age of 65. There are 55 rooms, all with private ensuites, together with a cafébar for residents' use, and an entertainments program.
Suitable for dementia, sensory impairment, physical disability.
Rectory Court
The Glebe, Blackheath, London SE3 9TU
Rectory Court provides residential, respite and convalescent care for people over the age of 60 across 41 rooms, each with its own private ensuite.
Suitable for elderly care.
Beechwood House
40 Beechwood Road, Sanderstead, South Croydon CR2 0AA
Located in a quiet residential area, Beechwood House offers residential and respite care to the over 60s. There are 17 single rooms and 3 shared rooms, 13 of which have private ensuite facilities.
Suitable for dementia, Alzheimer's, Parkinson's, sensory impairment, schizophrenia, cancer care and stroke.
Devonshire Dementia Care Home
213 Malden Road, New Malden KT3 6AG
Specialising in providing dedicated dementia care to people over the age of 65, Devonshire Dementia Care Home has 34 single rooms, 28 of which have their own private ensuite facilities.
Suitable for dementia, Alzheimer's, Parkinson's, physical disability, sensory impairment, cancer care, challenging behaviour, head injury and stroke.
Sahara Lodge
143 Earlham Grove, Forest Gate, London E7 9AP
Providing residential, palliative, respite and convalescent care to older people and young adults, Sahara Lodge has 8 bedrooms and one assisted living apartment.
Suitable for dementia, sensory impairment, eating disorders, autism, bipolar, cancer care, learning disability, epilepsy, colitis and schizophrenia.
The Meadows
288 Oldfield Lane North, Greenford UB6 8PS
Catering for just 20 residents, The Meadows is a small care home close to Greenford Underground Station on the Central Line. There are 17 single rooms and 4 shared rooms, with 17 rooms having private ensuite facilities.
Suitable for dementia, Alzheimer's, Parkinson's, bipolar, physical disability, sensory impairment, schizophrenia and stroke.
Make sense of your options
Realising your loved one requires care isn't always easy and when there seems to be so many options, you may not know where to start.
At Elder, we are always on hand to offer the best impartial advice, every day between 8 am and 8 pm.
Contact us today to help you decide on the best care solution for the whole family.
Frequently asked questions
Do care homes have rules around visiting loved ones?
Every care home has its own rules and regulations around when family members and friends can visit their loved ones. These rules are set in place to ensure residents' safety and to enable the staff to go about their duties more easily.
Generally, unless your loved one is ill or there is an emergency, you'll need to leave the home in the early evening. You may not be able to visit in the early morning, when residents are getting washed and dressed.
If a care home does not allow a named visitor an appropriate level of access around visiting a loved one, then you should make a complaint. This may include: not allowing you to visit your relative privately, in the resident's own room, or a member of care home staff not leaving the bedroom when you are there. Care homes must adhere to government regulations around visiting rights.
Read more about Care homes vs. Live-in care in our helpful guide.
What is live-in care?
If your elderly relative has reached the stage of needing care and support twenty-four hours a day, live-in care is the natural alternative to residential care. The majority of older people are happier in their own home than in a care home, and with live-in care they can stay safely at home with the company of a caregiver who has been carefully matched with them in terms of personality.
In addition to providing support with personal care and any activities your family member finds difficult, a live-in carer will also help with domestic tasks such as shopping or laundry, accompany the older person on trips and support them to live as full and active a life as they can.
Remaining in their home environment will mean that your loved one can stay in touch with friends and neighbours and, if they have pets, continue to live with them too.
Does live-in care support those with osteoporosis?
Live-in care can offer excellent care to those with osteoporosis, not least because a dedicated live-in carer will get to know your loved one's needs and capabilities very thoroughly. They will be able to help and encourage the care recipient to carry out any recommended exercises and will ensure that they receive all the help they need with day-to-day tasks.
Having someone around whenever they are needed twenty-four hours a day also means that falls are much less likely, and this is particularly important for anyone with osteoporosis. With a dedicated live-in carer to accompany them, your relative will be able to get out and about safely to the limits of their ability, and you will have the peace of mind of knowing that they are not alone and at risk.
Is live-in care more expensive than a care home?
In recent years, the cost of care homes has increased quickly. There are many reasons for this, from property prices to poor management and broken supply chains, plus the need to generate profits. And although one-to-one live-in care is often assumed to be a more expensive, luxury choice, many are surprised to learn that the cost is often the same or cheaper than a care home place.
For someone who owns their own home, the cost of arranging live-in care can represent a significant saving and for couples, doubly so. Those living in the south of England or more wealthy areas will also see a positive price difference.
However, the difference in service quality is really where the value is realised. Having their own dedicated carer means that your elderly parent or loved one is always well looked after. No matter what their requirements, they never need to wait for help.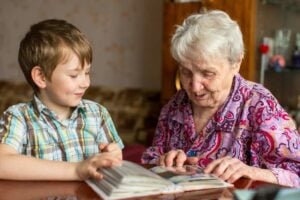 The true cost of care – everything you need to know Discover the true cost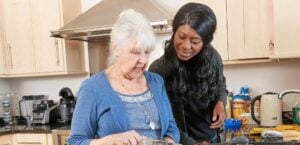 Live-in care Vs Other types of care If your loved one has reached a stage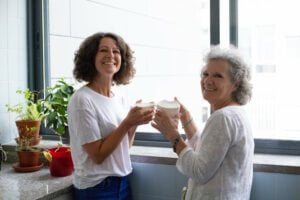 A Guide for Caregivers – Everything You Need to Know If your loved one needs