Choosing a care home
Live-in care in Leicester isn't for everyone. Your loved one may not live in a house that has an extra room to accomodate a home carer, or perhaps the idea of it just doesn't quite take their fancy.
Even so, Elder would still like to help you make the ideal later life care choice for your loved one, who deserves the kind of care that is not only suitable, but something they would choose themselves.
That's why we've summed up our top ten care home picks in Leicester to ensure that not only do you make the right choice for your family, but you don't get flustered trying to piece it all together either.
The top care homes in Leicester
If you're considering residential care for your parents or loved ones in Leicester, the following eight options may be worth considering.
Orchard Manor View
34 Robert Hall Street, Leicester LE4 5RB
Owner operated and located in a quiet residential area, Orchard Manor View offers residential care for the over 55s. There are 19 single and 2 shared rooms, all en-suite.
Suitable for Alzheimer's and dementia, sensory impairment, stroke and Parkinson's.
Asra House Residential Care Home
15 Asha Margh, Holden Street, Leicester LE4 5LE
Asra House is a purpose built residential home for people aged 65+ from the Asian community. Operated by Sanctuary Care Ltd, accommodation consists of 20 single and 11 shared rooms, 27 of which are en-suite.
Suitable for dementia, sensory impairment and physical disability.
Cedar Mews
Hallam Fields Road, Birstall, Leicester LE4 3LX
This 72 bed residential care home has been purpose built for those aged 45+ for short or permanent stay. All rooms are en-suite. Cedar Mews is operated by the Cinnamon Care Collection.
Suitable for dementia, younger adults, physical disability.
Mountview Care Home
1093 Loughborough Road, Rothley, Leicester LE7 7NL
Intended for older adults aged 65+, this purpose built home offers residential and dementia care. Operated by Ideal Carehomes Ltd, there are 66 single rooms, all with en-suite facilities.
Suitable for dementia.
Woodheyes
231 Hinckley Road, Leicester Forest East, Leicester LE3 3PH
Providing residential, respite and holiday care, Woodhayes is run by Todaywise Ltd. All the 36 rooms are en-suite, with 2 shared rooms and 4 interlocking rooms intended for use by couples.
Suitable for Alzheimer's and dementia, sensory impairment, mental health conditions.
The Lawns Care Home
1a Knighton Rise, Oadby, Leicester LE2 2RF
The Lawns is located near a quiet village community. Purpose built, the home has 41 single rooms, all en-suite, and is operated by Brighterkind.
Suitable for physical disability, sensory impairment.
Harvey House
Church Lane, Barwell, Hinckley, Leicester LE9 8DG
Set in a quiet residential area on the edge of a village, Harvey House is operated by Leicestershire County Care Ltd. This residential care home, for residents aged 50+, offers 44 single rooms, of which 2 are en-suite.
Suitable for Alzheimer's and dementia, drug dependency, sensory impairment, learning disability, physical disability, mental health conditions.
Abbey House – Leicester
Stokes Drive, Leicester LE3 9BR
Another care home operated by Leicestershire County Care Ltd, Abbey House is situated in a residential area of the city. This is a residential care home for those aged 65+, with 37 single rooms, of which 4 are en-suite.
Suitable for Alzheimer's and dementia, sensory impairments, physical disability and mental health conditions.
Realising your elderly loved one requires extra, full time care isn't easy and when there seems to be so many options, it might be overwhelming to know where to start.
At Elder, we are always on hand to offer the best impartial advice, every day between 8 am and 8 pm to help you decide on the best care solution for the your loved one.
Get in touch with one of our expert care advisors today.
Frequently asked questions
Do care homes support couples?
Care homes tend to be dual licensed as a provider of care and a residential space. This means that residents with additional needs, such as dementia care, need to be in the care space, whereas other residents may not, which would result in the separation of a couple.
There is also the issue of relinquishing care. If one half of the couple has carved out their role as the carer in the relationship, having a stranger take this role can be distressing.
Couples who decide to move into care together often have an idealised understanding of the service. They build an idea around having people around to cook and clean, and a nurse who will only be on hand as needed.
In principle, as many care homes can offer a double room, they can notionally support couples who want to move into care together. However, the reality is often far from ideal, places for couples are limited and the dynamics may be harder to adjust to than if t was only one person requiring care. Home care may be more appropriate in this kind of situation.
What is home help?
Home help is another term widely used for live-in care. For many fit and active older people still living in their own homes, their live-in carer is their 'little helper'.
This person is there to undertake a range of practical day to day tasks that need to be done, such as cooking, cleaning and shopping, plus the personal tasks that an older person might struggle with alone. Whether it's getting out of bed or out of a chair, making themselves smart and presentable, or getting to the bathroom quickly and safely, home help can be the answer.
Home help also provides companionship and peace of mind to many older people who choose to stay in their homes. It also means they can enjoy a better quality of life and more independence than they would do in a care home.
Would my loved one still get their state pension if they're in a care home?
Although your loved one would still be entitled to their state pension if they were in a care home, the amount that they would be able to retain depends on how their care is being funded.
If they are able to pay their care home fees outright, they will get their full state pension. However, if the local authority funds some or all of their care, a contribution towards the fees will probably be taken from their state pension. They will still receive a certain amount, known as their personal allowance, each week so should be able to pay for extras such as hairdressing, toiletries and other small expenses.
Your local authority should be able to explain the figures if you are considering residential care homes for a loved one.
Does live-in care support those with Parkinson's Disease?
Yes, a live-in care worker can be a valuable ally and support for your loved one if they are living with Parkinson's disease.
As a progressive and degenerative disease, Parkinson's tends to become worse over time, and a live-in carer provides support and assistance as and when it is needed.
From helping with the housework and preparing healthy and nutritious meals to accompanying your loved one to medical appointments and collecting prescriptions, the carer will do whatever is necessary to ensure the ongoing good health and happiness of your elderly relative.
As your loved one becomes less able to cope with daily activities, the carer will increase the amount of support that they provide, enabling your loved one to continue to lead a happy and fulfilling lifestyle, with plenty of fresh air and social events to look forward to.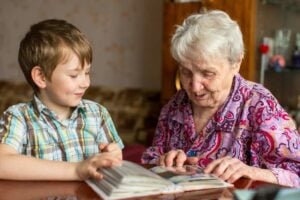 The true cost of care – everything you need to know Discover the true cost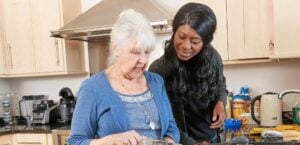 Live-in care Vs Other types of care If your loved one has reached a stage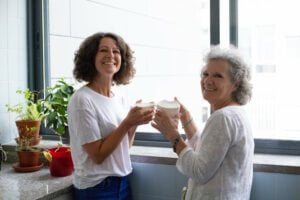 A Guide for Caregivers – Everything You Need to Know If your loved one needs