Choosing a care home
At Elder, we understand that not everyone is in the right circumstance to receive live-in care in Leeds, whether that is due to issues of space or that the home requires too many adaptations to suit your loved one.
No matter the reason, we'd still like to help and we know we're in a good position to do so. Who better to advise on care than the care experts?
Your loved one has every right to be supported and cared for in the way they deserve, which is why we've found the best residential options in the area for you.
The top care homes in Leeds
If you're considering residential care for your parents or loved ones in Leeds, the following eight options may be worth considering.
Anchor's Primrose Court
4 Orchard Way, Guiseley, Leeds LS20 9EP
Located in Guiseley, this HC-One group home offers residential care, together with dementia care in a specialist unit. Capacity for up to 33 residents in single rooms.
Suitable for those living with dementia.
Augustus Court
Church Gardens, Garforth, Leeds LS25 1H__G
Located in the village of Garforth, near Leeds. The property includes a hairdressing salon, gym and coffee shop. Also owned and operated by the HC-One group with capacity for up to 58 residents.
Suitable for elderly care.
Willow Bank Nursing Home
5/7 Barwick Road, Cross Gates, Leeds LS15 8SE
Located just off the M1, junction 46. This 1950s property provides accommodation in both double and single rooms. Operated by the Maria Mallaband Care Group Ltd, Willow Bank has capacity for up to 37 residents.
Suitable for elderly care.
Gledhow Christian Care Home
145/147 Brakenwood Drive, Gledhow, Leeds LS8 1SF
A purpose-built residential care facility for up to 50 residents. This is a not for profit facility run by MHA (Methodist Homes) with a mission to provide pastoral and spiritual care. Specialisms include cancer care, multiple sclerosis, stroke and head/brain injury.
Suitable for elderly care.
Aberford Hall
Oakwood Green, Roundhay, Leeds LS8 2QU
Located in the community of Roundhay, Aberford Hall is another HC-One group home with capacity for up to 42 residents.
Suitable for those requiring residential care.
Ashcroft House
18 Leeds Road, Bramhope, Leeds LS16 9BQ
A detached property formally a vicarage, located in Bramhope village. Ashcroft House has been a family-run care home since 1990. Capacity for up to 32 residents.
Suitable for those requiring residential care.
Victoria Care Leeds
Low Grange Crescent, Belle Isle, Leeds LS10 3EB
Provides residential care, respite and transitional care. Part of the Inniscastle Care Ltd group, Victoria Care Leeds has capacity for up to 41 service users, offering care for dementia, eating disorders, learning disabilities, mental health conditions and end of life care featuring no medical intervention stipulations.
Suitable for those living with dementia.
Amber Lodge
21 Thornhill Road, Armley, Leeds LS12 4LL
Located in Armley, Amber Lodge offers residential dementia care in 40 single bedrooms with en-suite facilities.
Suitable for those living with dementia.
Make sense of your options
Realising your elderly loved one requires care isn't always easy and when there seems to be so many options, knowing where to start may be unclear.
At Elder, we are always on hand to offer the best impartial advice, every day between 8 am and 8 pm to help you decide on the best care solution for the whole family.
Get in touch with one of our expert care advisors today.
Frequently asked questions
Does live-in care support those with MS?
Multiple sclerosis (MS) can affect people in many different ways. People with MS will often have complex needs and, particularly in older patients, may need to be helped and cared for by a trained professional. In order to ensure that an older person living with MS retains their dignity and independence longer, many families choose to arrange home care.
From chronic fatigue to vision impairment and spasms, MS can be a condition that needs 24-hour care. Many people are living with a cycle of MS episodes followed by a period of remission, and so on. But if the condition is well managed, then the effects of MS can be reduced. The best care is achieved in a one-to-one setting, provided by a trained professional within a personalised care framework, and delivered in the person's own home.
What do care homes provide?
No two care homes are the same, even when run by the same company. But all aim to ensure the ongoing care and safety of their residents is met. A care home often has individual bedrooms and communal lounges and dining rooms. And staff are responsible for helping residents to get in and out of bed, wash and use the toilet.
For many years, care homes have been the go-to option for elderly care. It seems to make the most sense financially, residential care means fewer staff can be on hand for more residents and thus reduce costs.
However, recent years have seen poor management and high property costs offset this advantage. And not enough carers available means reduced quality of care. This means, for someone with their own home, choosing one-on-one live-in care can be cheaper and can ensure a better standard of care.
Read our Care homes vs. Live-in care guide for more information.
Can my loved one still get attendance allowance if they live in a care home?
Attendance Allowance is a government-funded benefit payable to elderly people with a disability so severe that they need assistance with daily chores. Home care assistance doesn't necessarily need to be in place in order to claim it.
Your loved one will continue to receive Attendance Allowance for the first four weeks of residential care, if they qualify for the benefit. After the initial four-week period, they may still qualify for the benefit, provided that they are self-funding their place in the care home.
Where your loved one's local Trust is paying for, or contributing towards, their care home fees, then Attendance Allowance is not normally payable.
Attendance Allowance may be payable to your loved one after their 12th week of care, where their Trust has contributed to the first 12 weeks, whilst your loved one is waiting for their property to be sold.
What is live-in care?
If your elderly relative has reached the stage of needing care and support twenty-four hours a day, live-in care is the natural alternative to residential care. The majority of older people are happier in their own home than in a care home, and with live-in care they can stay safely at home with the company of a caregiver who has been carefully matched with them in terms of personality.
In addition to providing support with personal care and any activities your family member finds difficult, a live-in carer will also help with domestic tasks such as shopping or laundry, accompany the older person on trips and support them to live as full and active a life as they can. Remaining in their home environment will mean that your loved one can stay in touch with friends and neighbours and, if they have pets, continue to live with them too.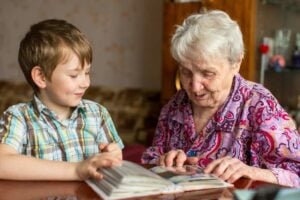 The true cost of care – everything you need to know Discover the true cost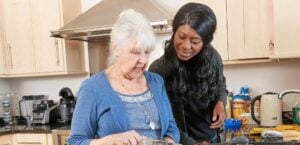 Live-in care Vs Other types of care If your loved one has reached a stage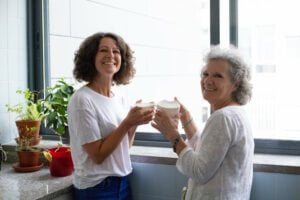 A Guide for Caregivers – Everything You Need to Know If your loved one needs