Choosing a care home
Live-in care in Kent might not be suited to everybody who lives there. Your loved one may not live in a house that is big enough to accomodate a home carer, or perhaps the idea of it just isn't their cup of tea.
Even so, Elder would still like to help you make the best later life care choice for your loved one because despite the abundance of information out there, you might not have time to filter through it all.
That's why we've summed up our top ten care home picks in Kent to ensure that not only do you make the right choice for your family, but you don't get flustered trying to piece it all together either.
The top care homes in Kent
If you're considering residential care for your parents or loved ones in Kent, the following eight options may be worth considering.
Bowercroft
5 Bower Mount Road, Maidstone ME16 8AX
Situated in a quiet suburban street on the outskirts of Maidstone, Bowercroft places a particular emphasis on dementia care. With 18 single rooms, 16 of which have completely private ensuite facilities, Bowercroft caters for people over the age of 65.
Suitable for dementia, Alzheimer's, Parkinson's and sensory impairment.
Upton House
Deal Road, Worth, Sandwich, CT14 0BA
Located in a converted Georgian mansion house, Upton House provides residential, respite and palliative care to people over the age of 60. There are 20 single rooms, all with private ensuite facilities.
Suitable for dementia and Alzheimer's.
Hale Place Care Solutions
77/79 Old Road, East Peckham, Tonbridge TN12 5EN
Specialising in dementia care since 1988, Hale Place provides residential care to people over the age of 55. There are 6 single rooms and 2 shared rooms, 6 of which have their own private ensuites.
Suitable for dementia, Alzheimer's and stroke.
Tralee Rest Home
38/40 Tankerton Road, Tankerton, Whitstable CT5 2AB
Tralee Rest Home caters for elderly residents over the age of 65, in a residential street that is within easy reach of both the harbour and the local shopping centre. The home offers 32 single rooms and 2 shared rooms, with 26 rooms having their own private ensuites.
Suitable for dementia and Alzheimer's.
Abbey Lodge
91 Seabrook Road, Hythe CT21 5QP
Boasting sea views from many of its rooms, Abbey Lodge provides residential, respite and convalescent care to elderly people in the pretty market town of Hythe. The home has 21 single rooms and 2 shared rooms, with 21 rooms having private ensuite facilities.
Suitable for residents over the age of 65.
Brampton Lodge
4 Dixwell Road, Folkestone CT20 2LG
Within easy reach of Folkestone town centre, Brampton Lodge aims to provide hotel-style care to its residents. With the option of respite or residential care, the care home has 26 single rooms, all with private ensuites.
Suitable for seniors over the age of 65.
Balgowan House
46 Bartholomew Lane, Hythe CT21 4BX
Situated in a residential area in the Saltwood district of Hythe, Balgowan House provides residential, respite, convalescent and palliative care to residents over the age of 50, across 34 single and 3 shared rooms, 13 of which have private ensuites.
Acorn House
39 Maidstone Road, Chatham ME4 6DP
Located in a quiet residential area, yet within easy reach of local amenities, Acorn House is a converted 19th Century building that provides care to those over the age of 65, in 18 single rooms and one shared room, 15 of which have private facilities.
Suitable for dementia.
Realising your elderly loved one requires extra, full time care isn't easy and when there seems to be so many options, it might be overwhelming to know where to start.
At Elder, we are always on hand to offer the best impartial advice, every day between 8 am and 8 pm to help you decide on the best care solution for the your loved one.
Get in touch with one of our expert care advisors today.
Frequently asked questions
What do care homes provide?
No two care homes are the same, even when run by the same company. But all aim to ensure the ongoing care and safety of their residents is met. A care home often has individual bedrooms and communal lounges and dining rooms. And staff are responsible for helping residents to get in and out of bed, wash and use the toilet.
For many years, care homes have been the go-to option for elderly care. It seems to make the most sense financially as residential care means fewer staff can be on hand for more residents and thus reduce costs.
However, recent years have seen poor management and high property costs offset this advantage. And not enough carers available means reduced quality of care. This means, for someone with their own home, choosing one-on-one live-in care can be cheaper and can ensure a better standard of care.
Does live-in care support those with diabetes?
If your loved one is living with diabetes, choosing a provider such as Elder is a great way to ensure 24-hour care. Diabetes can be an exhausting condition, made much more difficult in later years, especially when someone is living alone.
Tasks such as cooking and cleaning can become too strenuous and, as a result, nutrition can slip and the condition can worsen. Remembering to take medicine and keeping doctors appointments can also become a challenge. But for those who prefer to remain living independently, in their own homes, home care can be the ideal solution.
A live-in carer from Elder has the knowledge, experience and training to support someone living with diabetes at home. From nutrition to medicine, as well as encouraging activities such as walking, live-in care in the UK can be the best option in the beneficial management of diabetes.
Is live-in care affordable?
Compared with the cost of a care home place, live-in care is very affordable in many cases. 24-hour care in the home can work out at 30 percent less expensive than a care home and has many added advantages.
Your loved one would not have to face the upset and worry of leaving their own home and neighbourhood, so they will be able to remain in touch with friends and neighbours in the locality. If your relative is a pet owner, they will not have to give up their beloved animals, as they might if they went into residential care. For anyone living with dementia, particularly, dedicated one-to-one care at home is the preferred option when 24-hour support is needed.
Contact us for further information about the affordability of live-in care.
Who are Elder?
Here at Elder, we offer our clients a genuine alternative to residential care. With around 97% of older people claiming that they would prefer not to move into residential care, we identified a need for a different form of care package – one that allows older people to enjoy all of their home comforts, but with the knowledge that someone is on hand, day and night, to offer help and support whenever it's needed.
Why should your loved one have to leave their home and lifestyle behind once they need assistance to remain in their home? With the help of one of our highly-trained, experienced and empathetic live-in care workers, your elderly relative can enjoy their home comforts without being uprooted from the home they hold so dear.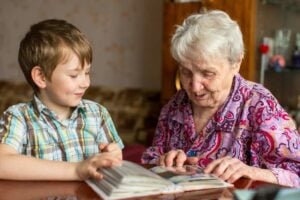 The true cost of care – everything you need to know Discover the true cost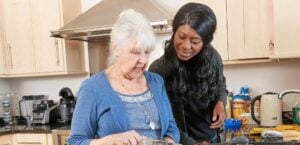 Live-in care Vs Other types of care If your loved one has reached a stage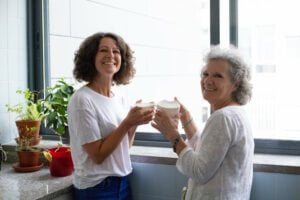 A Guide for Caregivers – Everything You Need to Know If your loved one needs